Nigerian Wedding Guest Look … Cobalt Blue Inspiration | Stylish Academic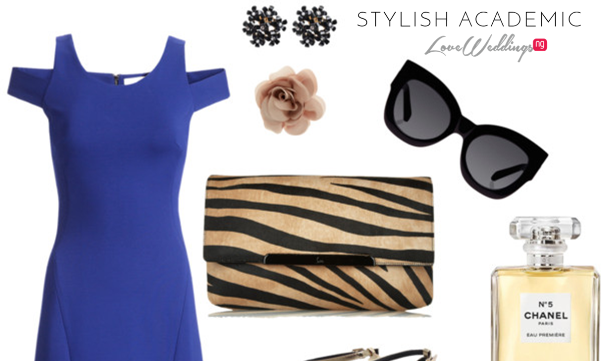 One would think it's easy to choose what to wear to a wedding, until the wedding date starts to draw really close and…. PANIC!
Last year, I was invited to this really beautiful wedding of a friend, and choosing what to wear was really difficult. It was in times like that I appreciated the existence of numerous wedding guest inspiration sites.
Stylish Academic is here to make your wedding guest look selection an easy choice to make. Every week, I will share a new style inspiration. You may not get the precise outfit, but perhaps a colour combination or style technique might give you a fresh idea!
Last week, I announced Cobalt Blue as the theme for January. Check it out if you missed last week's style inspiration.
Today I bring you…
Last week we paired Cobalt Blue with black, but this week we are going down the Animal Print lane.
Many style books will warn you about wearing animal print, but that is mostly because many folks tend to overdo it by wearing animal-print-everything and they end up looking like an escapee of the zoo! However, the stylish way to wear prints is to keep it minimal, and limit it to your accessories if possible.
I have a tiger print T-shirt in my wardrobe, but I know very well that the day I wear it, everything else will be in black.
The dress I have chosen for you today is a short dress. I love the way it is cut and designed to accentuate your figure around the hips. This is one of those dresses you can wear to a wedding, and then recycle to a friend's birthday party later in the year.
The metallic block heel sandal also lends sophistication to the ensemble. This look is simple and chic.
If you've missed previous posts by Stylish Academic on this column, catch up HERE
Remember to visit my blog at www.stylishacademic.com & follow me on Instagram for daily style inspiration.