Valentine's Wedding Guest Look | Stylish Academic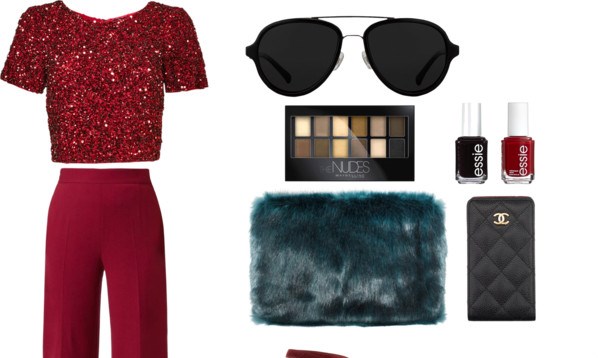 Tomorrow is Valentines Day!
Whether you are toasting or roasting, it doesn't matter. Treat yourself to a nice outing, and look stylish as heck while at it. No one can make you feel inferior if you do not give them the permission to do so; that is why, dressing well is one way to boost your self-confidence. You look in the mirror and say "dang, I look good!"
On the subject of self-confidence, the colour red, our theme for the month, has been said to endow a woman with boldness – from the red lipstick, pencil skirt to the stilettos, red just stands you out.
Last week, I styled a simple but striking red dress as a wedding guest outfit inspiration. If you missed it, click here.
Today, however, I present…
For a change, instead of a dress, I am styling a sequin crop top with sexy wide leg pants and aviators to-die-for.
What I have done with the look above is to keep the colours monochrome but play with textures. Who can guess how many textures I have combined here?
Top – Sequin
Pants – Silk
Sandals – Suede
Clutch Bag – Faux Fur
If you've been following me here on LoveweddingsNG, you may have noticed that my approach to style is quite minimalist. I believe you don't need to do too much to look good. The key to looking stylish is to appear put together. Let each element of your outfit flow effortlessly into the other.
Something else I love about this outfit, is that beyond weddings, you can wear it to the next birthday bash, or dinner date. It works either way. Should you want to dress for work, take off the crop top, pair a white camisole with the silk pants and a blazer – you are good to go.
This is why when shopping for fashion pieces, you need to do the math before you reach into your wallet. Perhaps I should do a post on "shopping smart" (hmm).
If you have any questions for me, want to make a request on how to style an item, or just want to say hi, send a mail to tee@stylishacademic.com
I'll see you again next week Saturday.
Cheers!
_______________
Stylish Academic is a fashion and lifestyle blog. You can follow them on Twitter, Instagram, Pinterest, and like them on Facebook.