Bride and Groom Photography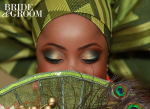 We are Professional wedding photographers in Nigeria. We do pre-wedding/engagement sessions and wedding photography as well as videography within and outside Nigeria. What makes us unique is that we believe strongly in taking emotive pictures and videos. Beautiful shots that are full of life and in the moment!
Address: 12 Ogundana Street Ikeja, Lagos, Nigeria.