Deizi Events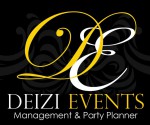 The Director of Deizi Events, Faith Kalejaiye is an experienced event planner base in Milton Keynes, Buckinghamshire. Faith has worked with Dorchester Hotel, Thistle Hotels, Britannia Hotel and Seasoned Events amongst others. With her wealth of experience, she knows just what it takes to create the perfect event.
Faith loves events and Deizi Events was birth to give every party that personalised touch. Her attention to detail gives the bridal couple or party celebrant the reassurance that their event will turn out perfect.
Deizi Events is staffed by experienced and dedicated professionals in the hospitality industry. The team consists of proven professionals who achieve higher than expected outcome at any event. You can be rest assured that your event is in capable hands when you engage our services.
All our contractors have been vetted and always deliver 100% all the time.
Our Mission
We are passionate about events and meticulous about the little details. We leave no stone unturned when planning your event.
A good outcome is not an option with us; your event must be SPECTACULAR!
If it's a gathering of people, we have the know-how to make the event extra special and stress-free.
Pinterest: Deizi Events