DEO Bridals (formerly Bridal Comfort)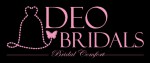 Bridal Comfort is a Lagos-based Bridal Gowns and Accessories store with affordable and elegant bridal gowns and accessories.
We work within budget to bring the dreams of our clients to reality with no stress whatsoever on the client. Dresses are delivered one month from day of order.
Tailoring/Amendment and Laundry Services are also available for customers that need such services.
BBM Pin: 2BCB4F08