My Signature Wedding (MSW)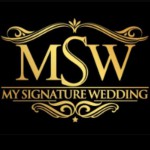 Making you the Centre of our focus.
UK/Lagos WeddingPlanner, Hen Parties, Professional & Outstanding Services
My Signature Wedding is new, dynamic and fresh. We approach each wedding as a combined effort with our couples. We start by getting to know our clients so we can fully understand your style, passions, likes and dislikes. We then reflect your lifestyles and personalities into your wedding.
We ensure that every element comes together with style and efficiency. The flow, timing and execution of a wedding day is as important as the details themselves. MSW focuses on providing a life changing service by making sure our guests feel taken care of. We ensure a bespoke style and commitment of excellence is demonstrated at all times allowing our clients to relax and enjoy their wedding day.