SeunD's Beads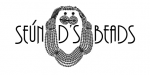 SeunD's Beads specialises in custom made handcrafted beaded jewellery with pieces made from high quality bead stones such as coral, pearls, gemstones, swarovski elements etc.
The head of Creative Design's inspiration is derived from her native roots, her chic style, as well as the ever dynamic world of fashion who aims to exceed expectation.
Delivery is available worldwide.
Blog: www.seundsbeads.blogspot.com