The Wow Booth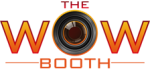 The WOW Booth is a unique photo/video experience bringing unforgettable entertainment to weddings like never before.
Your guests enter an irresistible luxury booth fused with lights! camera! action! music! Voice prompts! props! and embark on a unique experience, taking crazy photo's with props and recording fun video's with friends & family. Each receive their special photo prints within seconds or even able to view them instantly online in a special private gallery. The perfect memorabilia of your wedding to take home.
New in Nigeria, The WOW Booth is powered by the WOWRIG software delivering unique offerings and capabilities.
Give yourself the best present of the special day and record your guest's good-will messages to you to keep for a lifetime! The WOW Booth is the ultimate bespoke experience and can fully be customised to your day.
Get in touch and discover all that is wow! about The WOW Booth and why the top clients and wedding planners keep using us for their events."