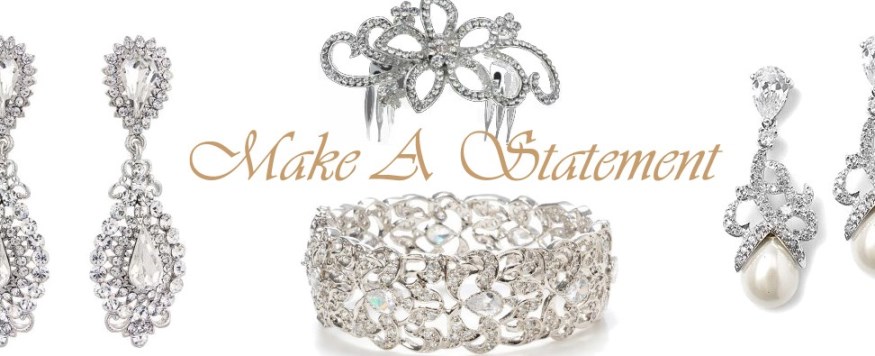 If the dress makes the wedding, then I say the jewellery makes the dress. I have realized that jewellery seems to be often relegated to just the "accessories" category and put off until the last minute, causing major issues when a bride can't find just what she's looking for. In my time, you can say I've seen my fair share of bridal blunders and wedding wonders. Here are my top Dos and Don'ts, so you can absolutely glow on the first day of the rest of your life:

DON'T wait 'til the last minute!
You never want your accessories to be an afterthought. Order everything at least a month in advance. You'll want to have enough time to try it on with your wedding dress and make sure you've achieved the final look you want. If you shop in a rush, you might not be happy with what you end up wearing on your wedding day and that's the saddest thing we can think of.

DON'T over-accessorize!
The only thing worse than under-accessorizing is over-accessorizing. If your wedding dress has a lot of lace or heavy embroidery, choose light pieces to compliment it. If you have your heart set on a chunky necklace, skip the armful of bangles and shoulder-grazing earrings. Ask a stylish friend to help you edit your look.

DO accessorize your bridesmaids!
You spent countless hours finding the perfect bridesmaid dresses, so take a few minutes to complete the look with fabulous accessories. Keep the style consistent, but let your bridesmaids express their individuality. (Trust me, they'll thank you!).

DO change jewellery for the reception.
By now you know simply changing your jewellery can completely change the look and feel of your wedding style. So even if you aren't letting your hair down or changing dresses, this is the perfect opportunity to try those statement earrings you loved or add bangles to make a stack (after all, you won't have to worry about clanking noises once the party's started)!

DON'T compromise personal style.
This isn't the day to try something new or go out of your comfort zone. All too often, I've seen brides head for trends, rather than expressing their true style. There's enough to stress about on the day, much less adding the feeling you're out of your skin. Go for classic beauty, and you'll walk tall and enjoy your pictures for a lifetime.

DO mix finishes: your ring is its own entity.
Pay no mind to the finish of your wedding band when selecting a finish for your bridal jewellery. Your wedding ring does not need to match your necklace and earrings. Your ring stands alone and shouldn't dictate which finish you wear.

DO go big!
Especially if you're wearing your hair down! Dainty earrings will get lost in your hair. Punch up your look with some dramatic statement earrings!

DO incorporate colour into jewellery.
It was shades of pink, now it's passionate red. Or is it Tangerine Tango? Whatever your colour scheme, incorporate matching or complimentary hues into your jewellery. If you're walking the aisle in white, but want to add some pizzazz, try fun jewel-toned earrings. Or, gift your bridesmaids colourful pieces that can be worn in everyday life too.

DO mix borrowed with new.
Long gone are the days where everything is matchy-matchy. Boring! To look put together, express your style in a cohesive way. The finish of your jewellery should be similar, but feel free to mix and match, as long as the general shape and/or era echo the same tone. This is the perfect opportunity to blend your something borrowed (think: heirloom) with a new piece. You can incorporate your grandma's vintage brooch or your mom's favourite bracelet and still exercise your style.

Still stumped on what to wear for your wedding? Ask Zena Accessories for a complimentary personal recommendation!

Article culled from Zena Accessories