Win My Big Nigerian Wedding (MBNW) Season 2: Win A N15Million Wedding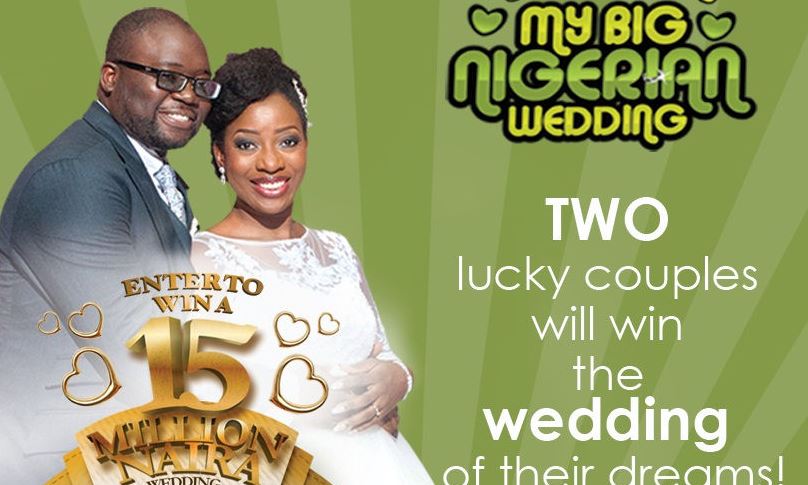 The journey to the dream weddings of two lucky couples has begun!
WED Expo and Riverside Productions are proud to announce the start of entries for My Big Nigerian Wedding Season 2. This is a contest where couples can win the wedding of their dreams sponsored to the tune of N15 Million. Their wedding will be planned and co-ordinated by some of the best wedding vendors in the country.
In Season 1, Yemisi & Yomi Odusanya won the wedding of their dreams and a luxury honeymoon at Burj Al Arab, the world's most luxurious hotel. This time around, two couples will win this lucky treat. There will be one wedding in Lagos and one in Abuja.
Entries are now open for couples to register. The first stage of the competition is a voting process where couples can get their friends and family to vote for them to move on to the next stage. The process is easy and transparent and everyone stands a chance to win!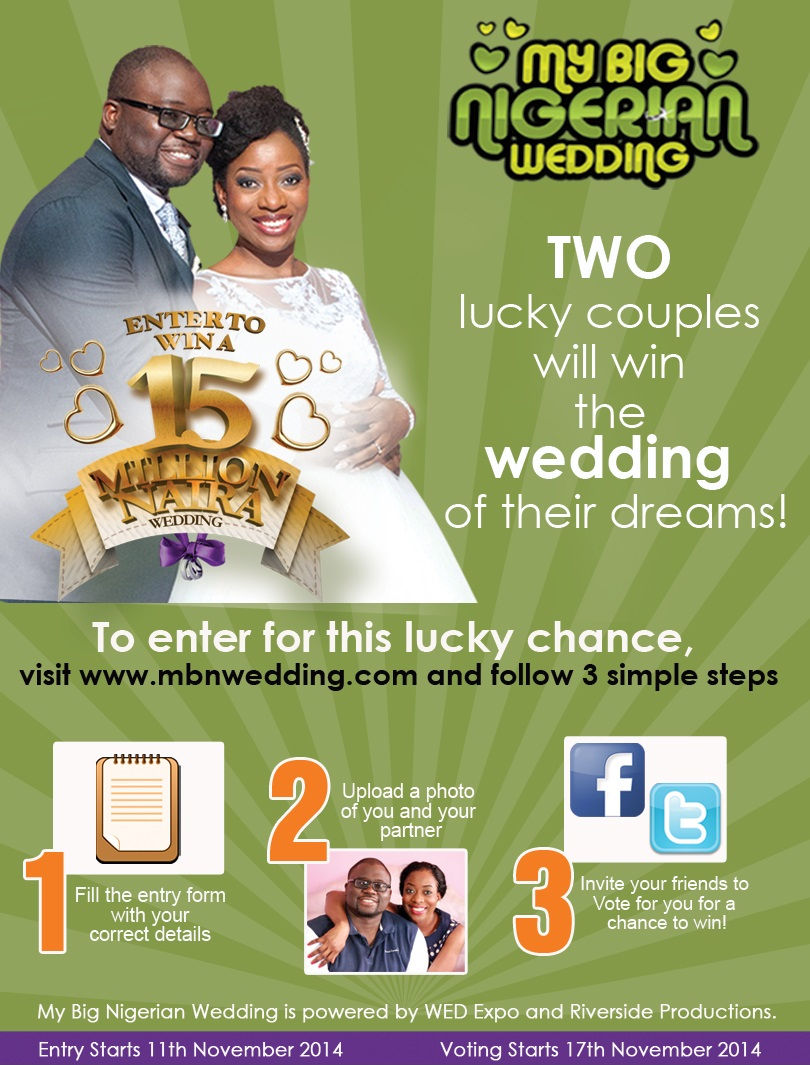 HOW TO ENTER (Entries Starts on 11th November 2014)
Do you wish to get married by mid-2015?
Do you want to have your wedding in Lagos or Abuja?
Here is your chance to save on costs and have your dream wedding. Follow these simple steps:
Like the Weddaily Facebook Page
Click on this link MBNWedding Lagos OR MBNWedding Abuja
Fill the entry form and upload a photo of you and your partner
Share the link with your friends and family to get as many votes as possible. *Please note that people can vote for you ONCE PER DAY.
HOW TO VOTE (Voting Starts on 17th November 2014)
Like the Weddaily Facebook Page
Click on this link MBNWedding Lagos OR MBNWedding Abuja. You can also use the direct link to the couple's profile page.
Search for the photo of the couple you intend to vote for and click on vote. You can vote only ONCE PER DAY.
This is a free-to-enter competition and couples are not required to make any payments in order to stand a chance to win. Weddings would hold ONLY in Lagos (for the winning couple in Lagos) and Abuja (for the winning couple in Abuja).
The My Big Nigerian Wedding Competition is a Reality TV Show that will be aired on TV Stations across the country. Couples will be shortlisted from the voting process and the finalists would be invited for a live game show in March 2015 at WED Expo Lagos & Abuja where the winners will be selected.
WED Expo Lagos
Date: Friday 27th to Sunday 29th March 2015
Venue: The Haven Event Center Hall. GRA. Ikeja, Lagos State
WED Expo Abuja
Date: Friday 6th to Sunday 8th March 2015
Venue: M and M Event Center, Beside Nicon Luxury Hotel, Garki, Abuja
For further questions and inquiries, please send an email info@mbnwedding.com or add BB PIN 24C9B955
Do you wish to sponsor My Big Nigerian Wedding or be a part of the vendors who will manage Nigeria's biggest wedding contest? Please send an email to info@mbnwedding.com
Episodes of Season 1 have already begun airing on iRoko and will soon start showing on TV Stations across the country. This is one opportunity you don't want to miss!!!
Terms and conditions of the competition can be found on MBN Wedding