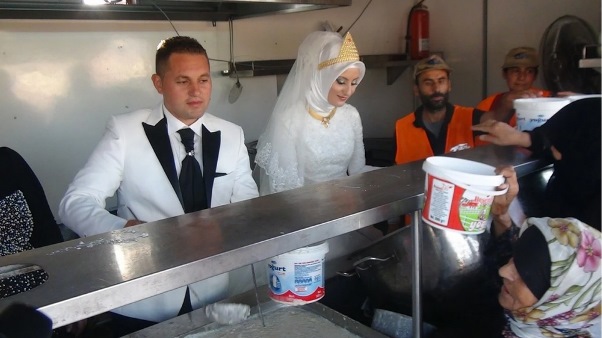 Fethullah Üzümcüoğlu and Esra Polat – a young Turkish couple gave up their wedding reception to help those in need. The couples's remarkable act of kindness has already made headlines around the world. The couple tied the knot last week in Kilis province on the Syrian border, currently home to thousands of Syrian refugees who have fled the neighboring country since the outbreak of the civil war four years ago.
Traditionally, Turkish weddings last between 2-3 days ending with a banquet dinner for friends and family on the last night. This couple, however, decided to donate their families' savings for the wedding feast and share their celebrations with around 4,000 refugees living in the local community.
The generous idea came from the groom's father, Ali Üzümcüoğlu, an active volunteer at Turkish charity Kimse Yok Mu. He told i100.co.uk.;
I thought that sharing a big delicious dinner with our family and friends was unnecessary, knowing that there are so many people in need living next door. So I came up with this idea and shared it with my son. I'm very happy that he accepted it and they started their new happy journey with such a selfless action.
Hatice Avci, the international communications manager for KYM said;
When he told that to the bride she was really shocked because, you can imagine, as a bride you wouldn't think about this—it's all about you and your groom. In southeastern Turkey there is a real culture of sharing with people in need …They love to share their food, their table, everything they have. That's why the bride also accepted. And afterwards she was quite amazed about it.
On Thursday, the newlyweds paid for the food with money that had been donated for their wedding and banded together with their wedding guests to operate the charity's food trucks and distribute food to refugee families in the community themselves. They then took their wedding pictures with people at the camp afterwards, according to local media.
The bride said; "It was such a wonderful experience. I'm happy that we had the opportunity to share our wedding meal with the people who are in real need."The groom said he had never taken part in anything like this before and considers it the "best and happiest moment" of his life. "Seeing the happiness in the eyes of the Syrian refugee children is just priceless," said Fethullah Üzümcüoğlu. "We started our journey to happiness with making others happy and that's a great feeling."
According to the United Nations, more than 4 million Syrians have had to flee their home country with Turkey hosting more than 1.8 million refugees since the conflict began in 2011, about 45% of all Syrian refugees in the region.
Source: ElantheMag.com