Nigerian Wedding Guest Look… Cobalt Blue | Stylish Academic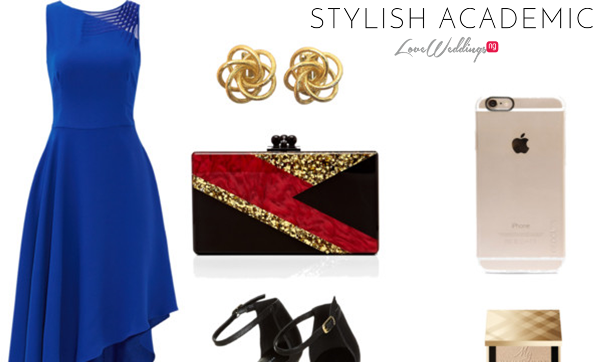 It's 2016, yay!
2015 fashion trends at Nigerian weddings went to a whole new height of style and elegance. This year, Stylish Academic in partnership with LoveweddingsNG will bring you weekly style inspiration that will keep you looking at the top of your game all year.
The colour theme for this month is Cobalt Blue.
Cobalt blue is an autumnal colour (September-December), and it works with all skin tones. Colours you pair it with however, depend on your undertone. Warm undertones would look great pairing this shade of blue with orange, and cool undertones will look fabulous pairing cobalt Blue with the chic black – just like in the picture below. If you would like me to do a post on understanding skin undertones, please let me know by dropping a comment here or on Instagram.
I selected this cobalt blue dress for its simplicity. The slant cut is utter perfection! Also, the detail on the right shoulder adds delicate beauty to the outfit. With this dress, you do not want to over accessorise. It already has enough going on.
I have included a pair of gold earrings to go with the outfit, but if you want to do a bit more accessory-wise, I reckon a thin gold bracelet won't do any harm.
Happy new year to you, and see you next Saturday with another Cobalt Blue inspired style inspiration.
If you've missed previous posts by Stylish Academic on this column, catch up HERE
Remember to visit my blog at www.stylishacademic.com & follow me on Instagram for daily style inspiration.