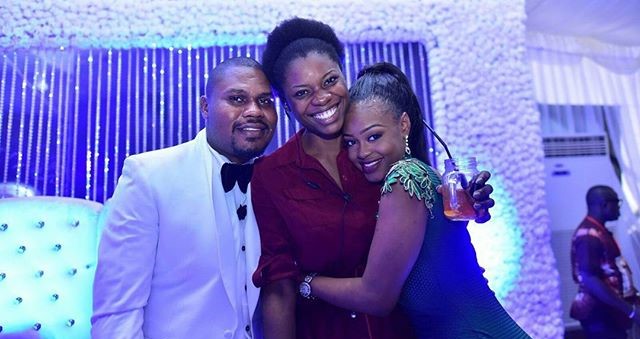 Yes!!! Because when someone does a great job, they deserve to be thanked and the same applies to wedding vendors. You can argue all you want and say, they got hired and paid to do their job and that's enough but we think if a vendor has gone above and beyond, you should go also go a little bit further by saying 'thank you'.
Here are some ways to say thank you to your wedding vendors.
1. Give Them A Tip: Just like you'd give a waitress a tip at a restaurant, you can decide to give them some extra cash. However, it's always a good idea to check what their policy is regarding this – some businesses don't receive cash gifts as a policy so check before you do this. How much should you give them – it really depends!! The only thing we'll say is gauge how much you think they'd appreciate from what you paid them. For example, there's no point giving someone N1,000 if you paid them N1 million to hire their services. Decide on a percentage e.g. 5% or 10% of what you paid them if it helps.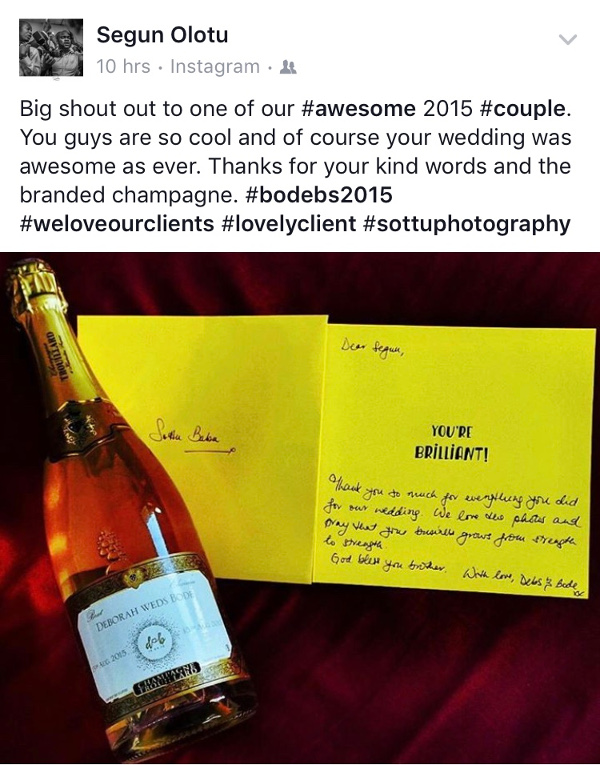 2. Send Thank You Notes/Gifts: Whether you send it in writing, in a card or via text, its always nice to say thank you in writing – perhaps because they can always refer to it. If you want to, you can also send gifts along with the thank you notes. One tip for gifts is to make sure it has some relevance to the vendor. For example, real bride Megan from #TheDoughs16 presented her event planner – Deola of 2706 Events with these thank you gifts – 2706 customised phone cases and a box of stress relief set
3. Meet them up after the wedding: It's also a good idea to offer to meet the vendor in person after the wedding just for lunch/dinner. It's such a nice feeling to see clients who just want to spend quality time with their vendors after the wedding. Vendors can also use this time to find out how satisfied you were with their service. Photographer – Kevin Obosi was invited to dinner at Big Easy in Canary Wharf by one of his couples – Mr & Mrs Soares (Bolanle & Wale) just to say thank you.
4. Referrals: Every business (however big or small) will love you for this. There's nothing better than recommending other brides & grooms to also hire them. In referring someone to a vendor from experience, you're doing two things essentially – you're saying they're great but that you also endorse them and you're also saving the person from searching for the right vendor, which can be overwhelming.
5. Write testimonials/reviews: Write a testimonial/review (make it specific rather than generic) and ask them if they'd like you to share this on their website, social media platforms or with any other third party – blogs, directories, etc. A positive review always helps particularly when it is shared by the client directly. Your vendors will appreciate this. So don't just say thank you – offer to spread the word and either offer to share with everyone how amazing they were or give them permission to share on their various platforms.
6. Offer to Speak to Their Clients Who Need a little Push: Offer to speak to any clients who need some convincing or just reassurance that they made the right choice. This would obviously need to be pre-arranged as we don't expect every client to have your contact details but you can offer to be contacted by a certain number of potential clients.
If you can think of any other ways to thank your wedding vendors, please share them in the comment field below. We'll love to know