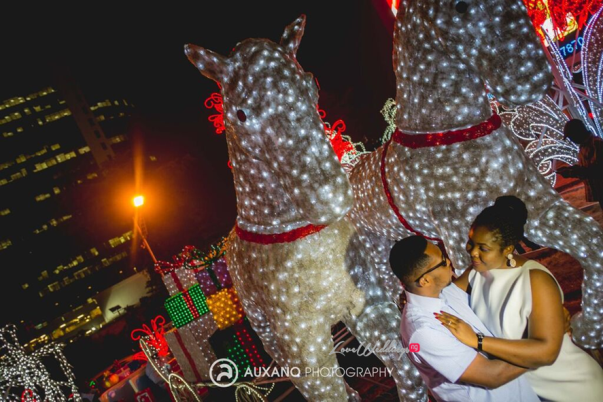 Emmanuel and Mary are set to wed in May. The bride shared their love story and pictures from their engagement shoot captured by Auxano Photography with us.
Enjoy!!!
How we met
It wasn't love at first sight , in fact Emmanuel asked me out for over 6 months but I just didn't want a long distance relationship again.

We had been friends for a long while but I had never taken note of him. Somehow, after his birthday in 2014, we spent every night talking as friends and then he kept asking me out for about 6 months. I did everything to push him away but he stayed.

You see, he was great but I was in Port Harcourt and he was in Lagos. But then, he showed me what love is; he didn't give up on us, he knew we were meant to be. There was never a grand gesture, it was in the little things he did, out of the blues, he'd send me romantic messages, cook me dinner, or just how quick he is to apologize when we fight (don't tell him, but I'm usually at fault), how he holds my hands or how he always says your smile makes my whole world alright.

Emmanuel is a hopeless romantic, you know how a man is just perfect even through his imperfections  – that's my Manny.

On Valentines day, he casually said he wanted us to go and meet his friends who stay in Port Harcourt. I hadn't met them before, and then he was so concerned about what I would wear out. We got there and met his friends; we were having a great time, singing at the karaoke stand and then he said he wanted to sing also. He started singing and the next thing he was kneeling down and proposing, I can't even remember what he said but I just started crying and saying yes!!!

The most amazing thing is knowing that I am loved and he tells me every day.

You know how girls want to always feel special; well, I am living that dream. Sometimes, I want to pinch myself to be sure that I am actually not dreaming.

Who would have thought that an ordinary girl like me would be loved in such an extra ordinary way. There's a God in heaven.

So countdown to #MannyMary2016 begins – May 14th in Lagos.