WED Expo comes to Port Harcourt, May 27 – 29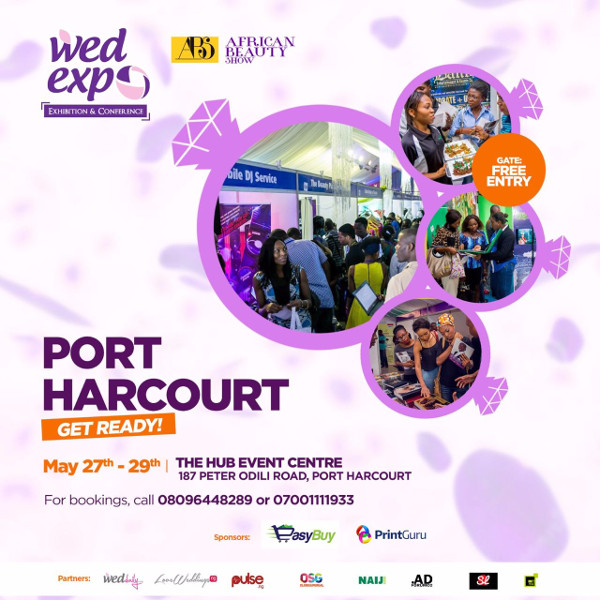 WED Expo – Nigeria's Largest Wedding Exhibition is back in the city of Port Harcourt. After a successful event in 2015 and a nationwide tour of successful exhibitions in Lagos and Abuja. It comes back to the garden city even bigger and better
If you're planning to get married or attending a wedding within the next two years, you have to be at WED Expo.There will be lots of discounts and giveaways from wedding/beauty vendors.
Date: May 27th to 29th, 2016
Venue: The Hub Event Center, Peter Odili Road, Port-Harcourt
Time: 10AM – 6PM Daily
Entry/Admission: FREE!!! Entry is FREE!!! Entry is FREE!!!
Watch the video below for highlights from WED Expo Port Harcourt 2015
Some Exhibitors for WED Expo Port Harcourt
Dripples Cakes | Dezua Events | Liviy Basil Productions | BH Artistry | TresBien Events | Hair by Beesroots | Glam Beauty Jay | Eazy Hair & Cosmetics | 3003 Events | Teal Fabrics | St Alexandria's Craft | GeniQ Fotos | The Scented Room | Our Intimate Secrets | Bolly T. House of Beauty and Bridal | Flipa Finesse Creators | City Celebrations | Bridal Empire | FAB Photography | Creamy and Crusty | Wraps 'n' Wrappers | Ritalia | Crystal Garnet Event Company | Transcending Beauty | Ixora Receptions | Saint Tracy | Be-fab wardrobe | Adarah | Boxed Expression | Fuschiapink Cake Shop | Zaphon Gifts and Souvenirs | Definite Elegance | Sweets Avenue | Kibet Essentials | Mixers and Shakers | Fab By Nunu | D4Dannie | JENNIS | Peacock Delight | SWIT Memoritz Cakes | Neyeka Fashion | Gladshair | WinnieOrekoya Photography | BE Beautiful Fabrics | Cadaora Exquisite Events | Toyzn Party Planet | Print Guru | EasyBuy
If you're a wedding or beauty vendor and you'd like to book a booth at WED Expo in Port-Harcourt, call or send a text to 08096448289, 08170281350
---
LoveweddingsNG is an official media partner for WED Expo 2016