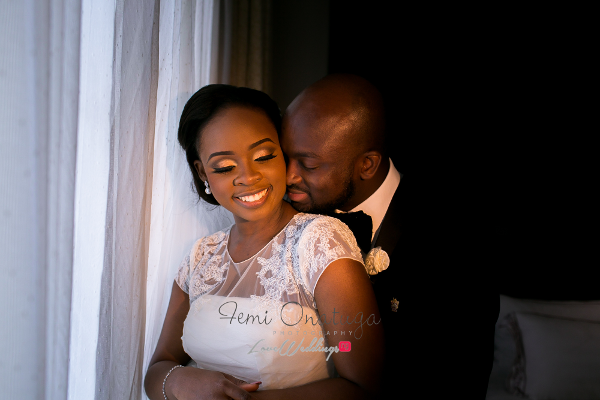 Temitayo Borisade and Ololade Obadina got married on the 22nd of April 2017 in Lagos, Nigeria. They had their first meaningful meeting in January 2014, started dating in April 2014, got engaged in June 2016 and said 'I Do' in April 2017. The couple shared their story with us and pictures by Femi Onatuga Photography from their fabulous wedding in Lagos Nigeria.
Her Story
I met Tayo for the first time, briefly after my final year at Surrey around August 2012. At the time, he came to visit a friend and I happened to be in the same place. I remember him coming across as a snob because he just said "hello" and went downstairs. I thought, 'hang on, what's wrong with this one?' In hindsight, the boy was probably just shy and felt intimidated by this bombshell of a girl (i.e. me!..Lol.)

Moving on to about a year later in Manchester where I was studying for a Masters, I went to the evening service at King's church on a random Sunday and guess who I bumped into? Tayo! It was so strange because all the cool kids went to the morning service and I wasn't expecting to see anyone who knew me let alone, someone from Surrey! We had a brief chat then, I wished him well and went on my way.

I think we ran into each other a couple more times during my time at Manchester but it was always just a "Hey, good to see you. See you around" kind of conversation.

So here is some back story – while we kept running into each other, we had friends in Manchester (Dami and Lukundo!!) who knew us individually and kept trying to hook us up but I wasn't having it. I thought it was weird considering how we first met in Surrey. But these two (Dami and Lu) were persistent. There was this one time we were all in the same place and Dami who was supposed to give me a lift home said "Oh, Tayo can drop you off Lolade". Obviously, I knew what he was trying to do so I declined the ride (a girl has to put up a front innit.. :p).

I moved back to Nigeria after graduation in Dec 2013, and was invited for a job interview in the UK a few weeks after. Soooo, I packed my bags (yet) again, attended the interview in London and had 2 days to hang around before I was scheduled to return back home. I snuck in to Manchester in the evening on my last Sunday without telling my friends I was in town. Mr Cupid (aka disappearing Dami…lol) had the best facial expression when he spotted me hiding at back in church. Guess who was sitting beside Dami again? Mr Borisade IV (i.e. Tayo). Man! Like why was he always in my space?

Dami came over to say hello and promised to catch up after the service was over. I went round chatting to some of my church family I had missed, and someone called my name. I turned back and there was Dami with Tayo. Dami cheekily said 'Oook, Tayo meet Lolade, Lolade meet Tayo' and he walked away leaving us two alone. I was confused for a second wondering what that was about considering he knew very well that Tayo and I knew each other. In an attempt to make this encounter less awkward than it already was, I asked about Tayo's welfare, job, etc. Nothing out of the ordinary.

About an hour after all this went down, I was back at my friend's who I was staying with in Manchester. I honestly don't know what was going on with me but I felt VERY restless that evening. My mind kept going back to the awkward conversation at church. I thought I might have been rude so I went on Facebook and sent a private message to Tayo saying something along the lines of 'it was great catching up, all the best with your new job and life'. Once that was out of the way, I felt some peace.

While I was absolutely gutted I didn't get the job that brought me back in the first instance, I received a FAR MORE valuable reward. God has a sense of humour, you know? I honestly couldn't have done better. God TOTALLY loves me!

The thought of doing life with you gives me butterflies Babe! Exciting times!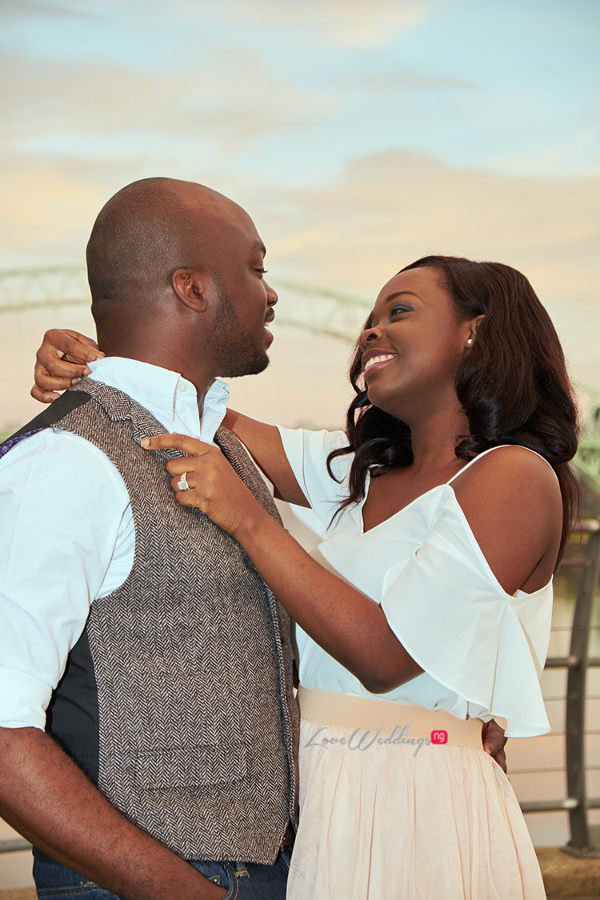 His Story
I met Lolade for the first time on August 21, 2012 in Guildford, UK at a friend's that I stopped by to see. It was all 'hi' and 'hello' as I do not particularly enjoy meeting new people due to my shyness. I'm sure she thought I was snobbish. lol. A lot of people have that first impression of me.

About a year later, I visited friends in Manchester where I had completed my Masters' degree and attended my old Church on Sunday. On my way out, to my complete surprise, I bumped into Lolade. What were the odds? We caught up for a couple of minutes and she told me she was about to complete her Masters' degree at the same University I went to and she had been attending the Church I used to attend. It turned out she had made a number of mutual friends at Church. We went our separate ways and didn't keep in touch.

At this time I was going through challenges in almost all areas of my life so making new friends and keeping in touch with them was not high on my priority list. But through it all, I learnt to trust completely in God and He assured me that He has huge plans for me.

I finally got a job at the back end of 2013 and moved back to the North West of England. At this time, things were beginning to fall nicely into places for me. By the turn of the year, I had met and crossed out a few 'potential' ladies as soon as my spirit disagreed with them.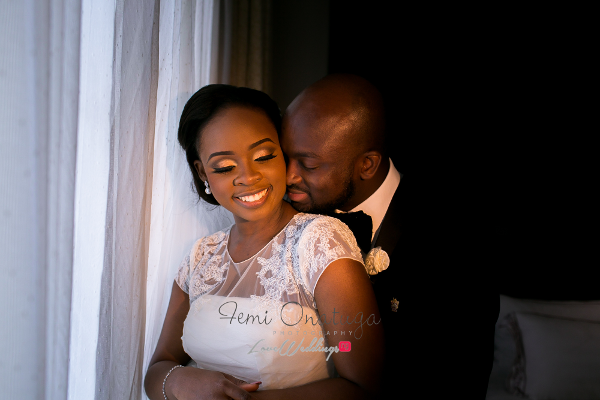 Sunday, January 26, 2014 was the day it all changed. I had been on a road trip the night before with friends and had decided I wasn't going to go to Church at all on the Sunday. But God works in mysterious ways. I made my way to the evening service. As the service ended, one of our friends came over to me and said "Hey bro, I need you to meet someone". To my mind I was thinking he's playing a prank and taking me to say hello to his wife as we hadn't seen in a while. We walked together to the rear of the Church and bam! It was Lolade AGAIN! This time it was different. I saw her in a completely different way to our first two meetings. It was awkward, it was exciting, it was nerve-wracking! Very quickly, I had to think and strike up a conversation. It was the longest we had spoken. It probably lasted 15minutes but in that time, I already knew something was up. On my way home that night, I couldn't contain the excitement. I called up my bestman – BK – and somehow managed to spend 50minutes talking to him about my 15minute conversation with this woman.

I got home and as if it wasn't already the best day of my life, she had sent me a message on Facebook saying "It was nice seeing you today". Well, as a sharp guy, you can't pass up a cue like that. I made sure I kept in touch, and even though she was moving back to Nigeria at the time, I just felt peace. I had no worries whatsoever. I found out more about her. I ultimately found someone like me. Someone that has the fear of God. Someone trustworthy. Someone beautiful outside and more beautiful inside.

Ololade Opemipo, while I was taking those steps from where I was sitting to the back of the Church to meet you on that January evening, I never knew they were steps that would bring me so much happiness. Such happiness that I would love to have with me for the rest of my life. Thank you for talking to me. Thank you for giving me the chance to be your friend. Thank you for being my friend. Thank you for always giving me reasons to be happy. Thank you for understanding and accepting me for who I am. Thank you for the incredible loving ways you handle times when we don't agree on certain things. Thank you for making me feel you're worth my time, my attention, my emotion, my care, my love. Most of all thank you for making me feel you're absolutely worth fighting for! I've loved you from the beginning, I love you now (even more than I did then). God being my guard and my guide I will always love you. Cheers to a bright and glittering future for us rooted in Christ.