December at LoveWeddingsNG is a month to reflect; we always take a look back at the year to see what trends stood out. Catch up if you missed Nigerian wedding trends in 2014, 2015 and 2016.
As per previous years, we always start with a Spot the trend competition of some sort on Instagram and you all have been amazing today. We've enjoyed reading every comment and cannot believe how busy our comments section has been today. Thank you all so much.
This year, we tried our hardest not to repeat trends from previous years but there were a few that just had to be repeated so don't panic if you see a trend that we highlighted last year or in the previous years.
So without further ado, we present our Nigerian Wedding Trends list of 2017.
Enjoy!
1) Interesting wedding invitation cards:
This year, we saw all sorts of wedding invitation cards – some with illustrations of the couple, others were just funny, others in pidgin English. See some examples below;
2) Dramatic Bridal Bouquets:
The bouquets this year were out of this world – from blinged out bouquets to dramatic bouquets. Remember Rewa's garden themed bouquet by TOYLON Florals (#Lurewa) to Lara's (from #LaraKen2017) gorgeous bouquet by Camaka Bespoke Pieces
Bouquet: Adela's Flowers

Wedding: #Lurewa

Photo: SC George Weddings

Photo: SC George | Bouquet: Camaka Bespoke Pieces
3) Bridesmaids in white:
The bridesmaids colour this year at a lot of weddings was white. Brides like Anita (Ms. Makor) from #Alfreds2017 weren't afraid to share the spotlight and allow their ladies rock white.
Anita (Ms Makor) | Photo: JOP Studios

Anita (Ms Makor's) Bridesmaids | Photo: George Okoro Weddings

Bride and Bridesmaids from #Teedot2017
4) Ankara bridal robes for brides and bridesmaids:
Some brides rocked bridal robes but a lot of brides did it with ankara fabric. From makeup artist, Oshewa to Olori Abisoye and others, see some brides who rocked this trend in 2017.
5) Two Wedding Hashtags & Couples Got Creative
Last year, a lot of couples had two hashtags for their wedding and the trend continued in 2017. See some examples below;
Couple: Dami & Deji | Hashtags: ##DWedding17 #TaiDKnot
Couple: Ayo & Murewa | Hashtags: #MATieTheKnot #ReAyo17
Couple: Lola & Wole | Hashtags: #LowSho17 #GetLow17
Couple: Fatimah & Abdulrafaii | Hashtags: #ForTheRecord17 #TheFaabulousMix17
They didn't stop there though. A lot of couples switched their hashtags up a notch by going away from the usual first/last two letters of the bride and groom's first name + Wedding Year formula. We saw creative wedding hashtags like #DWedding17, #ForTheRecord17, #TheACEWedding2017, #CUThere17 and more
6) Stylish Bridal robes:
Still on bridal robes, we saw a lot of feathered, tulle, illusion bridal robes this year. Wearing a bridal robe on the morning of your wedding with your bridesmaids is now officially a thing at Nigerian weddings. Brides like Bose from #BToks17, Adesua Etomi from #BAAD17, Dami from #DWedding17 and more rocked this trend.
7) Bridal gowns with illusion sleeves:
We love how brides rocked illusion sleeves on their bridal gowns this year. We spotted a number of brides like Oyeyemi (#ForeverOA17) in her stunning bridal gown by April by Kunbi and Bema from #Bemelle17. See more brides who rocked this trend below.
8) Giant letters & Name tags:
We saw this at s number of weddings this year; from #BToks17, #TheATLLoveStory, #DFlo to #TKTheWedding and more
9) Grooms Lady / Best Wo(Man): All the Boss ladies, please stand up!! This trend carried over from last year, check out our Nigerian Wedding Trends 2016 post if you missed it. The Grooms ladies and best women definitely rocked Nigerian weddings this year.
At Nigerian photographer, Demola Adeniran's wedding, there was a female best man
10) Peacock hand fans for traditional brides: We really felt sorry for peacocks this year, our Nigerian brides looked at their gorgeous feathers and plucked them all. Spot some brides who used the peacock feathered hand fan at their traditional wedding from Oyin Adenuga, to #ASK17 and more
11) Stunning grand wedding cakes:
From extra grand wedding cakes, naked cakes to really creative designs – marble, water colour, wooden effect icing and more, the bakers went all out this year for Nigerian weddings.
12) Brides wearing multiple outfits for their traditional wedding: For clarity, we've defined multiple as anything over three outfit changes for the traditional wedding. Adesua Etomi (#BAAD17) wore four outfits by Toju Foyeh for her traditional wedding.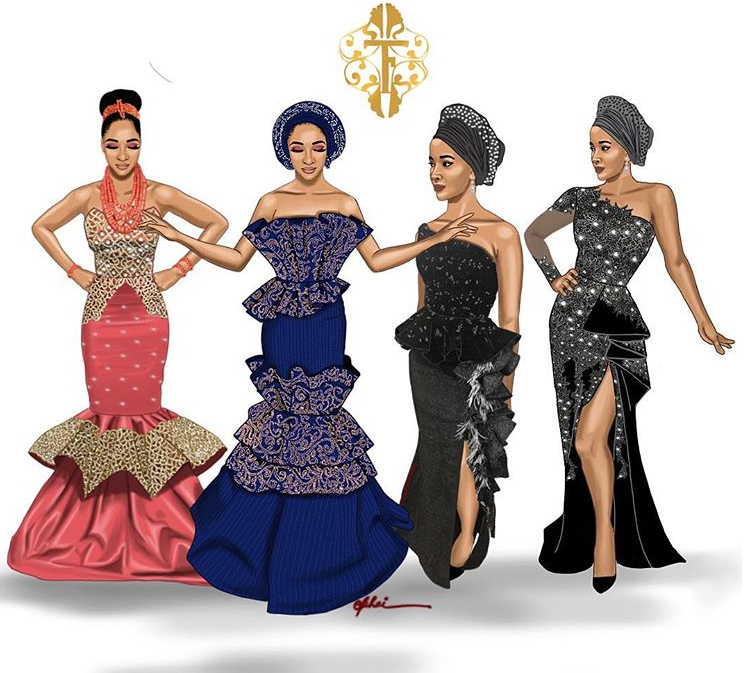 We also spotted a bride this year who wore over 7 outfits at her traditional wedding.
13) Studio PreWedding Shoots: More couples took their prewedding shoots in a studio; from #BToks2017, #YoungandRichRR, #MATieTheKnot to #WWForever.
14) Singing brides and grooms: Our brides, grooms or both of them in some cases took to the mic on their big day. We saw this at Ayo Thompson's wedding and also at a wedding where the bride sang an original song as she walked to meet her groom down the aisle.
A post shared by LoveweddingsNG✅ (@loveweddingsng) on Jul 21, 2017 at 10:09am PDT
Timi and Oma from #TimiwedsOma2016 both sang at their wedding. We've added this to the 2017 list as they got married in December 2016 :). Watch the clip below by videographer, Christiana Andrews.

A post shared by LoveweddingsNG✅ (@loveweddingsng) on Nov 19, 2017 at 1:52am PST
15) Grass Photo walls / Backdrops: A lot of photo walls at Nigerian weddings in 2017 were green and grassy. See some examples below from Chiamaka & Alex, Kemi & Abim, #JayTee18 and more.
Photo: Godwin Oisi Photography
16) Themed Weddings: All sorts of themes this year from a #BOLD17's 007 themed wedding, #SMLove17's farm themed traditional wedding and their aquatic themed white wedding, Dami & Deji's (#DWedding17) Oleku vintage traditional wedding to their Alice in Wonderland themed white wedding and more
17) Palm wine: Palm wine was readily available at a lot of Nigerian weddings this year, thanks to people like Ofada boy.
18) Monotone traditional bridal outfits (same colour head to toe):Traditional brides rocked monotone (one colour head to toe) looks this year.
19) Beaded Aso oke / Traditional Bridal outfits: Traditional bridal aso oke fabrics were heavily beaded and sparkling in 2017. Check these brides out
20) Fog guns: The special effects team took it up a notch. We've seen sparklers, low fog, balloon drops in previous years at Nigerian weddings but this year saw the introduction of fog guns. From #BAAD17 to #BOLD17 and more
A post shared by (TrendyBE Events) ?? (@bisolatrendybee) on Sep 23, 2017 at 8:15am PDT

21) Joint Instagram wedding accounts: This was on our list last year but this year it definitely trended. No thanks to all our Instagram marketers and sellers (side eye), more couples are now choosing to create joint wedding accounts on Instagram to We predict joint couple Instagram accounts will replace wedding hashtags in the next few years.
22) Doughnut Walls
23) Illustrations:
They've been trending for a while now so it's almost no longer a trend. However, you know how much we love illustrations 🙂 we just couldn't help it
24) Twins getting married on the same day
25) Wifey4Lifey Clutch
26) Stylish Groom & Groomsmen: Nigerian grooms and their squad won this year.
27) Welcome Guest Boards: