These trends were present at almost every Nigerian wedding until the 20th century when they started fading away slowly. From high tables, brides wearing gloves to the Chairman of the day; here's our list of top 5 wedding trends that we left in the 90's.
Enjoy!
1. Brides wearing gloves: Tell us when last you saw a bride wear gloves? We saw a bride rock a very classy bridal look with gloves last year; however, that's one bride in a whole year. There was once a time when the bridal look didn't look complete without the gloves. We want gloves back! We want gloves back! Do we? Yes, we do 🙂
2. Those people who sell party ribbons and stick them on your clothes by force in exchange for any amount of money you're willing to part with: Pretty long description, we know. We literally don't know what to call this one but if you were around in the 80's or early 90's and you're Nigerian, you will understand. If you get what we mean and have a picture, please send it to us. We looked everywhere and couldn't find one.
3. High tables: In the past 5/10 years, it was almost impossible to find a Nigerian wedding where there was no high table. Even though some couples still choose to have high tables, it's less common these days. And oh just in case you're confused; when we say 'high table', we don't just mean a table that's placed higher (usually on a stage) above your guests. We mean the Nigerian high table that's usually long and seats about 10 – 15 VIP's (apart from the couple), which can include but isn't limited to the couple's parents, the Chairman of the ceremony, grandparents, your boss(es) at work, a politician, a popular wedding guest…. and the list goes on and on. Here's an example of what a Nigerian high table would usually look like.
4. Chairman of the day & the speeches: These speeches though! As if it's not enough that the couple have just had to listen to a full sermon in church, Nigerian couples in the past 5/10 years would usually have a Chairman of the day who would then go on to give a speech, which most times lasts for several minutes up to an hour in some cases. The Chairman is usually someone who's quite respected either by the couple or their family and usually sees this as an opportunity to share life lessons, advise the couple and more.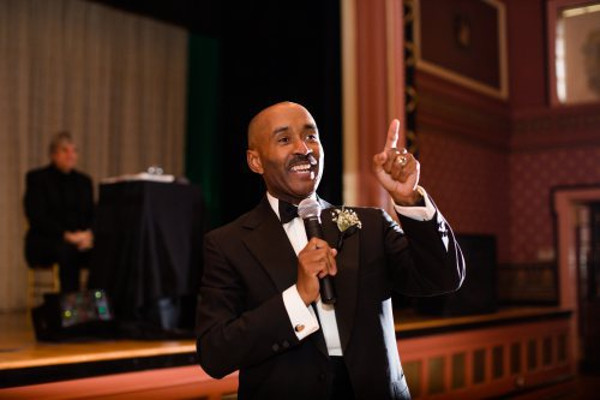 5. Item No. 7: Gone are the days when food was always item number 7 on the wedding programme. These days, guests are bombarded with all sorts of delicacies from the moment they step into the wedding venue. It usually begins with small chops, cocktails; then a plated service and/or buffet service with lots of options – Chinese, traditional, etc. Most couples finish off with dessert and even after party food to make sure their guests are fuelled and ready for the dance floor 'because DJ money cannot come and waste.'
Did we miss any Nigerian wedding trends that we've all forgotten? Tell us in the comments section