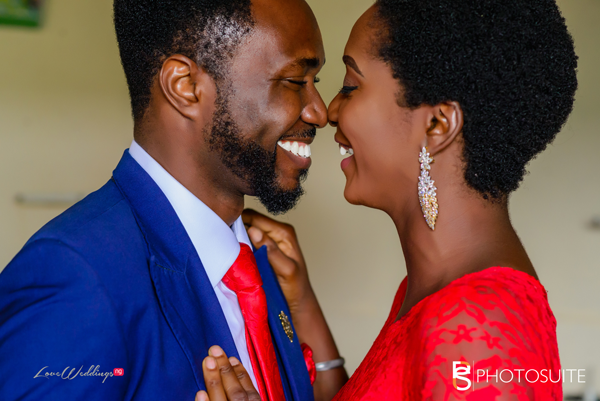 Funmi & Dele's love story is interesting… thanks to Instagram. He auctioned himself; she shot her shot and the rest is history. Read the story of how they met and view photos from their pre-wedding shoot at a unique location; the famous Makoko in Lagos by Photosuite.
Enjoy #OandO18!
Her Story
My God is a miracle worker, I 'shot my shot' in his Instagram DM and it worked. He had 'auctioned' himself on a Facebook group, Singles Interactive Network which we both belonged. He wrote so beautifully and dropped his Instagram handle. It was midnight and I couldn't sleep so I travelled to his Instagram page to see what other things he had there. I scrolled through the entire page and was liking the vibes I got till I accidentally 'liked' his picture. I had to follow him to cover up the mistake. He followed back immediately.

I was embarrassed to the bones! To cover up again, I started a conversation in his DM "you no dey sleep?" I asked, and we chatted for long.

The following day, he placed a call to me, having got my number from my instagram page (I've since removed it…lol). He was now forming "guess who is speaking". I was like ewo ni iranu (what rubbish); Truecaller had shown his identity and I was so irritated by the familiarity; I put my number on Instagram for business purposes not toasting.

"Our uncle" persisted despite my curtness. Over time, I saw that he didn't pretend; he loved words and languages like me, laughed heartily, stood by his words and is quick to apologise. We also shared same spiritual and family values. We became friends fast and though I didn't set out for a relationship on social media, I'm getting married to someone who accommodates my craze, loves my work and believes in my dreams.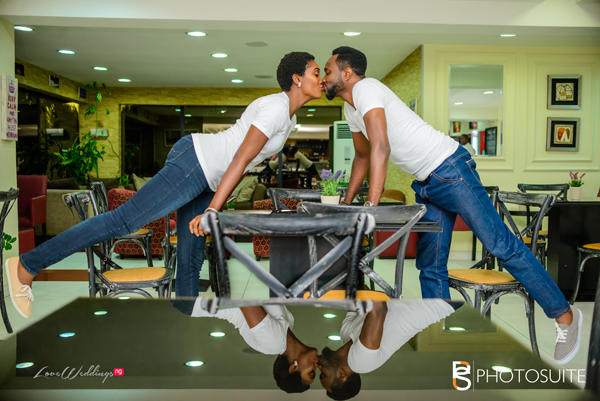 His Story
We were both broken pieces, going through a healing phase. For me, I had begun to slip into hopelessness in finding a companion. However, I began to draw strength from the assurance that God loves me and I began to heal with a restored self esteem.

Then I tried again… to search, to find my rib. I was introduced to a Single's interactive network, to shoot my shot, cast my net, and mingle. I reluctantly joined the group, posted my swaggy profile with some pictures that will make any belle drool and strategically left my IG handle at the end of the profile for those who would dare.

Then one midnight (ghen ghen), she slid into my DM, started following and with speed of light (after I saw how cute she was), I FOLLOWED BACK!

I would say I fell in love the moment I realized that she never left me hanging during our conversations (I had had a full dose of being ignored); she loves to "gist" and no topic was too big or too petty to talk about. She always apologized whenever she responded late and asked me about my day. I pretty much had the impression that she was interested in knowing me.

She was down to earth; I could relate to all sides of her (except for the parrot mouth I'm taking classes to understand). We became good friends. Though obviously different, we began opening up the different parts of our lives to each other and the journey of love has been a beautiful adventure.

She loved me even at my lowest point, and has stuck with me through my seasons. A better companion I cannot ask for, she is indeed a beautiful being.
The Proposal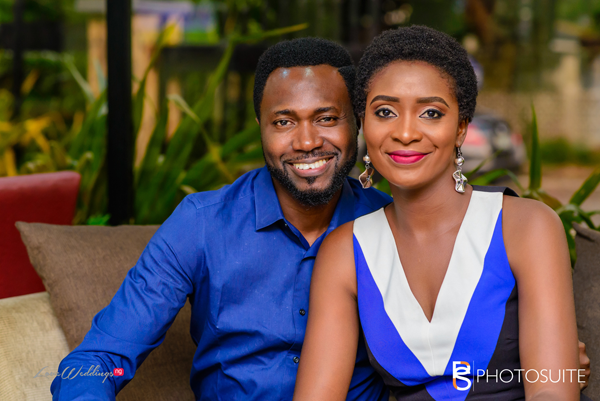 Funmi:It was very quiet and emotional. We were having one of those intimate "gist sessions" and he held my hands and asked me to marry him. No ring, no kneeling down, no cameras, just both of us. The tears from his eyes were like river Niger. I said Yes (so that he could stop crying ??????). And then me too, I started crying.

Dele: Am I ready? Are we ready? these were questions that flooded my thought faculty. I was temporarily unemployed, could barely get by; how do I propose marriage to this beautiful slay-queen Mandela Washington Fellow?

The day I proposed, there was no ring, no flower bouquet, no chocolate, just US side by side. I gave my speech, carefully painted a future for US and I asked her to marry me.  I had sawdust stuck in my eye that got me teary-eyed, so it added some love effect accidentally… She said YES and voila.. here we are.
Why we decided to shoot our pre-wedding pictures at Makoko: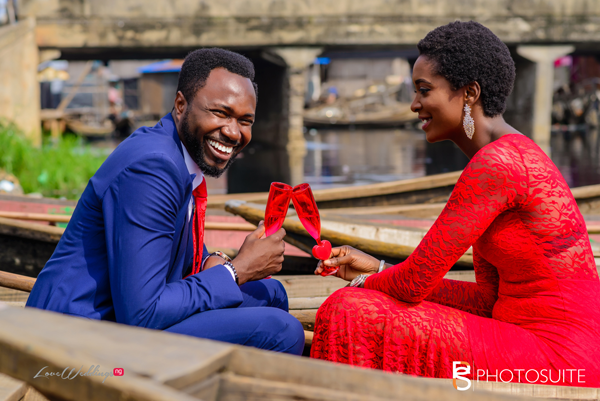 Funmi: In 2016, I founded an organisation, @Kindleafricathat caters to the education and welfare needs of women and children in Makoko. I have a lot of women and children in that community that look up to me; I wanted to tell a story of the community and also give them something to aspire towards. I wanted the girls to know that education is key and love is worth waiting for.

Dele: I suggested the market space, as a creative "think outside the box" and also to make up for not shooting by Civic Center on a Monday morning. We wanted the photo-shoot to project the beautiful people of Makoko in their various walks of life; to capture the smiles of those men, women and children trying to work their way through the gap between the "haves and have nots", and lastly to show the world that every human is important.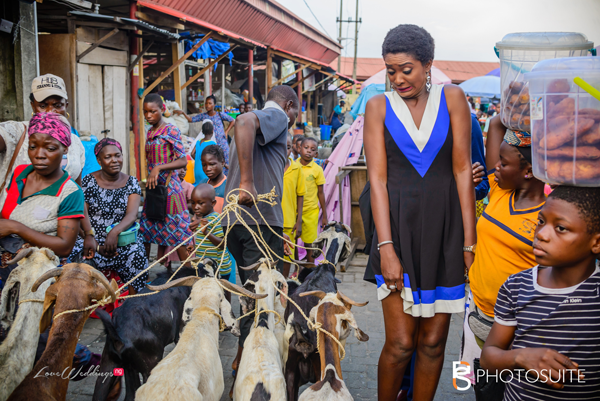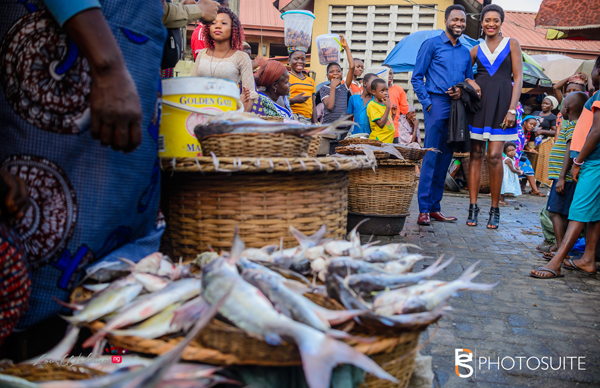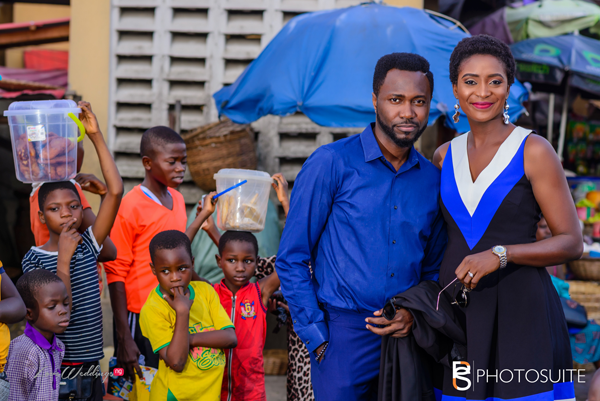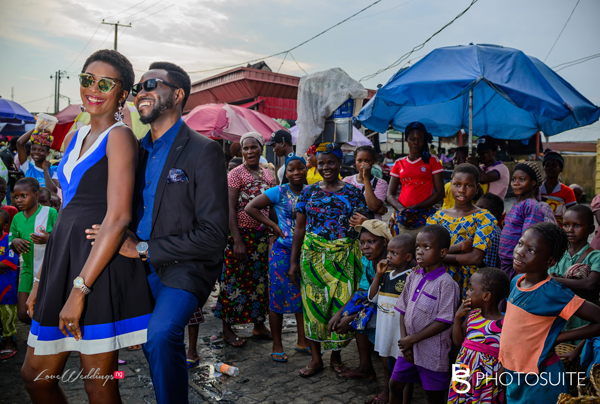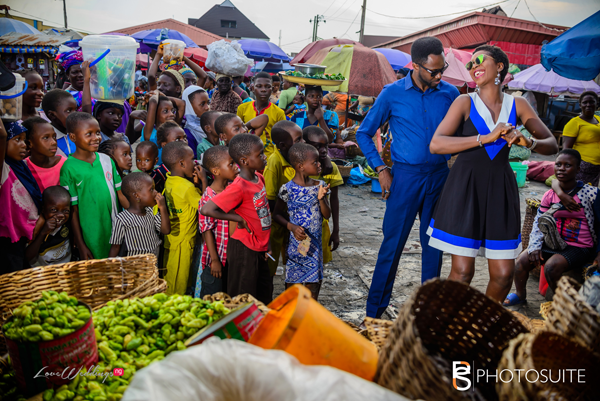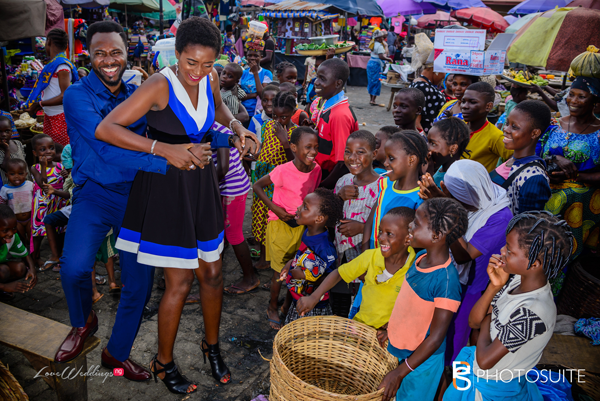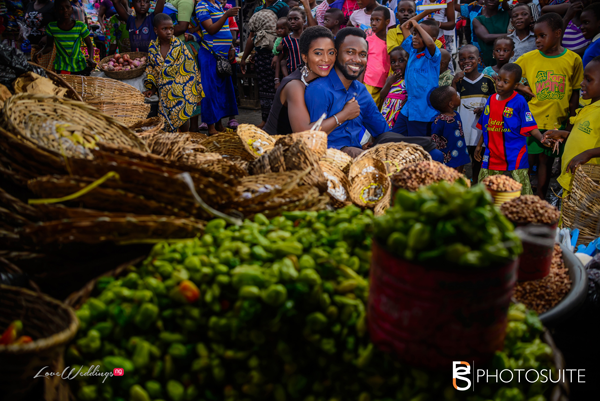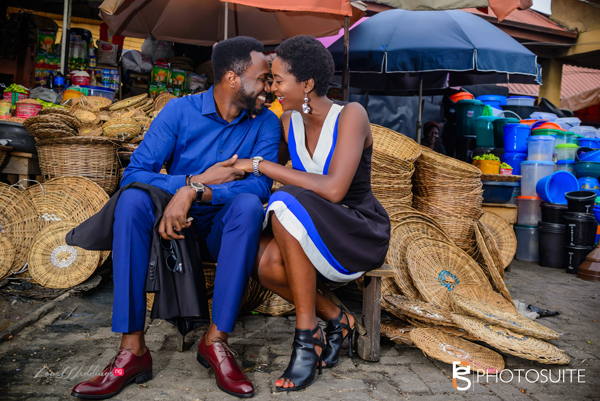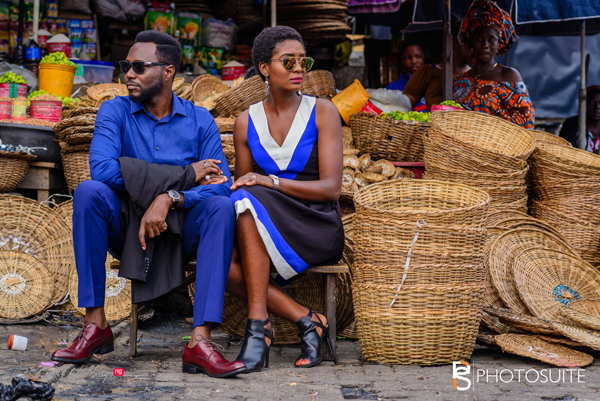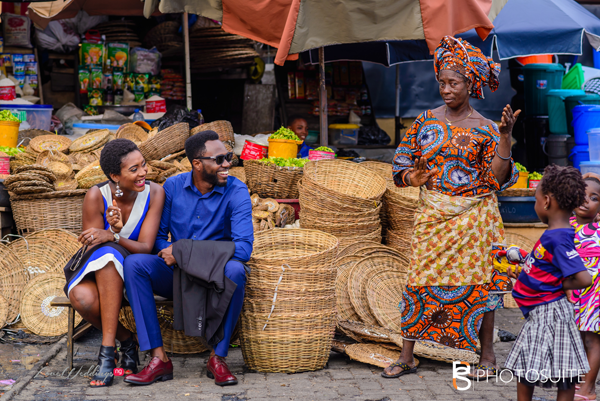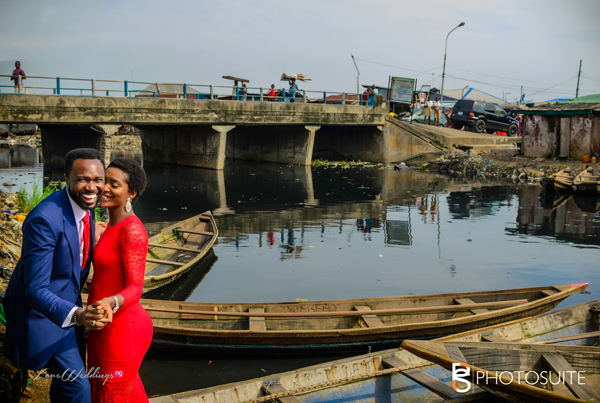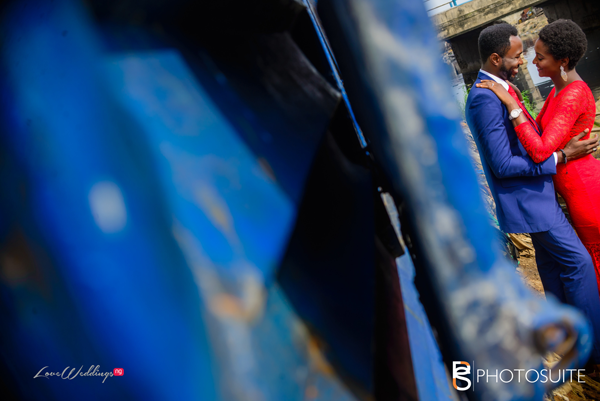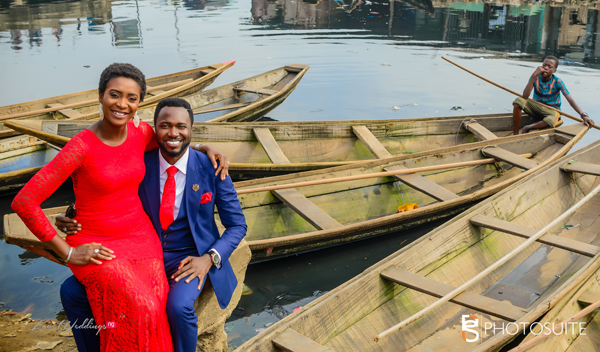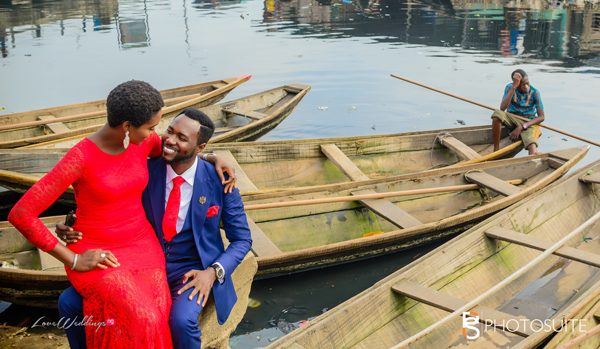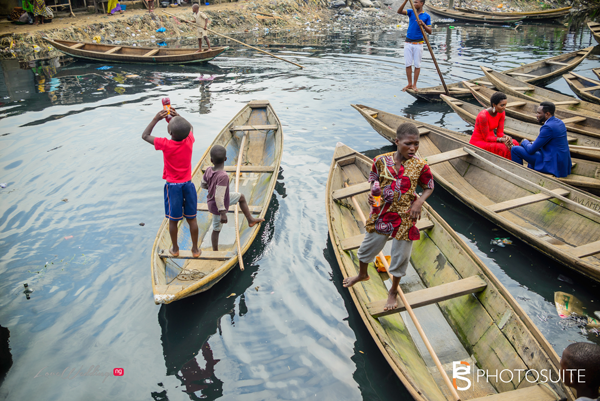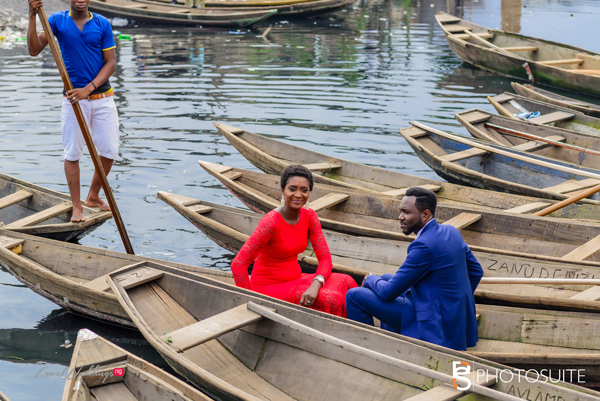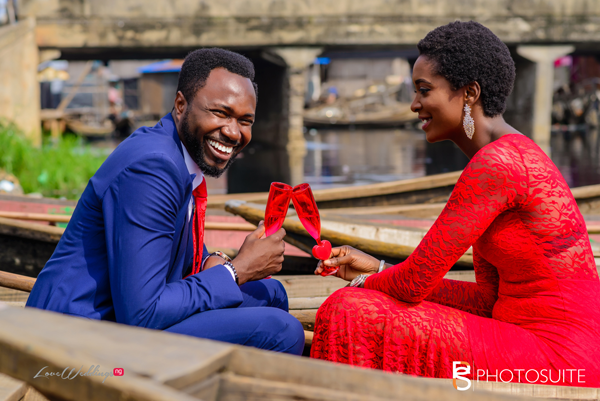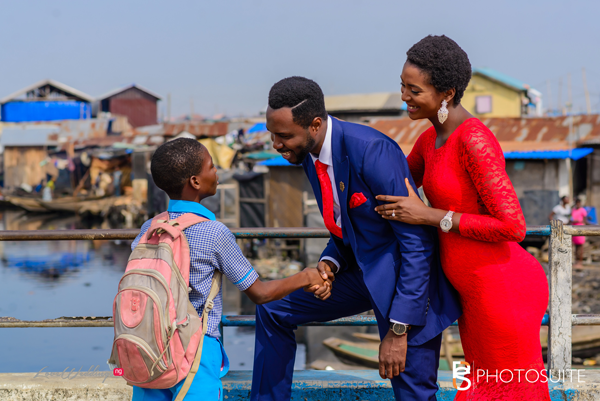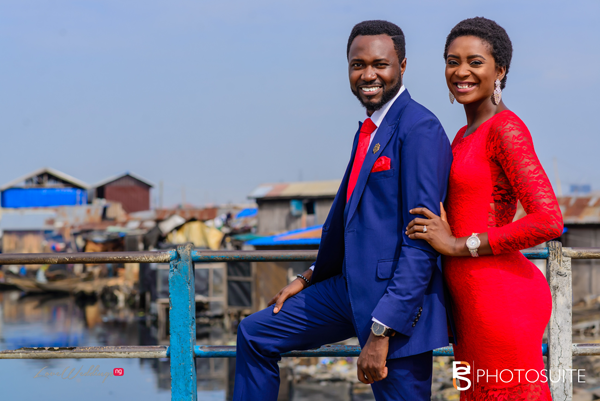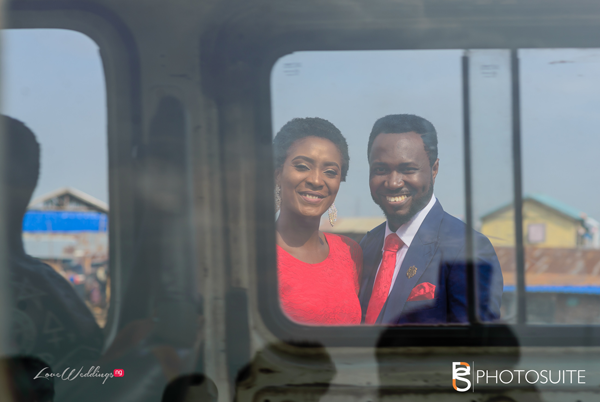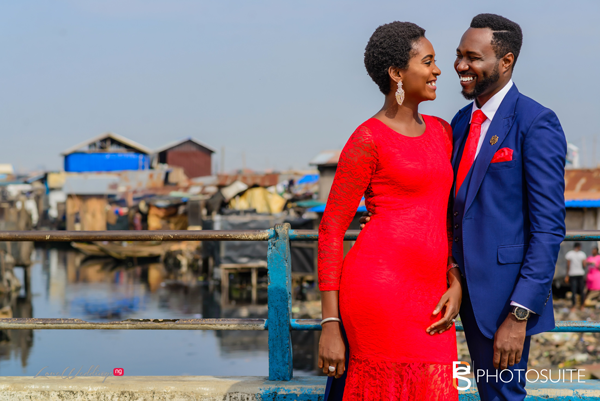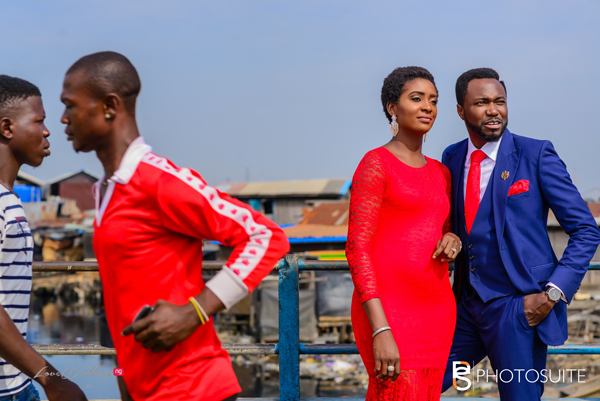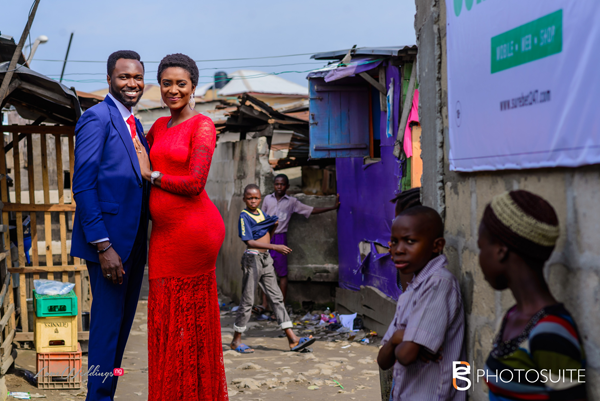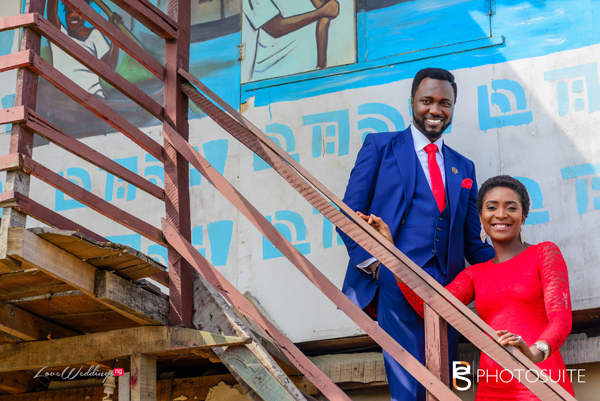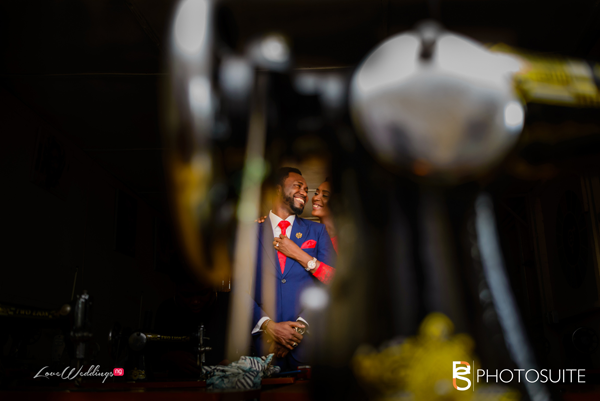 Vendors
Photography: Photosuite
Suit: Taryor Gabriels
Bride's clothes: Sourced and Styled by the bride, Funmi