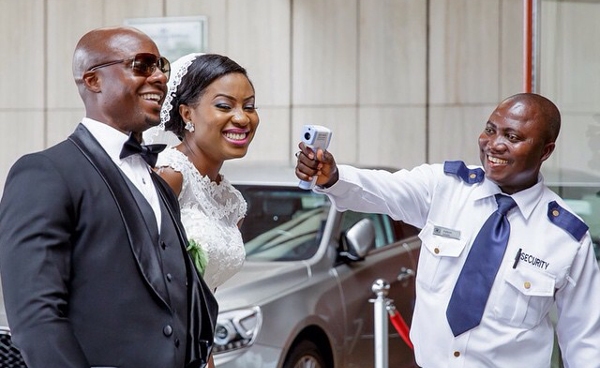 Since the outbreak of coronavirus, which is believed to have originated in China; we've seen couples and vendors take drastic steps to ensure that their wedding day goes smoothly.
According to the BBC, a couple in Singapore, Joseph Yea & Kang Ting had just returned from a trip to China days before their wedding. When guests expressed concerns about attending, the couple decided to do a live stream from their room to the wedding venue full of friends and family was the best option.
This Instagram post shared by Bisola Borha of TrendyBE Events summarises 10 steps to help keep you and your wedding guests safe as you celebrate amidst the coronavirus outbreak. The Instagram post shared these 10 tips;
Sanitize and wipe down your venue
Place signage outside politely explaining precautions that are being made to protect guests while they have a great time
Security should politely inform and use forehead thermometers to check for signs of a fever
Have an emergency team on board as a backup
Gift and implement hand sanitizers at the entrance of your venue for all guests to protect themselves
Ensure all service providers use sanitizers, gloves, and masks
Wash your hands frequently and announce that guests may feel free to do the same at intervals during the event
Serve and drink lots of water to boost your immune system
Serve fruits as this also helps boost the immune system
Make sure the environment is cool, fun and conducive.
We also think its worth adding the following to the list;
11. Send out comms (an email, SMS) to all your guests to keep them updated. Your comms could be to;
Simply reassure guests that the wedding will still go ahead as a number of guests will be wondering so you might as well let them know
Share measures that you and your wedding vendors are putting in place to protect everyone
Share any updates to the original schedule e.g. postponements, cancellations, etc.
12. Where possible, limit or fully eliminate the need for physical meetings, take advantage of digital meeting tools and productivity platforms
13. Planners should ensure the aisles and exits are kept clear at all times to allow people move around easily.
14. Maintain a maximum limit of people on the dance floor at any given time to avoid overcrowding. This will also help people maintain a healthy distance
Credits: JOP Studios | Bisola TrendyBE