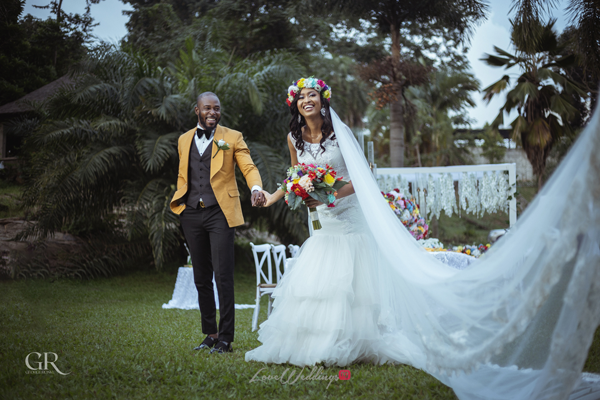 Happy Tuesday wedding lovers. Today's themed shoot is Hawaiian inspired. If you love tropical themes, you'll love this #OneStepTo4eva shoot organised by Ciana Events. We caught up with the planner, who shared the inspiration behind the shoot.
It was a few days after the Covid-19 lockdown was lifted, event vendors were excited to get back to work and create magic but there were rules and regulations to be followed like a maximum number of people at social gatherings, curfews, which gave limitations, etc.

Clients weren't comfortable having their events and were still willing to put their events on hold in order to have a big and glamorous event when everything is regularized (we all know most Nigerians likes to celebrate big in Owambe style). This had me thinking outside the box and we had to be innovative about the unforeseen circumstances. 

So I came up with having vendors collaborate to showcase to people how you can still have a glamorous intimate event without the crowd. I got started by creating a mood board, which I concluded with a Hawaiian Tropical Wedding Theme. I selected this concept because it's not common and you don't have to be in Hawaii to have a Hawaiian themed event (we brought Hawaii to Nigeria)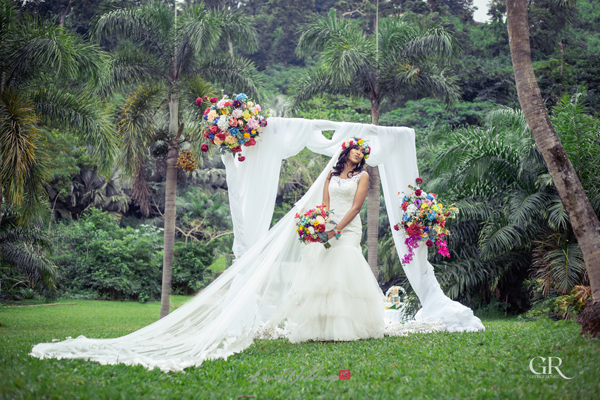 So, I decided to contact vendors that will deliver this project, some rejected but I kept on pushing and was determined not to be discouraged no matter what. One of the most amazing things about this project was the fact that some vendors I've never worked with accepted to do this project which kept me going. Another amazing thing is, I wanted to just collaborate with photographers, models, and decorators but I was able to get support beyond expectations, there were over 10 vendors involved in this project; from the mini bridal party to the cake, food, shoes, and more…

I sent the mood board to all vendors, which included the concept, and told them to bring in their A game but didn't impose a particular design or style on individuals – the only ask was to create magic, which flowed with the theme. The planning process was smooth and fun as the selected vendors were the best to work with.

We had two major challenges – Location; getting a location to fit into the theme and date particularly as it was during the rainy season. It rained on that day but we were still able to tackle the hazard (planning to handle seen and unforeseen circumstances should be part of the event planning process)

When the pictures and videos were ready, they literally blew everyone's minds. The result was beyond our expectations; we paid attention to the little details which made the big thing happen. With this production, we were able to showcase and convince clients that intimate events are classically glamorous.

I also, want to thank every vendor that was a part of this project; thus won't be complete without each and every one.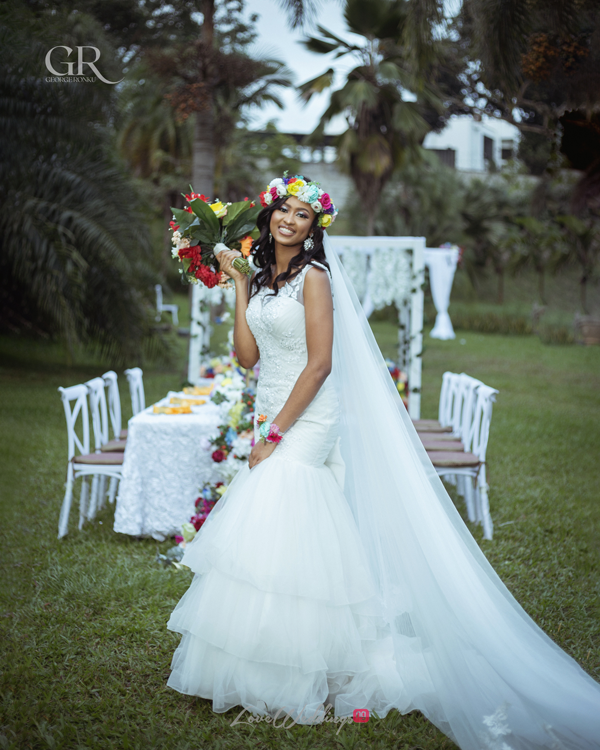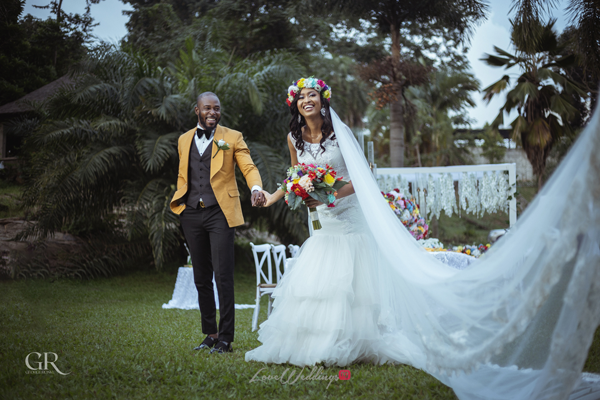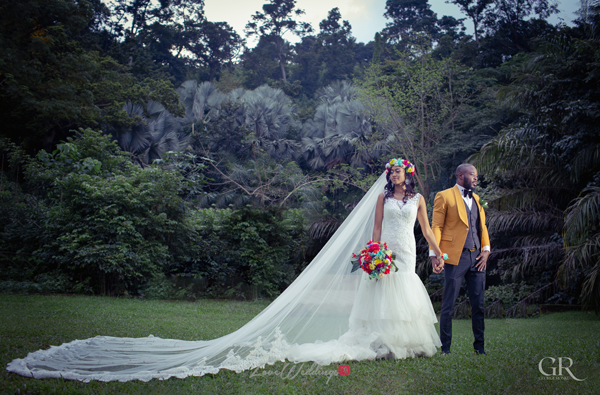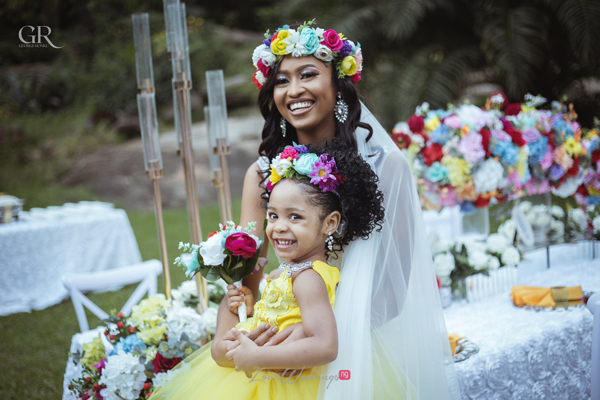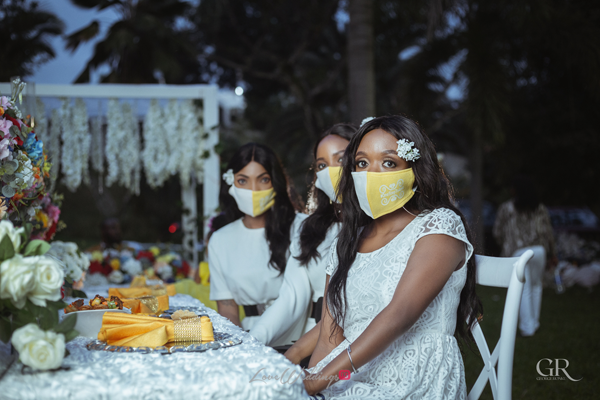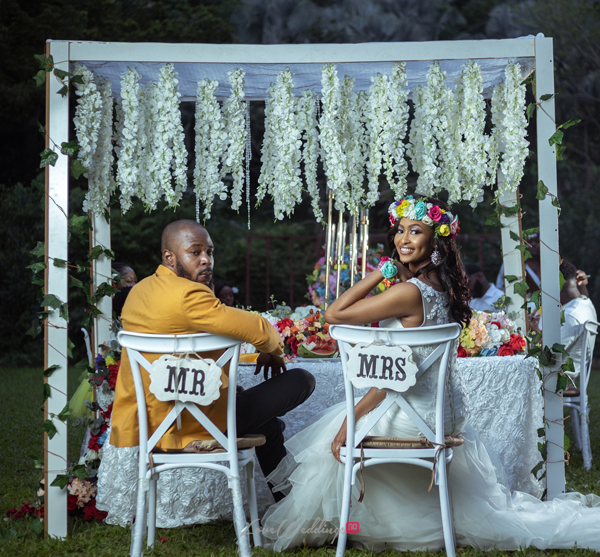 Vendors
Bride: @nikkydaves
Groom: @nuelsmith
Little Bride: @_princessdiamond_the1st_
Little Groom: @_princelemuel_
Planning and Concept: @cianaevents
Photography: @georgeronku
Wedding Dress: @shekkelsbridalsnaija
MakeUp: @sandorrahmakeover
Bridal Hair: @neesahs_beautyandspa
Shoe: @mashoes_and_co
Fruit tree: @orobolistic
Finger Food: @juwes_kitchen
FaceMasks & souvenir: @stormklothing
Decoration: @theluxane.events
Little Groom's suit: @sanchie.couture
Cake: @comfortworldcakesandmore
Little Bride's dress: @estampakids
Photography Crew: @faashweddings @jamessahmed @excelimages @lordjapheth @raheemvisuals