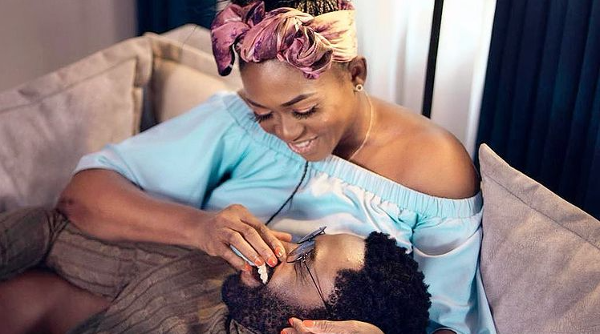 Last week, singers, Waje and Ric Hassani lit up the internet, Tiffany Trump announced her engagement to Micheal Boulos, House of Deola released their SS21 collection, Kirk Franklin and his wife, Tammy celebrated their 25th wedding anniversary and Ghanaian rapper, Okyeame Kwame celebrated his 12th wedding anniversary. Here's all the wedding news you missed last week.
A £10,000 fine for breaking lockdown rules. According to the BBC, police broke up a wedding party in North London and the organisers face a £10,000 fine for breaking lockdown rules. The Met originally claimed that about 400 guests were at the gathering but have now clarified that about 150 people gathered at the Yesodey Hatorah Senior Girls' School, in Stamford Hill. In a statement, the school said its hall had been leased out and that they "had no knowledge that the wedding was taking place".
Tiffany Trump is engaged! Donald Trump's daughter announced her engagement to Michael Boulos hours before the presidential inauguration. Tiffany shared the news on Instagram by posting a photo of herself and Micheal at the White House. She shared; "It has been an honor to celebrate many milestones, historic occasions and create memories with my family here at the White House, none more special than my engagement to my amazing fiancé Michael! Feeling blessed and excited for the next chapter!". Micheal also shared the same photo with the caption; "Got engaged to the love of my life! Looking forward to our next chapter together."
House of Deola's new collection. The brand released photos from their latest collection tagged "02 Ethereal SS21 Tropical Galactica" last week on social media. The pieces from the collection, which include headpieces, are exceptional and wedding-worthy.
The Franklins are 25! Grammy award-winning gospel singer and choir director, Kirk Franklin and his wife, Tammy celebrated their 25th wedding anniversary on the 20th of January. Tammy shared their wedding photos on Instagram and wrote; "We married when we were 25 and now we're celebrating TWENTY FIVE YEARS OF MARRIAGE❤️! Half of my life I've loved this man… through good times and even the seasons that we thought would break us, we have come this far by God's grace. I'm simply humbled that I love you more than I did Jan 20, 1996! @kirkfranklin Let's keep growing, loving and doing lots of laughing!!! We've made silver now let's go for gold (😉💕) #marriage #25years #santifiedstockings😂."
The Obruthe's are 14! Nigerian event planner and founder of Zapphaire Events, Funke Bucknor-Obruthe, and her husband, Onome Obruthe celebrated their 14th wedding anniversary last week. She shared on Instagram, "14 years ago, we both took that leap and said I do on the 20th of January… May we continue to be friends of each other and love each other and grow daily in God's love, grace, and purpose for our lives. Happy wedding anniversary to us ohhhhhh. I thank God we found each other."
The Kwame's are 12! Ghanaian rapper, Kwame Nsiah-Apau, popularly known as Okyeame Kwame, and his wife, Annica celebrated their 12th wedding anniversary. Kwame shared a post on Instagram to celebrate. He wrote; "When I woke up this morning, I had completely forgotten that today was our anniversary. And Why wont i forget! You make everyday of this marriage a celebration, making me always feel so special that even today as our special day doesn't especially feel special. From day 1, you've been concerned about my health, my diet, my dreams, my vision, my image, my business, my emotions, my upgrade, my appeal, my comfort, my goings and most importantly my Cummings. I don't quite know how to say thank you so for now let me just show you. I'm preparing message that is deserving of your beauty, your valour, your kindness, your strength and your graceful presence. Wait for it this evening. Just wait for it!! HAPPY ANNI-VERSARY my love @mrsokyeame my #lOVELOCKEDDOWN ❤❤❤❤."
Free wedding dresses for 90 brides: According to Emirates Woman, Dubai-based bridal brand, Esposa Group revealed more than 90 brides-to-be, including many doctors and nurses, were gifted free wedding gowns. Last year, the brand announced it would be gifting free wedding gowns to frontline workers. The CEO of Esposa Group, Juliana Romanos, shared; "This is our way to make them smile during their tough days and let them dream about their big day!"
Paris SS21 Haute Couture Week is set to take place from the 25th to 28th of January, 2021. While designers and fashion houses won't be able to show their latest couture collections to a live audience, the shows will be streamed online across various platforms.
Namaste Wahala comes to Netflix! The Nollywood-Bollywood romcom is due to be released on Valentine's Day on Netflix. Produced and directed by @hamishadaryaniahuja, the movie was shot entirely in Lagos, Nigeria and features the classic love story, with a cross-cultural Nollywood meets Bollywood twist. Starring Inidima Okojie (Didi), Ruslaan Mumtaz (Raj), RMD, Joke Silva with music by MI Abaga; we can't wait to watch this.
Waje's Best Thing! The singer got the internet speculating when she shared pictures of herself and Ric Hassani on Instagram. The stills were from Waje's latest music video for her song titled 'Best Thing', which features Ric Hassani, Noble Igwe, Temisan, and a number of others.