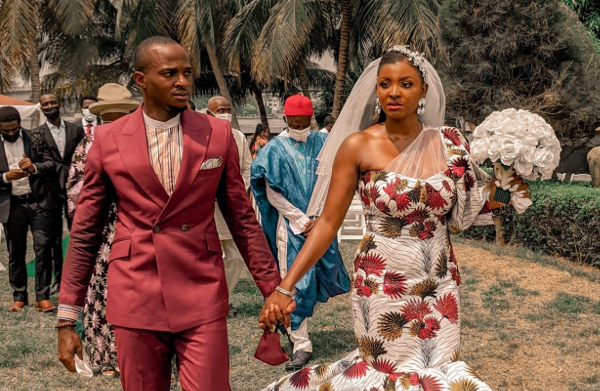 Last week, a Nigerian bride got married in an ankara wedding gown, the Governor of New York, Andrew Cuomo announced that wedding receptions will resume on the 15th of March, Ugandan journalist, Judithiana Namazzi and Joel Ndugwa got married, the founder of Pantora Bridal, Andrea Pitter appeared on the cover of The Knot's Spring 2021 issue and more. Here's a recap of all the wedding news you missed last week.
Safe Marriage Receptions in New York. On Friday, the 29th of January 2021, New York Governor, Andrew Cuomo announced updated guidance for wedding receptions, which will come into effect on the 15th of March. During the briefing, the Governor shared that COVID-19 tests must be conducted for all guests prior to attending the event. He also added that events will be restricted to 50% of the venue's capacity with no more than 150 people in attendance. Also, the local health department will have to approve any receptions before they're allowed to take place.
An Ankara wedding gown! Yaaasss. Nigerian bride and fashion designer, Chioma wore a custom ankara wedding dress and we love it! Check it out!
A grant worth £680 million: The UK Weddings Taskforce shared that after meeting with the government, they've asked for vital support for wedding businesses. Some of the asks include a £680 million grant for wedding businesses, clarity for venues, businesses, and couples with weddings in the pipeline between now and the summer, and more.
Judithiana Namazzi is married; The Ugandan journalist and her husband, Joel Ndugwa had their dream wedding on the 23rd of January 2021. Judithiana shared photos from their English/Victorian, shabby chic, and rustic themed wedding last week on Instagram; "I got my DREAM wedding through a pandemic and the UG elections saga. If that's not God, then who? Our God is a God of Promises. Whatever he promised, he delivered."
Princess Shyngle is married: The Ghanaian actress got married to her 'crush since 8th grade' last week. She shared photos on Instagram, "My crush since 8th grade 🤩 even though you didn't use to look my way back then 🤣😂 the only man I ever hit on numerous times but I had no luck 😂🤣 instead you choose to be my friend for over 10 years, little did either of us knew we were gonna end up together 💃🏽❤️🥰. Our real and genuine friendship brought us together and made our relationship and bound stronger than ever 🥰❤️. I'm still taking it all in and I know all this would not have been possible without Allah 🙏🏽 I'm blessed to be married to my childhood crush, my forever crush, my best friend, gossip partner and love of my life ❤️🥰💃🏽.. Mrs Bala-Gaye 4life ❤️🥰🥰❤️ I'm officially a wife 🥰❤️💃🏽💃🏽."
Pamela Denise Anderson said 'I do' on Christmas Eve 2020: According to E! News, the actress got married to her boyfriend, Dan Hayhurst in an intimate ceremony on Christmas Eve. According to DailyMail, Pamela said 'I'm exactly where I need to be – in the arms of a man who truly loves me.'
Andrea Pitter is on the cover of The Knot. The Pantora Bridal founder and designer is on the cover of The Knot's Spring 2021 issue. Andrea shared her journey from one custom dress to building a bridal empire; she also explains why representation matters and how the wedding industry can do better.
Unconventional brides, where you at! Nigerian women's wear brand, Debi Kheri released photos of pieces from their 2021 Pristine Bridal collection. Featuring dresses, a jumpsuit, a suit set, the collection is for the modern day, unconventional bride..
Paris SS21 Haute Couture Week: The virtual fashion took place last week from the 25th to 28th of January 2021 and we spotted a number of wedding-worthy looks on the runway. Here are a few of our favourite looks.