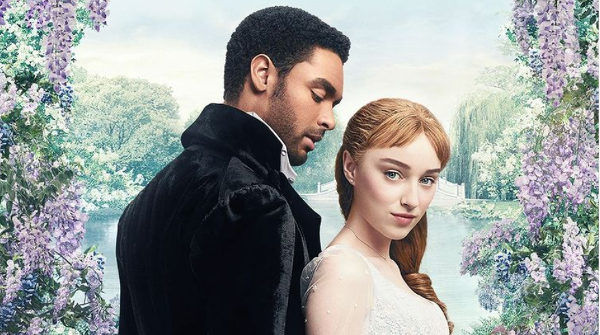 As fans gear up for the 2nd season of the Bridgerton series, we are taking a look back at one of our favourite scenes from Season 1, the wedding of Daphne Bridgerton and Simon Basset (The Duke of Hastings). The Shondaland series, set in the regency era and based on novels by Julia Quinn, reminds us of how European weddings have influenced not just Nigerian or African weddings but weddings globally. Here are 5 ways Nigerian couples can relate
Wedding planning: The 5th episode of the season kicked off with a surprise engagement and an impromptu wedding announcement. The wedding was set to happen in a couple of days and there was a limited amount of time to plan for it. We got to see the challenges and hard work that goes into the wedding planning process. From acquiring a marriage license, flower selection, cake details, wedding dress fittings and more. This is one thing Nigerians can pull off successfully also with a limited amount of time. Weddings are one of our favourite celebrations and there is a zeal for it to be done perfectly.
The religious ceremony: The wedding day started in a church decorated with white and green florals and the ceremony was officiated by a Bishop with the immediate family of the bride and friends of the groom in attendance. When it comes to Nigerian weddings, there is barely a wedding celebration without some religious rituals or rites. Having a religious ceremony whether you are Christian, Muslim or if you practise other religions is usually of utmost importance to many Nigerians. 
Wedding fashion: Nigerian and African weddings generally are usually filled with fashion statements and inspiration, from the guests, family members to the hosts. We could not help but notice the similarities; bold colours, elegant dresses and fashion accessories like fascinators. The bride, played by Phoebe Harriet Dynevor looked so graceful in her 1800 wedding dress made of silk. Her updo bridal hairstyle was paired with a tiara and a veil. 
The Reception: The final part of the celebration was the big reception party, which took place at the Bridgerton family home. Unlike the church ceremony which channeled a micro wedding vibe, the big reception party featured a white 4.5-foot tall cake and lots of guests in attendance. This is something Nigerians can relate to 100 percent – a very quiet religious ceremony and a packed reception shortly after.
Have you seen Bridgerton on Netflix? What did you think about the wedding? We are looking forward to another wedding in the 2nd season of the show.