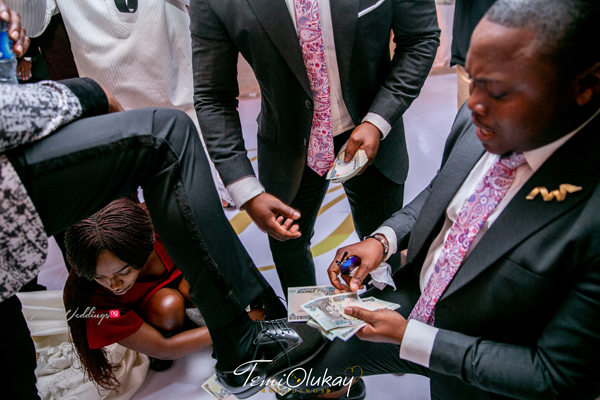 A successful wedding ceremony takes a lot of planning, coordination, time, and a group of individuals, sometimes professionals such as wedding planners, photographers, videographers, decorators, stylists, etc., and the bridal party is not excluded from the list. At Nigerian and African traditional weddings, there are also groups of people who are part of the journey and we think they're worth appreciating and highlighting.
Aunties-in-Chief: In some cultures, the bride's maternal or paternal aunties are required to escort and perform traditional rituals for the bride, such as prayers. They also accompany the bride as she arrives at the wedding party.
Spokesperson: The role of a spokesperson is similar to that of a wedding MC but with additional responsibilities. The spokesperson does not only entertain but is also involved in the traditional rites and customs like introducing the family members of the couple, bride price negotiations, assisting with the breaking of kola nuts process, and sometimes serving as an interpreter at intertribal weddings. The spokesperson can have various titles depending on the culture; Yoruba's call them the Alaga Ijoko or Alaga Iduro, Ótota in Urhobo, and more.
Asoebi Co-ordinator: Asoebi is a term that refers to the uniform fabric usually worn by the family of the bride or groom and their friends as well as wedding guests. At most African weddings, there is usually someone responsible for coordinating the process of selecting, receiving payments, and distributing these fabrics to anyone interested in purchasing them.
Mothers of the day: This role is usually reserved for friends of the mother of the bride and/or the mother of the groom. They play such an important role that they even end up with their own special asoebi. They're there to really celebrate with their friend (the mother of the bride/groom), to hype her up, dance in with her, and do anything that's required on the day. For most Nigerian and African mothers, a son/daughter's wedding day is one of the happiest days. If you haven't attended a Nigerian wedding, there's a scene in the movie, The Wedding Party that'll give you a good idea of what to expect.
The Money Picker: Last but not least, the Nigerian wedding money picker – one of the most demanding roles ever. At Nigerian weddings, it's common for family and friends to spray money on the couple while they dance and this keeps the money picker busy all day long. We think money pickers deserve their own award category. It's really no mean feat!
What do you think of our list? Did we miss any roles? Tell us in the comments