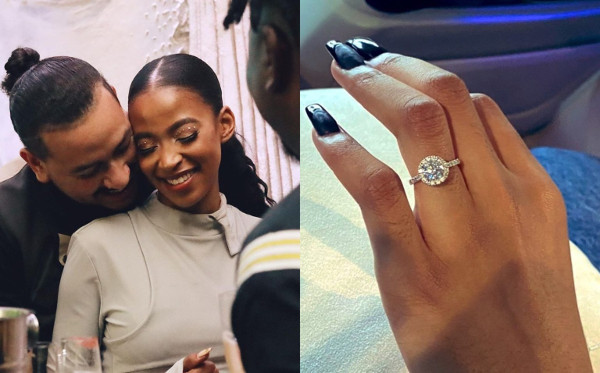 Last week, Meghan Markle and Prince Harry revealed they exchanged wedding vows three days before the royal wedding in 2018, UK prime minister, Boris Johnson announced weddings will resume soon in England as he shared a 4-step plan to ease the lockdown, South African rapper, AKA got engaged to his girlfriend, Nelli Tembe; here's all the wedding news you may have missed from last week.
Weddings in England: Prime Minister, Boris Johnson shared a 4-step plan to ease the lockdown in England during Coronavirus press briefing last week. Details of the 4-step plan state that the numbers of people allowed to attend weddings will rise to 15 from the 12th of May 2021 at step 2. At step 3, up to 30 people will be able to attend weddings and receptions. Restrictions will be removed on weddings and other life events from the 21st of June, 2021 at step 4.
Megan Markle & Prince Harry's secret wedding. The Duke and Duchess of Sussex exchanged wedding vows in a private ceremony with the Archbishop of Canterbury three days before their royal wedding in May 2018. They made the revelation during their interview with Oprah Winfrey, which aired on the 7th of March, 2021 on CBS News. Meghan shared they now have their vows framed on display at the home that they share with their one-year-old son, Archie Harrison Mountbatten-Windsor, in Montecito, California.
AKA is engaged! The South African rapper and his girlfriend, Nelli Tembe got engaged on the 21st of February 2021 and he , AKA announced the news on social media. He shared a photo of Nelli's finger wearing the engagement ring and captioned; '21/02/21′.
The Little White Dress Boutique. David's Bridal has launched a new bridal collection tagged the Little White Dress Boutique. The new collection of ready-to-wear dresses provide brides with a variety of casual styles showcasing a range of trends to be worn not only for recently popular "Minimonies" and backyard weddings but also ideal for bachelorette parties, bridal showers, rehearsal dinners, etc.
A bouquet toss proposal. We saw this cute moment when a groomsman proposed to a bridesmaid while she was trying to catch the bouquet. Hit Play
A moment within a moment 🥺❤️ pic.twitter.com/LabvPbfR7U

— K U L A N I (@kulanicool) February 24, 2021
Shoot your shot! Twitter user, Mrs Karanu shared an update to a tweet she shared in June 2020. Her original tweet read 'I just shot my shot. SO HELP ME GOD!!!'. Last week, she shared this update.
Update : we're married now ♥️♥️ https://t.co/nCAniPFHdV pic.twitter.com/b2FMerBoTV

— Mrs Karanu (@MrsKaranu) February 22, 2021
Ara Iyawo by Imad Eduso Bridal. Nigerian bridal brand, Imad Eduso released it's RTW bridal collection, Ara Iyawo last week. The collection was inspired by the brand's past, present and future brides. The brand shared; 'Ara Iyawo translates to "body of the bride" in Yoruba. Inspired by the dynamic shapes of our past, present and future brides, we created a collection filled with the bold and quirky piece.'