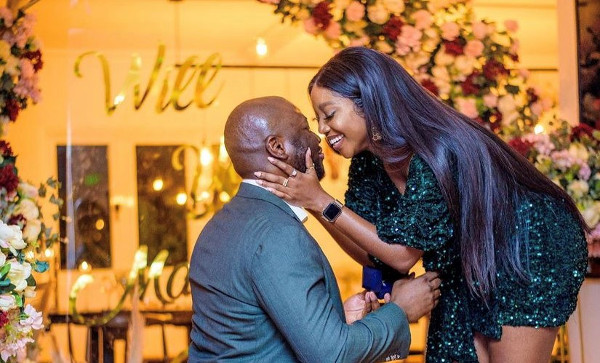 Last week, Nollywood actress, Ini Dima-Okojie announced her engagement to entrepreneur, Abasi Ene-Obong, WWE star, Sheamus announced he's getting married, Nigerian footballer, Ahmed Musa got married, Nigerian fabric merchant and owner of Bimms24, Abimbola Ipaye got married and Jasmine Tookes had her bridal shower. Here's all the wedding news from last week in full.
Ini Dima-Okojie is engaged. The Nollywood actress announced her engagement with pictures from her surprise proposal on Instagram. She shared;
About two years ago, on one random day I was ranting on my Insta stories about not being able to find fresh crispy Maltesers in Lagos (they are one of my fave chocolates). Next thing, I get an email from an Abasi titled 'Maltesers from London' 😅 saying he saw my rant on Instagram and he was in London at the time and would love to send some Maltesers to my manager or representative's address. One week later I got a whole bag filled with Maltesers. I was so happy, I posted it on my Insta stories saying I had the best fans.
But you were not just a fan and boy did you let me knowww!…'
WWE'S Sheamus is getting married: Irish professional athlete and WWE star, Stephen Farrelly (popularly known as Sheamus) and Isabelle Revilla are engaged. Isabelle revealed that the proposal took place at Cliffs of Moher in Ireland and that a wedding photographer, Conhor Doherty from Sligo who happened to be there with his family at that time, captured the special moment.
Ahmed Musa's wedding. The Nigerian footballer and Super Eagles Captain got married to Mariam recently. Instagram user, @adamawasulaiman shared photos of the newlyweds.
Bimmms24 is married. Aso oke vendor and founder of Bimmms24, Abimbola Ipaye is married. The popular Nigerian wedding vendor had her #DaveLove21 civil wedding on Saturday, the 17th of July 2021.
Cute Couple Alert: Haitian Twitter user, @shirleydor_ shared how she met her boyfriend at a wedding years ago. She tweeted; '4 years ago today, I met this guy at a wedding and sat on his lap because my feet were hurting. And the rest is history 😂'
Jasmine Tookes' Bridal Shower: The American model had a bridal shower organized by her mother, Cary Robinson last week ahead of her wedding to Juan David Borrero, the director of international markets at Snapchat. The bridal shower was a floral-filled backyard and poolside event. Jasmine and Juan David Borrero got engaged in 2020 after dating for four years.
Zara unveiled a bridal collection last week, which includes bridal dresses for as little as £100 (N57,000 approximately). The collection features silk dresses, underwear, silk headbands, dressing gowns, bras, bodysuits, and accessories all in a bridal palette of ivory and white.
Ghanaian musician, Camidoh loves performing at weddings. According to Ghana Web, the singer shared this during an interview with Rev. Erskine on Y107.9 Fm's mid-morning radio show. He said "I honestly can't tell you the number of weddings and events I perform at weekly. The truth is I really love it and I don't want to stop." When asked whether he gets tired of performing at events, he responded; 'No, I love it actually and I wish could pass through every wedding to surprise anyone. Be it the wedding guests, the couple or whoever. And I just sing for them and have fun with them. I love it and I'm not going to lie it makes me happy.'
The Okoye's are 7. Nigerian music entrepreneur, Jude Okoye and his wife, Ifeanyi celebrated their 7th wedding anniversary last week. '7 beautiful years with you @judeengees 😘😘🎉❤️ the ying to my yang.. God has been so merciful indeed… I love you forever and a day.'