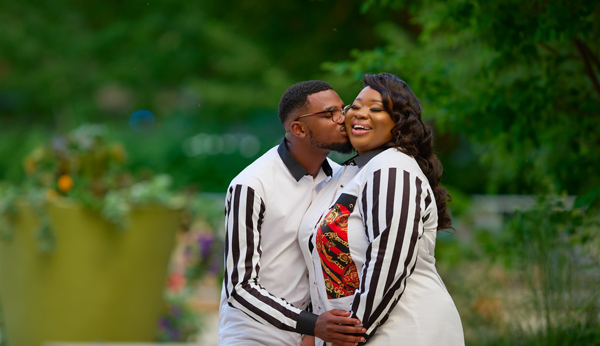 Sandra and Benaiah are getting married on the 23rd of July 2021 in Ontario after changing their wedding date twice due to the ongoing COVID-19 pandemic. We caught up with the couple, who are "looking forward to being able to celebrate our love and our union with the people that matter the most. It's been a long time coming and we're both happy to just spend the rest of our lives together" The soon-to-be Mr. & Mrs. Eche shared their love story and pictures from their engagement shoot via their planner, TemsDelight Events.
Join us as we #MeetTheEches2k21
Tell us how you met
Sandra: I needed a keyboardist ASAP as my church was celebrating 7 years in ministry. So I put it up on Snapchat and Instagram. Three people reached out to me and said they knew someone. Two of them were my very good friends and they recommended the same guy so I told them to give me his number so I can reach out to him. I met Benaiah the first time when we had a rehearsal just so he could play with us and solidify everything in time for the program – that was in the middle to late August of 2017. The church program took place in September 2017 and after the program, I told him (yeah I guess I was shooting my shot lol) I liked his personality and hoped that this wouldn't be the last time we see each other. Ever since that Sunday, we texted back and forth until we decided to meet up that Thursday (in the same week) we went out every day after that, and then the following Monday he asked me to officially be his girlfriend and I've been the happiest girl ever since! 
Benaiah: I saw a post on Snapchat from BayoBond stating that a church needs a keyboardist for a church program and I said which church is this and he said it's for my friend Sandra's church. At that time I didn't indicate interest to go, but when my other friend Femi asked if I could go with him to the church, I did so and that's when I saw Sandra. Prior to that day, I had texted her because she sent me the songs for the program. When we first met I was in no way attracted to her because I didn't see her as my spec but when she sang there was something about her that I saw which made a difference. After the church program, I actually stayed back and we talked for a bit and we said we would see. As faith would have it, we decided to start seeing each other as friends and went on a couple of outings together.  All this happened for a very short time as I immediately fell for Sandra and asked her to officially be my girlfriend and the rest as they say is history. It's so funny that someone who was VERY unattractive to me is about to start sharing a bed with me for life!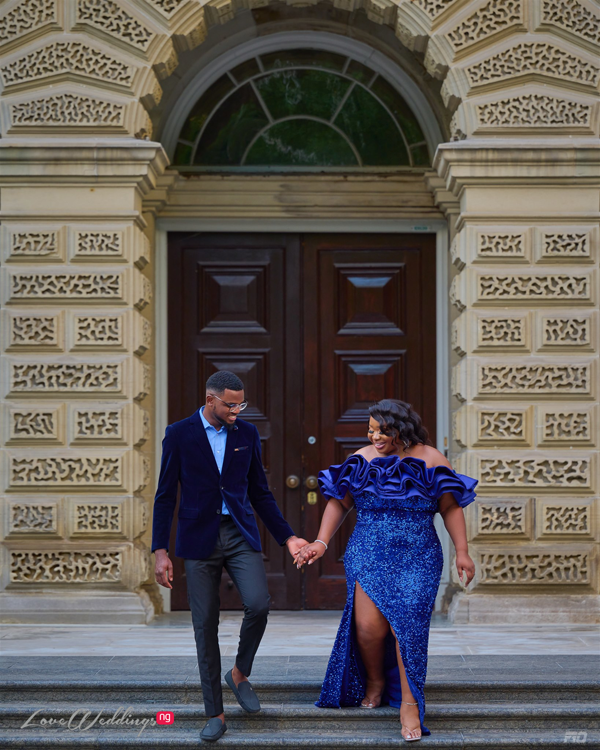 Tell us about your first date? The very first time we got together, I actually met him at a rehearsal and then we went to the movies to watch "IT" and then after that, we went to McDonald's to just talk and get to know ourselves. According to Benaiah, our first official date on which he asked Sandra out was lunch at Swiss Chalet. 
How did he propose?
Sandra: We went to Montreal during a long weekend with my family. I wanted to introduce my boyfriend Benaiah to my godmother and uncle which both had a huge impact on my childhood, little did I know I was going to leave Montreal as a fiancée. On the Saturday of our trip, we went to Old Port Montreal which we've never been to before so I was trying to book a boat cruise for all of us to join but the timing was off. So I was getting annoyed and he kept insisting we go upstairs. Finally, we went upstairs to where everyone was so we could get some gelato, I mean might as well make the best of what we can right? So after we finished our gelato I decided to take a selfie with each parent and him, I successfully did that with my parents, and then when I was trying to position the camera to boyfriend Benaiah that's when I saw the box and was shocked!! He then got down on one knee in front of every stranger at Old Port Montreal, the place where I was born and raised, and asked me to spend forever with him. Of course, I said YAAAASSSSS! 
Benaiah: For the proposal, I had to be really stealth and smart. I picked a perfect time and place to propose to Sandra. We were on a trip with her parents to Montreal and after seeing her godmother and receiving prayers from her godmother, I knew at that moment the time had come for me to pop the question. I waited until we got to Old Port Montreal and in the presence of her parents I popped the question. When Sandra said yes, that made me the happiest man in this world. I look forward to seeing this through forever and ever.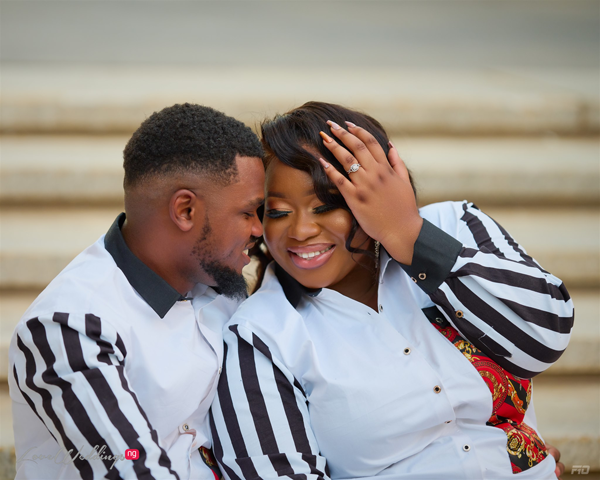 What's your favourite thing to do as a couple? Anything music-related!! Sandra loves to sing and Benaiah plays the keyboard as well as the drums so whenever we see a mic or a keyboard of some sort we are always making musical magic. 
What was the theme for your engagement shoot? For our engagement shoot, we wanted to maintain a royal and elegant vibe, Benaiah's favourite color is blue which stands for royalty so he wanted us to incorporate it which I thought was really cute! As for the location, we chose Osgoode Hall (where the Ontario courts are located) because we are both aspiring to be lawyers! We both studied law in university and plan to pursue a full career in law in the near future.  We wanted to add that touch so people can see and know that side of us besides the music part. 
What has wedding planning been like particularly with the pandemic? Wedding planning has been STRESSFUL! Planning with the ongoing pandemic has definitely opened our eyes to a lot of things. We had to change our dates twice because of the pandemic but we're thankful to FINALLY be getting married.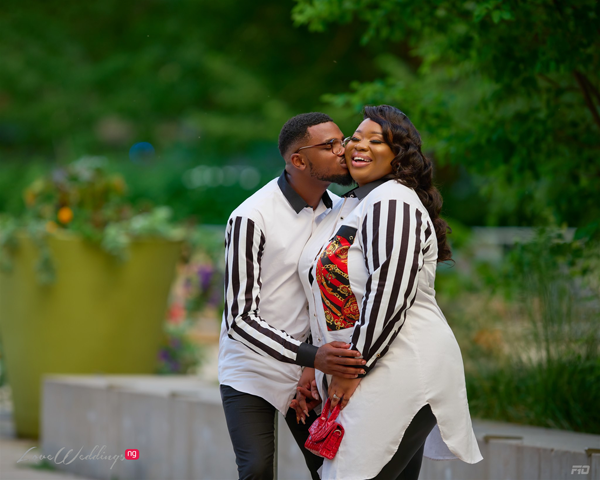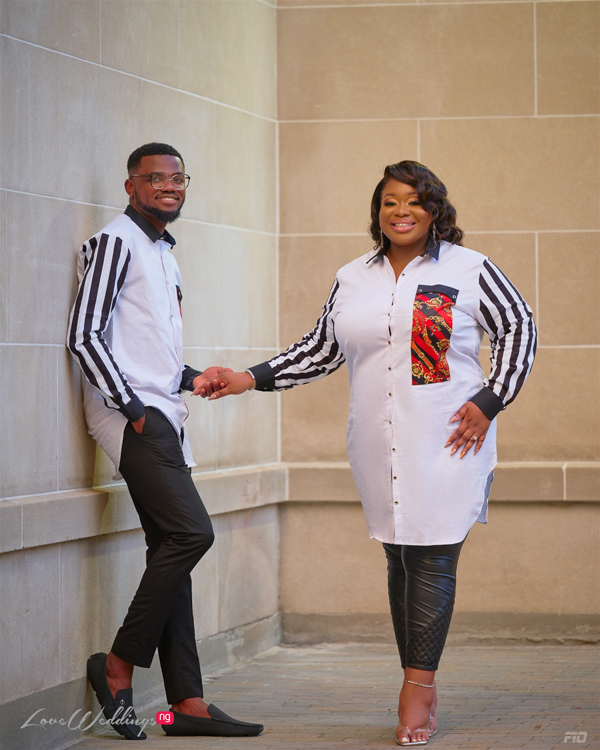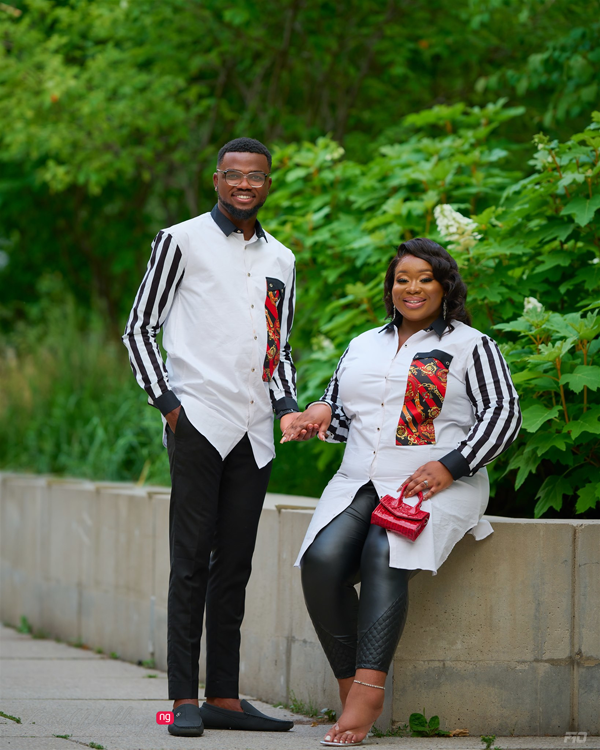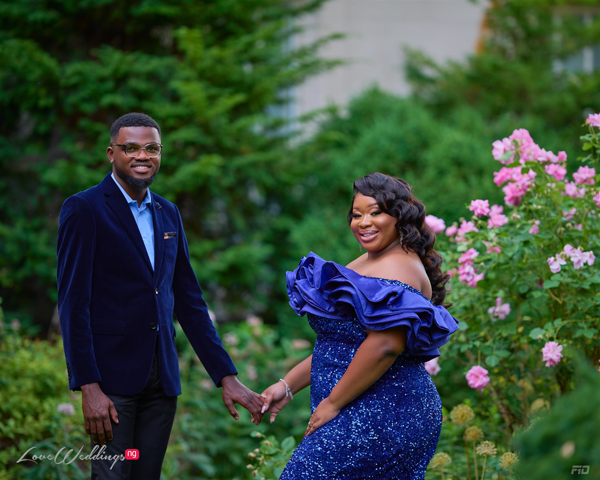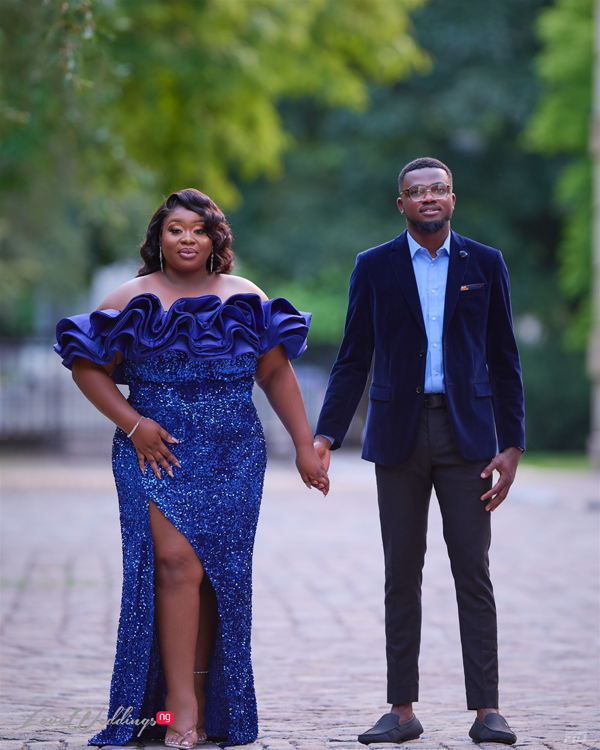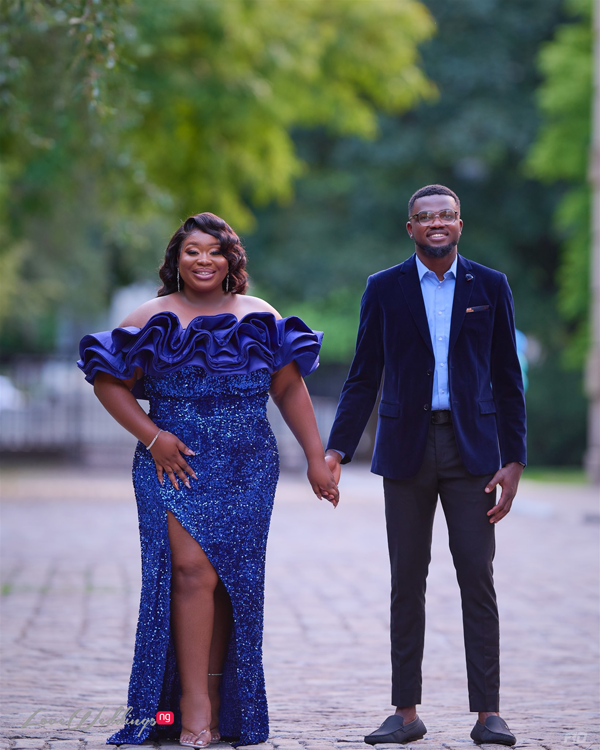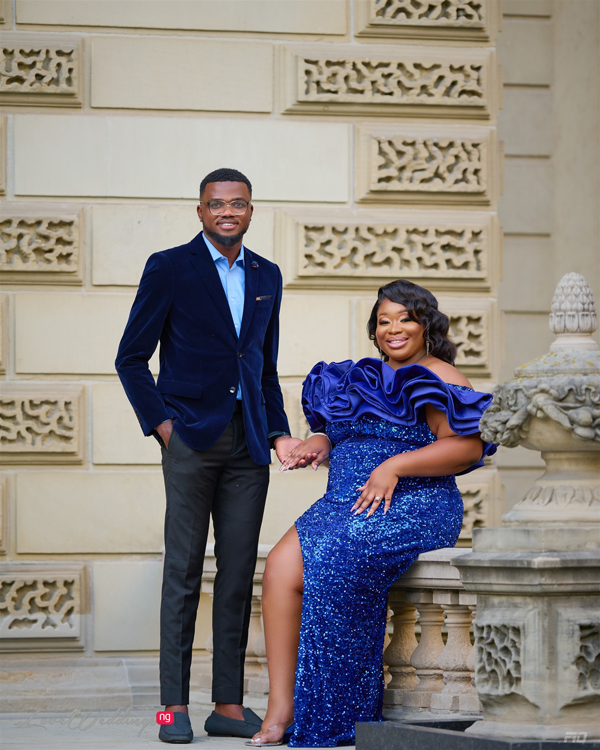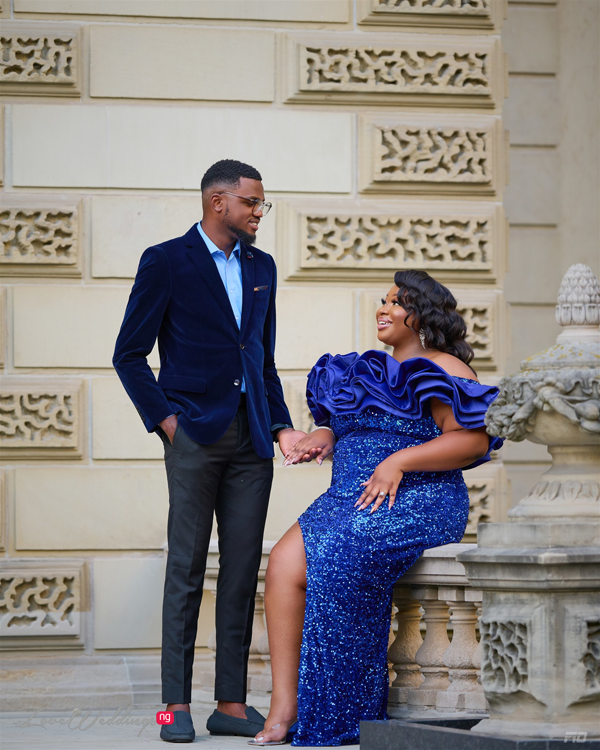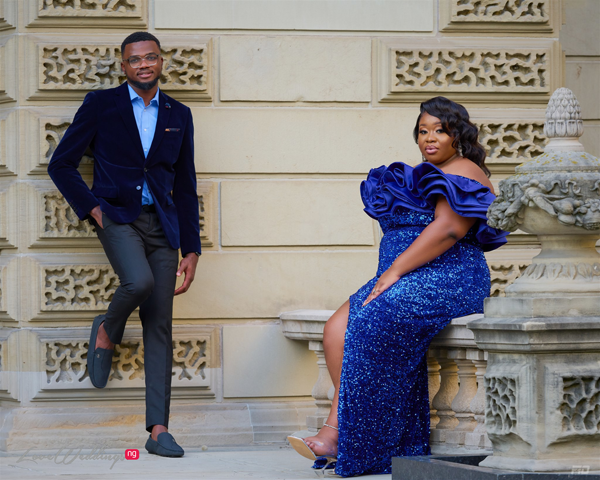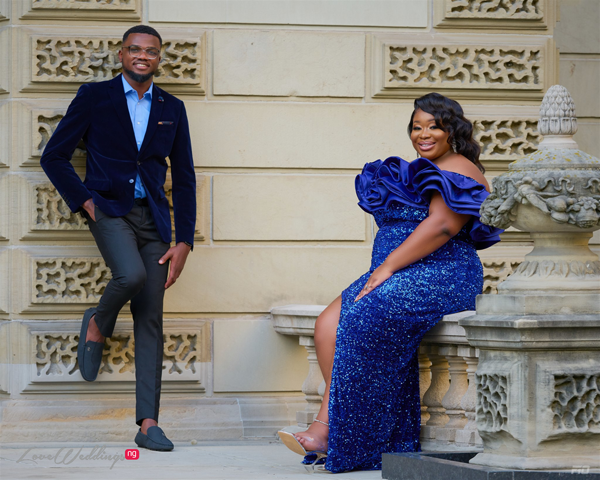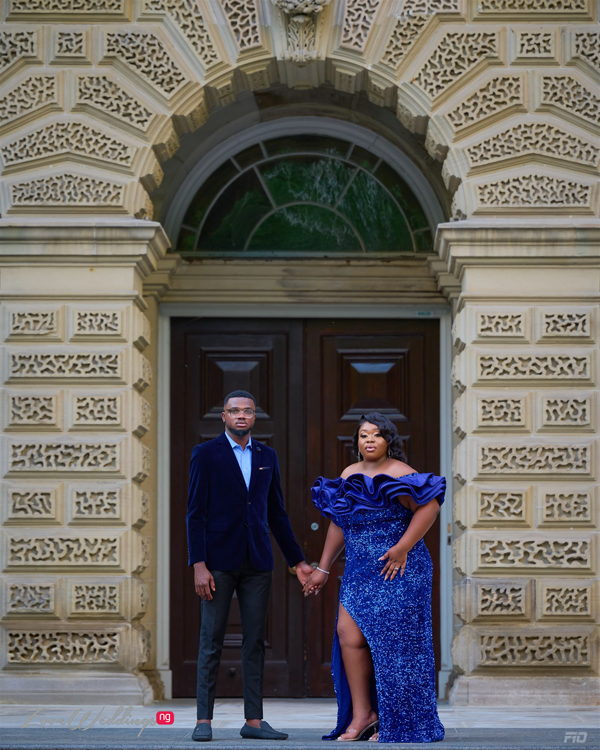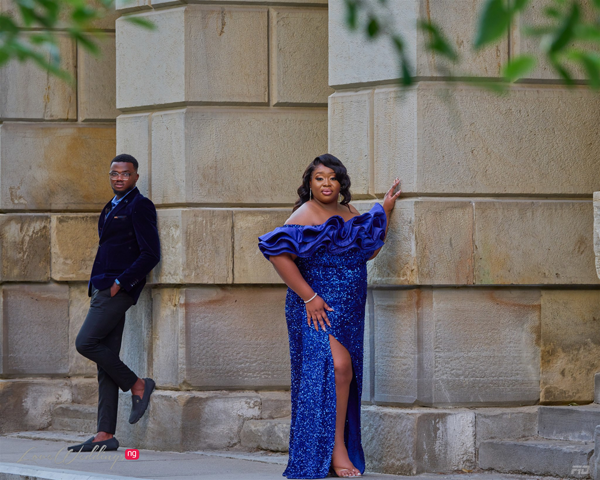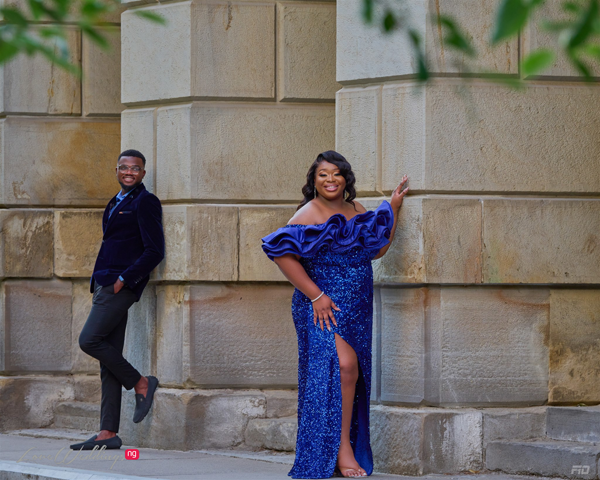 Read more love stories on LoveWeddingsNG here
Vendors & Credits
Bride to be: @__sandybaby 
Groom to be: @therealbenaiah_ 
Planner: @temsdelightevents 
Photographer: @f10studio 
Videographer: @grakeshots 
Bride's Dress: @zalahari_ 
Makeup artist: @a.onthebeat 
Hairstylist: @debstouch.co
Tuxedo: @star_strauss
Ankara Shirt: @eddiez_klothing 
Bag: @rqcdesigns
Engagement Shoot Location: Osgoode Hall, Downtown Toronto, Ontario