Bibi Invitations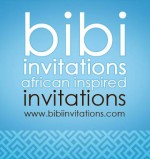 African themed life's celebrations and wedding invitations
Mission
Inspiring all to embrace invitations that reflect the audacious and effervescent African lifestyle
Company Overview
Creating exquisite African inspired wedding invitations to suit all needs and budgets
Description
Bibi Invitations creates custom African inspired invitations- they draw inspiration from patterns of fabric such as Aso Oke, Kente, Akwete, Ankara, Mud cloth).
Bibi Invitations offers 3 distinct collections.
Okin Signature Collection
Ifeoma Collection
Abena Collection
With a great selection of the finest quality metallic paper or delicately textured linen paper, sumptuous ribbons and luxurious foil colors, you can customize the invitations in each collection to match the mood and ambience of your special day.