Nk Abani Photography Ltd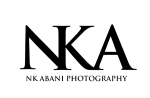 I am a London based female photographer who specialises in weddings, portraits and special functions. Although I am based in the UK, I am available for destination wedding and international corporate events.
I am a photography graduate from University of East London (2:1) with over 9 years experience in photography. I have an immense love for photography, so it only made sense to make my passion my business.
I enjoy photographing happiness and smiles, capturing real emotions and nothing really staged or posed, apart from the usual family shots of course! I use photos to tell a story of your day in wonderfully captured moments to look back at years later and enjoy.