Tanach Events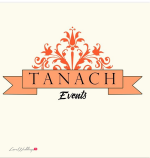 Tanach Events is an event planning and management company with the aim to consistently provide excellent services for all occasion needs.
At Tanach Events, we take pride in planning, managing and coordinating every event with elegance, constantly being pushed to think outside the box by our lead event manager who is a UK-trained International Events Manager.
For us, no idea is 'out of this world.' You dream it, we create it!
We deliver event management solutions of international standards.
We understand the importance of working within your budget, being conscious of every detail and still putting together an excellent event.
Leave it to us to help you create an unforgettable experience.