The White Card Company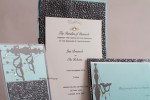 The White Card Company is a UK/Nigerian company that prides itself as the home of quality hand-crafted event stationery; presented with an unparalleled level of personal service throughout the creation of your order.
At The White Card Company, we create unique stationeries that form a lasting impression amongst friends and family.
All of our invitation cards are lovingly designed and hand made to reflect style and elegance. From royal to dupioni silk, lace, rich satin, feathers, crystals – there are no limits when it comes to fine embellishments we offer.
Also, our cards can be customised to match the theme or colour you want for your party. We take orders from and ship to Nigeria.