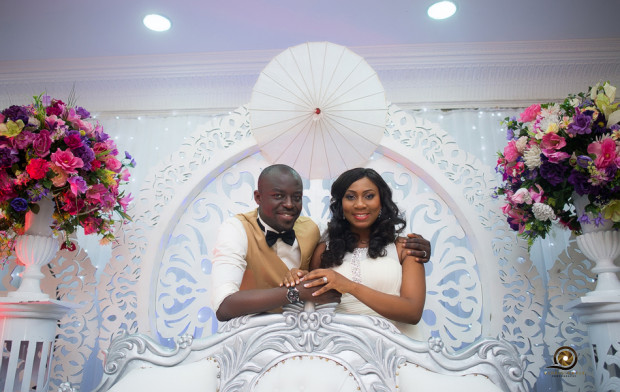 Loveweddingsng  in partnership with Olori Olawale Photography are proud to present pictures from Funmi and Tosin's white wedding ceremony, which took place in Ibadan.
How Tosin Met Funmi 
Their journey started precisely about 9 years ago. Sometimes in life, all you need is a push in the right direction at the right time. It all started with some young playful guys strolling back from lectures during our undergraduate days. Then Tosin sighted Funmi, at first I hesitated to say "Hello". Playfully, I got the push and its the most amazing thing that ever happened to me. Today and for the rest of my life, I will always reminisce about that push.
Funmi being a smashing hot lady had many suitors, I was on the waiting list for about a year before the proposal was finally reviewed and accepted. It has been years of great fulfillment and indeed a wonderful relationship, we've found joy in each other and we pray the love continue to glow till eternity.
From Funmi's Heart :
Honestly, words will truly fail me if I attempt to describe "King of my heart". Tosin is the best thing that ever happened to me. He is my confidant, mentor, and my pillar in times of trouble. There are truly no words to describe him. He is very industrious, talented and extremely gentle with a mind of reaching out to people in times of need.
From Tosin's Heart :
Funmilayo, a God-fearing, ambitious and motivated lady. She is compassionate and soft-heartened. She was there for me during thick and thin, when I was trying to get my footing as a man.  Looking at different resumes & CVs of ladies, Funmi still remains the best of the best. She is my one in all.
Tosin proposed to Funmi on February 22, 2012. Enjoy pictures from their white wedding. If you missed their pre-wedding and traditional wedding, catch up HERE
All Photography: Olori Olawale  | Blog | Facebook |Instagram
Email: me@oloriolawale.com|oloriolawale@gmail.com|mcleolo@yahoo.com
Mobile :  08033992026, 08055555396, 08099992046
BB Pin : 2B675189
We love weddings, do you? Get in touch today
Loveweddingsng | Website | Instagram | Twitter | Facebook | Tumblr | Google+