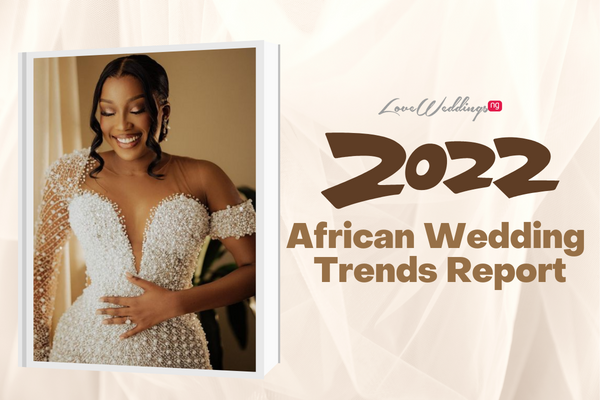 As far as the African wedding world was concerned, 2022 was the year of pearls and other timeless wedding trends we think you'll love. Just like we do every year at LoveWeddingsNG, we've collated a list of all the wedding trends we spotted in 2022 for your viewing pleasure. This year's report also features expert opinions from industry leaders. Grab a drink and enjoy our view of the African wedding world in 2022.
---
The year of pearls
As we already alluded to, 2022 was the year of pearls in the African wedding world; particularly in the bridal fashion space. We saw pearls on everything from accessories like earrings, to veils, traditional bridal looks, wedding dresses & so much more.
Pearled veils
We saw some of the prettiest pearled wedding veils this year. Oluwatosin Agboola, creative director & Lead bridal stylist at The Wardrobe Manager (TWM) shared; "Brides love pearl veils because they are an unexpected way of taking a bridal look up a notch. It is a nice way to give a dramatic yet magical effect on minimalist bridal looks whether a bride is going for a silk, tulle, or satin wedding gown. Pearl veils definitely give that extra "oomph" that brides love. They also give a nice effect when the blusher is raised for portraits or during a Church service. In addition, it gives a timeless, minimalist, and classic touch that every bride desires to have in her bridal look."
Temitope Kayode-Ojo, the creative director of Lavish Bridal added; "2022 brides wanted to go the extra mile with their fashion and pearled veils were the perfect candidate because they have the ability to add to your already detailed look without over-powering it! Pearled veils will always be a classic and elegant piece in bridal fashion. When styled perfectly, you end up with magic!"
---
Pearl bridal hair accessories
It wasn't just the veils from 2022 that got pearled! 2022 brides adorned their bridal hairstyles with pearls. Check out these 2022 brides who rocked this wedding trend.
Pearled wedding dresses
We've now discussed pearled veils, and pearled bridal hair accessories; now we're moving on to the brides whose 2022 traditional and bridal dresses were pearled to perfection.
---
Detached bridal sleeves
Sleeves or no sleeves? Brides in 2022 didn't have to choose, they had it their way with detached sleeves. We spotted a number of brides rock this bridal fashion trend, which allows you to switch up your entire look from the ceremony to the reception. This is definitely a trend for the modern bride.
---
Bridal gloves
We once wrote that brides had forgotten all about bridal gloves. Well, 2022 African brides reminded us why gloves are timeless and can be incorporated into a modern bridal look.
---
Bridal capes
Capes have always been a favourite trend for us at LoveWeddingsNG; we even featured bridal capes in our list of 2022 African bridal trends to watch out for so it's not a surprise that this trend made it to our 2022 wedding trends report.
---
Floral bridal earrings
Just like we shared in July, we spotted this bridal trend first when fashion & lifestyle influencer @tostos_ said 'I Do' in floral statement Cézanne earrings by Pijouletta Jewellery. Since then, we've seen the floral bridal earring trend fully take over the African wedding world.
---
Structured sleeves
This trend definitely took over the 2022 bridal scene and we love the exaggerated and structured sleeves that help accentuate the bride's look for a flattering silhouette in pictures. Nollywood celebrities like Ini Dima-Okojie and Kemi Adetiba wore dresses with structured sleeves for their wedding this year.
---
Pink Wedding Dresses
In 2022, pink bridal dresses proved that not all wedding gowns have to be white. Nigerian beauty & lifestyle influencer, Nicole Chikwe wore a stunning pink dress by Cinnamon Bridal to celebrate her 10th wedding anniversary with her husband, Naeto C.
---
Masked men, Dorime + cocktails
We honestly don't know how or what inspired this trend but all we can say is it appears to be a blend of characters from some of your favourite TV series like 'La casa des papel (Money Heist)' mostly played out by the groom's friends featuring drinks and the soundtrack 'Dorime'. If you've stayed back for the afterparty at a couple of Nigerian weddings, you just may understand what we mean.
---