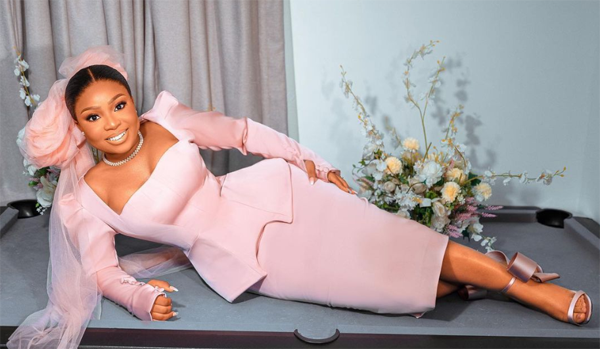 2022 has seen the comeback of moderate to lavish African weddings and the bridal fashion scene has leveled up. We've had our eyes on some 2022 bridal trends for a while now and we're pleased to report that these bridal trends are here to stay. From pink wedding dresses, gloves, corset dresses, and more, here are 10 bridal trends we've spotted African brides rock so far this year.
Structured Dresses
Thanks to bridal designers like Gaurav Gupta, and bridal stylists like The Wardrobe Manager, structured bridal dresses are here to stay and they're not just popular at white weddings; we've spotted a couple of African brides rock structured traditional bridal looks too. We love this trend, particularly how they accentuate the bride's look in pictures. Nollywood actress, Ini Dima-Okojie wore a structured bridal dress for her white wedding #AChocolateLoveStory #StarringIniAbasi.
Floral Bridal Earrings
We spotted this bridal trend first when fashion & lifestyle influencer @tostos_ said 'I Do' in floral statement Cézanne earrings by Pijouletta Jewellery. We've seen more brides rock this bridal trend in 2022 and we love it. Gone are the days when brides had to choose one bridal element to stand out with when curating their bridal look. We love that African brides are making big fashion statements with multiple elements in their bridal look.
High Neck Dresses
This is a favourite bridal trend for us at LoveWeddingsNG; so much that it's featured in some of our African wedding trends reports in the past; we even wrote an article about high-neck wedding dresses in 2021. Well, this bridal trend is clearly going nowhere anytime soon.
Bridal Gloves
No 2022 bridal trends list will ever be complete without bridal gloves. We thought this bridal trend was gone with the 90s but in 2022, African brides are telling a very different story. We love how elegant and classy this bridal trend is and how versatile it is; from bridal robes to the actual wedding look, what's not to love!
Corset bridal looks
Another favourite bridal trend of ours that we've featured in a number of our African wedding trend reports. We love corset bridal looks so so much. They bring the perfect blend of vintage to traditional and white wedding looks; check out these 2022 brides rocking this bridal trend.
Pearl Wedding Veils
This is probably one bridal trend we didn't see coming. 2022 brides and their veils have been raining pearls and we have to say, it's growing on us. We've already spotted at least 5 African brides rock pearl studded wedding veils this year and we know we'll spot a whole lot more so make sure you tag us @loveweddingsng on social media if you spot a bride rocking this trend.
Bridal Capes
Because African brides are superheroes and every superhero needs a cape. We love how capes are being embedded into reception wedding looks but they're also not just always the usual floor length cape; we've spotted shorter bridal capes too.
Detached Sleeved dresses
We love how detached sleeves give us timeless and classy while keeping it modern.
Bridal robes with feathers
Yes, feathers because why not? They are the perfect addition to a glamorous bride's wardrobe while she gets ready for her big day.
Pink Wedding Dresses
We absolutely love this bridal trend. Pink bridal dresses are proving that not all wedding gowns have to be white and we love how these 2022 brides have rocked this trend so far. Nigerian beauty & lifestyle influencer, Nicole Chikwe wore a stunning pink dress by Cinnamon Bridal to celebrate her 10th wedding anniversary with her husband, Naeto C.

There's our list. Have you spotted any other bridal trends so far this year that are not listed? Tell us in the comments section.