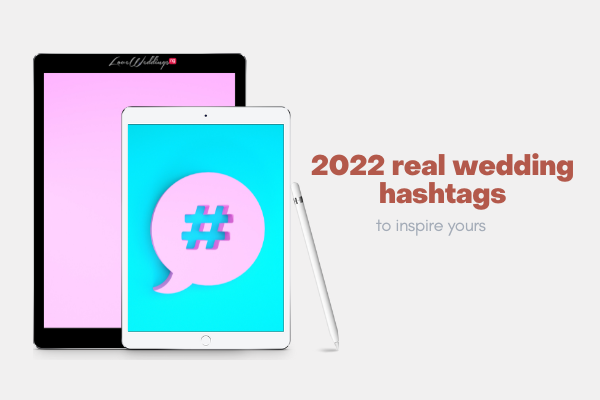 We love wedding hashtags and we've advocated for them since we launched in 2014. We've featured creative wedding hashtags, the two wedding hashtag trend, Yoruba-inspired wedding hashtags, tools like Wedding Hashtag Wall, and more to help you create the perfect wedding hashtag. Today, we're sharing 10 creative wedding hashtags from 2022 real weddings that we know you'll love. Check them out.
#InAweForever
We love Weyinmi and Alfred's wedding hashtag #InAweForever, which translates nicely but also incorporates the first letters of their names 'A' and 'W'
#HItoForever
Hanatullahi & Ibraheem said 'I Do' at #HItoForever. Just like #InAweForever, we love how their wedding hashtag translates nicely but also incorporates the first letters of their names 'H' and 'I'
---
Adesola & Adeola said 'I Do' in France so it makes total sense for their wedding hashtag to represent their wedding destination. 'En route' is French for "on or along the way" and they added their surname 'Adesh' and the year of their wedding '22' to create #EnrouteAdesh22. We love it!
#PNBliss2022
Peace & Nnamdi's wedding hashtag also incorporates the year of their wedding and the first letters of their first names. We love the addition of the word 'Bliss', which describes reaching a state of perfect happiness. We love that their wedding hashtag is creative but also describes their marital journey.
#EATillInfinity
If like us you read 'EAT' the first time you read this; you're not alone. But let's clarify, this creative wedding hashtag actually reads 'EA' (taken from Emmanuella & Adeyinka), 'till', 'Infinity' and we love it.
#MeettheAlaos
This wedding hashtag formula has been tried and tested and it never fails. '#Meetthe[insert surname]. Easy breazy!
#TheOKLoveStory
We love Kemi & Omattah's wedding hashtag; another one that infuses the first letters of the couple's first names 'O' and 'K'
Have you spotted any other wedding hashtags from 2022 weddings that you think we shouls check out. Tell us in the comments.