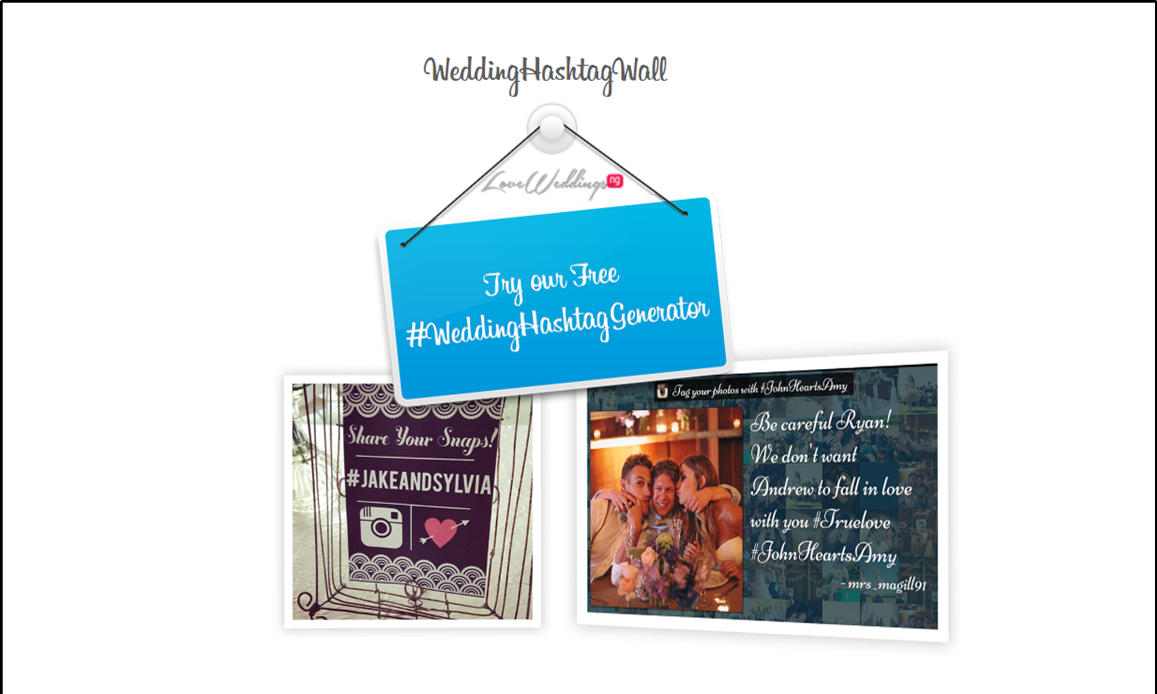 Hello people!!!
We wrote an article about wedding #hashtags early this year and we cannot believe how many times that article has been viewed. If you missed it, catch up HERE. The article provides information about the benefits of using a #hashtag for your wedding and  also gives tips on how to choose the right wedding hashtag, so make sure you read it… 🙂 Thank Us Later.
Anyways, whilst surfing the net as usual, I came across this really cool website called – Wedding Hashtag Wall. I literally cannot contain my excitement. I've been on this site for the last 2 hours playing around with different names and dates and I must say it is really cool. So why am I so excited, I'd tell you…
The Wedding Hashtag Wall offers couples a lot of options,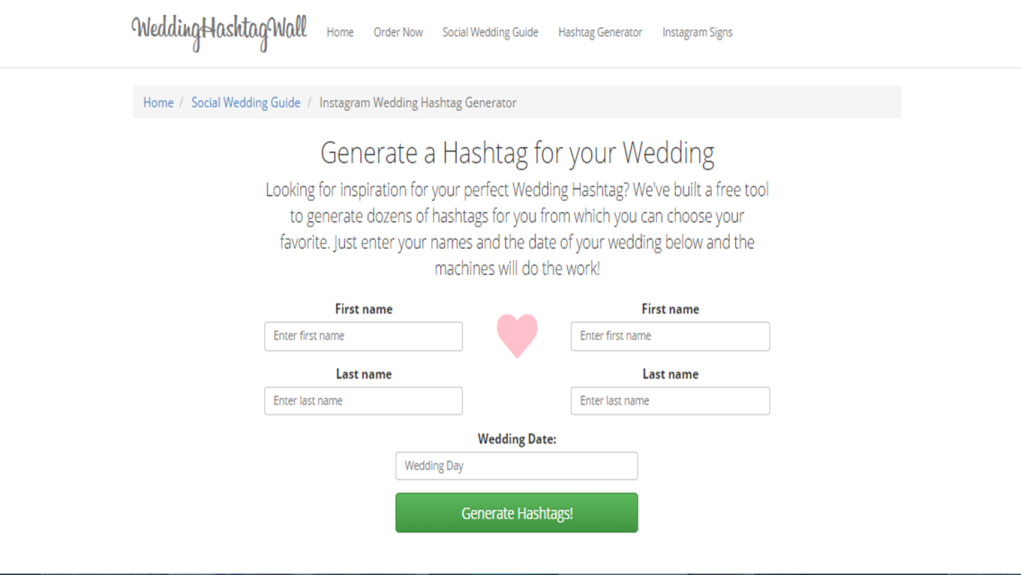 This is one of the coolest things I found on Wedding Hashtag Wall's website. In our previous article about wedding hashtags, we gave you some tips about how to choose the right one and create a unique hashtag. Well, this hashtag generator would help a lot. It provides a range of possible hashtag options combining the couple's first and last names and their wedding date. Me being me, I started messing about with this tool, I must have tried about 50 different names of couples we have featured on LoveweddingsNG, here are a few options it generated.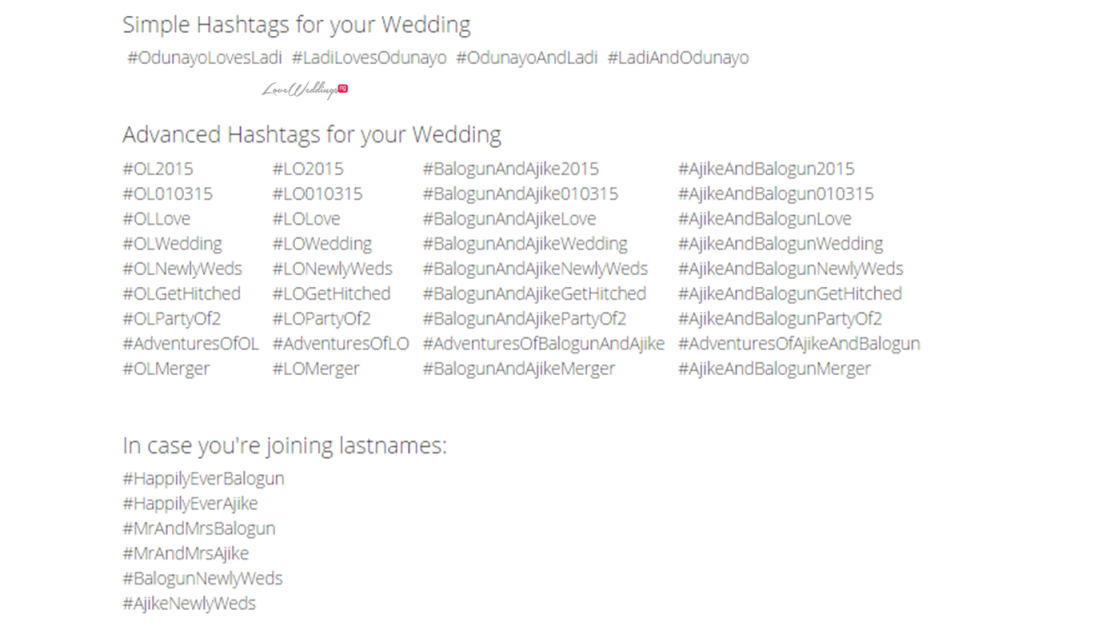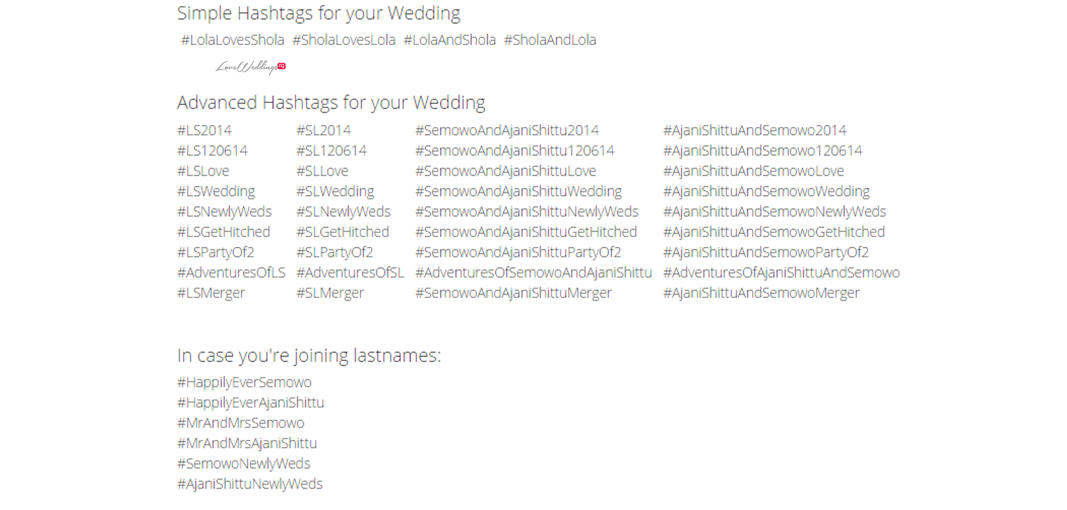 Try it out HERE. Even if you don't go with any of the options it generates, it's a good place to start…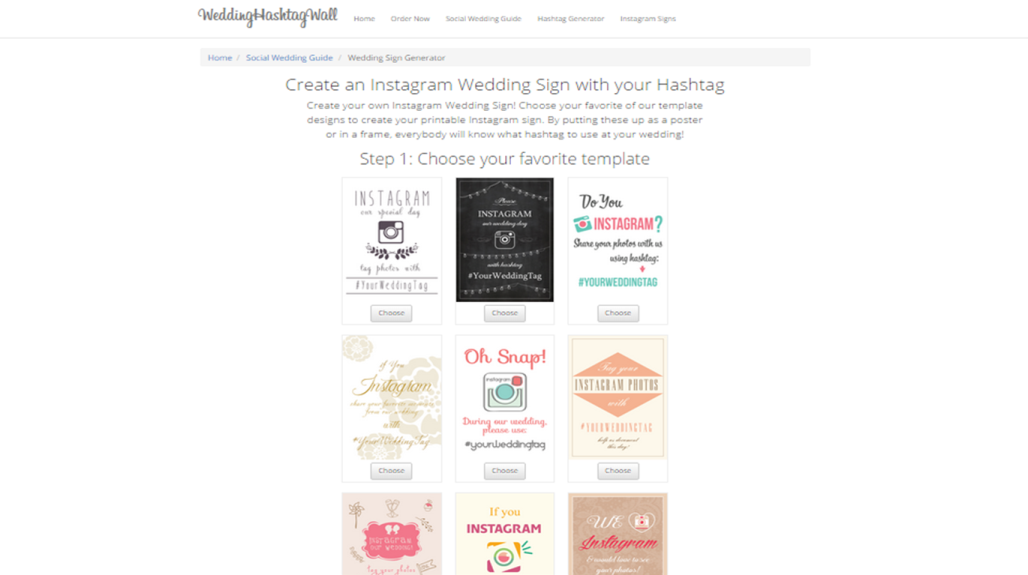 Wedding Hashtag Wall also offers couples the opportunity to create Instagram Wedding Signs. In our previous article, we told you about why it's important that everyone knows what your hashtag you have chosen for your big day. Apart from ensuring they don't start creating theirs (which a lot of people do), it's also the best way to make sure you have access to all the pictures from your wedding.
Creating an Instagram Wedding Sign offers you the opportunity to choose from 15 template designs and create a poster, which allows you let everyone know what hashtag to use at your wedding. As usual, I tried it out with a Ladi and Odun's hashtag – #OdunLadi2015 and created a few posters. See below;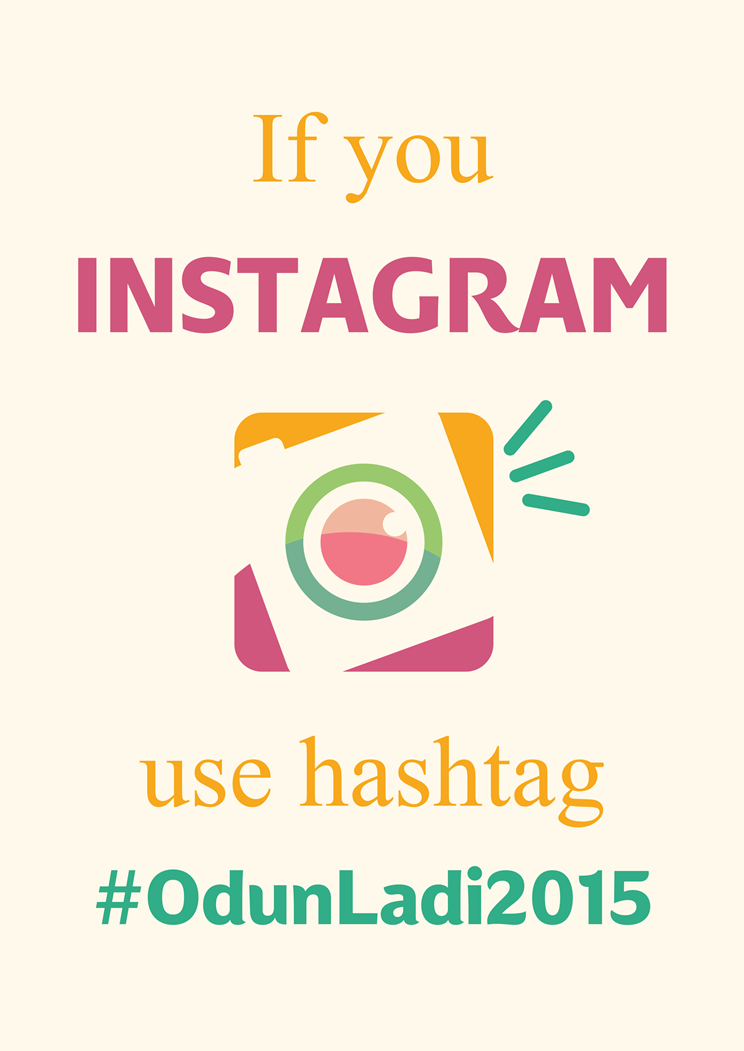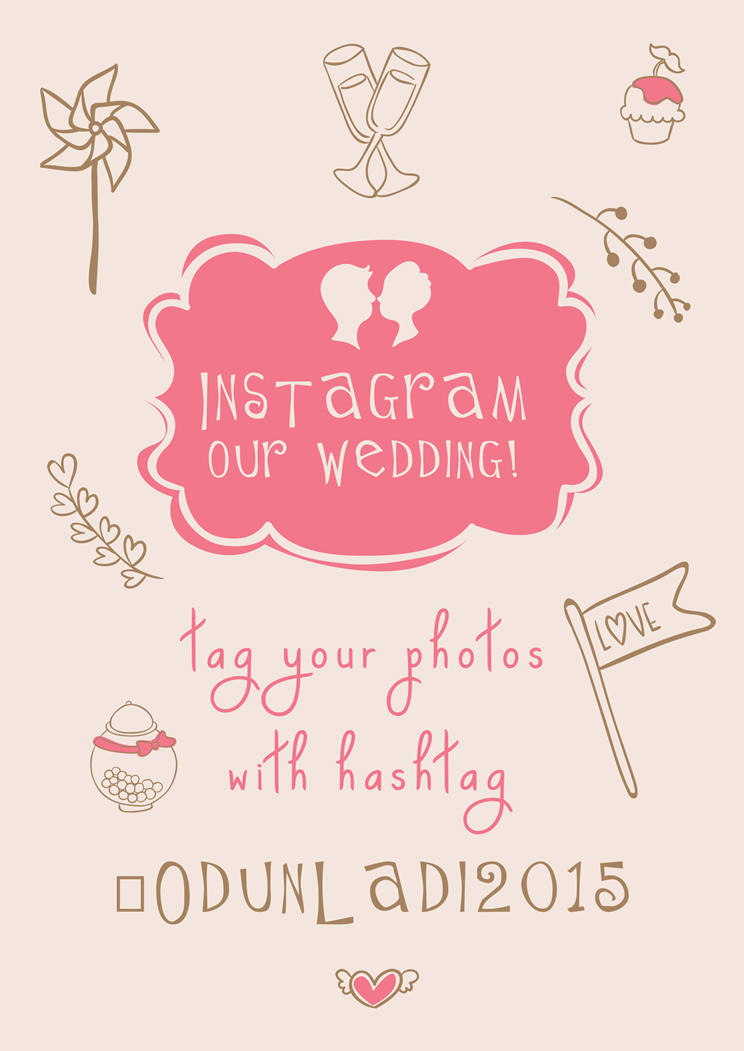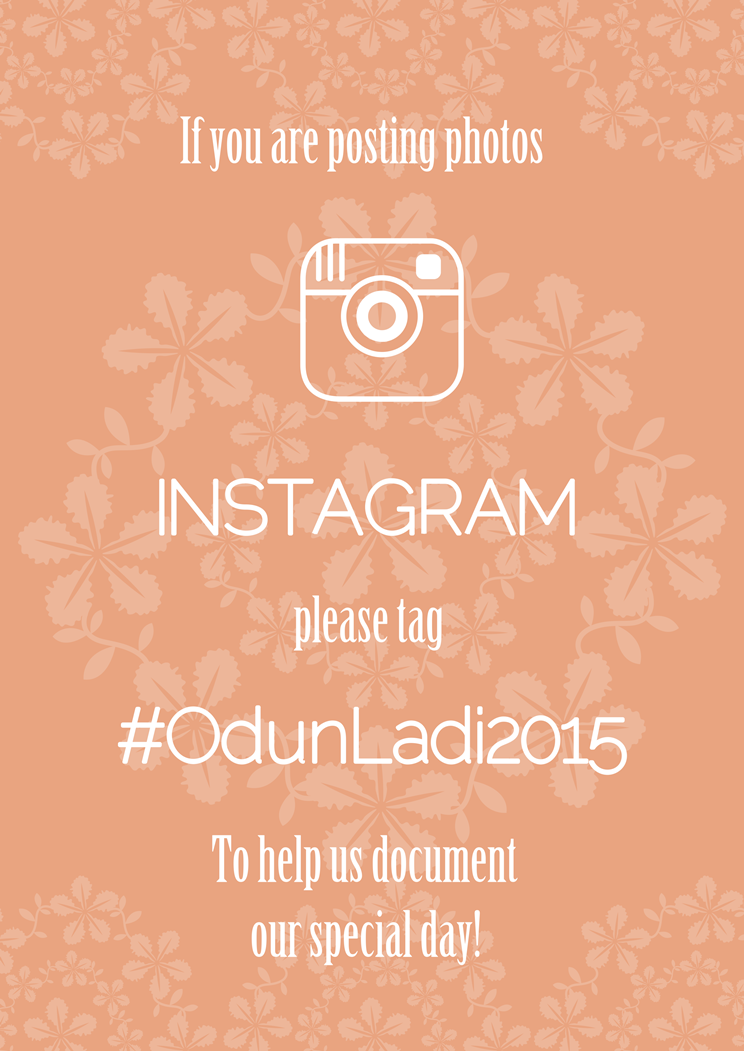 It'd be perfect for the bride and groom to post this image on their Instagram pages days, weeks or months before the wedding and possibly on the morning of the wedding as well. You can also get your bridal party (bridesmaids and groomsmen) to repost this image as well with a suitable caption (including the #hashtag). Remember, it's all about letting everyone know what your chosen hashtag is.
Another idea would be to print these posters, put them in frames and get your event decorator to play around with them whilst decorating your reception hall. You could also use these posters on your invitation cards, wedding programs and wedding stationery – souvenirs. That way, even when people leave your wedding, they have something to remind them of what hashtag you have chosen.
Interactive Screen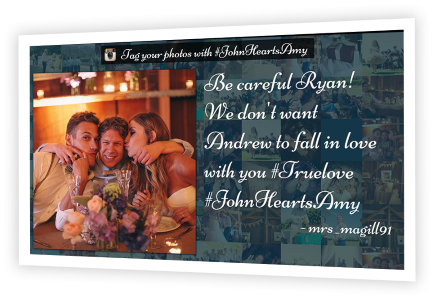 This one's really cool too. So now that everyone knows what hashtag you've chosen for your wedding and they start posting pictures on Instagram with the hashtag, what next?? Wedding Hashtag Wall allows you show the best Instagram pictures live on a big screen.
Wedding Hashtag Wall offers couples the opportunity to display an Instagram slideshow live at their wedding. The slideshow gets fed directly from Instagram and shows all pictures where your hashtag has been used. Watch the demo HERE.
This way, your guests will be encouraged to post even more pictures and that means you'd get an extensive collection of unique wedding photos. Imagine how well this will work as a conversation opener on tables… one guest posts a picture on Instagram and in a matter of minutes, it's not only on Instagram but it's live on a big screen… Trust me, everyone will want to have their own one minute of fame.
So there you have it, I hope you're just as excited as I am about Wedding Hashtag Wall. Let us know if you've tried out any of their services. We'd love to read from you.
We love weddings, do you? Get in touch today
Loveweddingsng | Website | Instagram | Twitter | Facebook | Tumblr | Google+