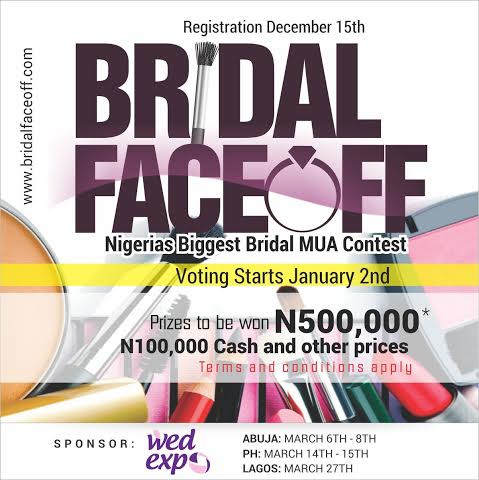 A platform to celebrate and reward bridal makeup artists!
The growth of talent and creativity in the beauty industry over the past few years has been overwhelming. Week after week, hundreds of brides are transformed under the skilful hands of talented makeup artists. We are amazed each time we see such brides, now it's time to celebrate the makeup artists.
Bridal FaceOFF is an initiative of Nigeria's biggest wedding brand – The WED Group which is the brain behind WED Expo, My Big Nigerian Wedding, WED Magazine, WED Academy and WEDDaily.com.
This is a contest that will begin with online voting and then culminate in a grand finale at WED Expo Lagos.
How It Works
Submit a photo of your best bridal makeover (white wedding, nikkai or traditional wedding) for an online contest where votes will be required to get shortlisted for the semi-finals.
In March 2015, the semi-finals will take place at WED Expo Abuja, WED Expo Port-Harcourt and WED Expo Lagos where the contestants will do some bridal makeovers in front of guests and a panel of judges. The winners in these three zone will then compete in the 'Battle Of The Brushes' on the last day of WED Expo Lagos.
Who Is This Contest For?
Makeup artists all around the country who can make it to either Lagos, Abuja or Port-Harcourt for the semi finals if shortlisted.
What You Stand To Win
N500,000 worth of cash and prizes! The winner will take home N100,000 cash and other mouth watering prizes such as beauty products, a Booth at WED Expo October 2015, Great brand exposure for your business, An opportunity to work on the My Big Nigerian Wedding Team, Brand Ambassador for WED Expo.
How To Enter
Entry starts immediately. All you need is a great photo of a bridal makeover. You can either submit the picture of a real bride or a model. CLICK HERE to submit your photo or visit www.bridalfaceoff.com / www.woobox.com/ogggif
Entries close January 31st 2015
How To Vote
Please note that you can vote for your favourite Makeup Artist / Bridal Makeover only ONCE daily. To vote, CLICK HERE
Voting starts January 2nd 2015
Competition Stages
Stage 1: Submission and Voting – Voting ends on 30th January 2015. Short listing to the next stage will be decided by votes and judges selection.
Stage 2: Voting & Judges Selection – Voting ends on 27th February 2015. Short listing to the semi-finals will be decided by votes and judges selection.
For more information and enquiries, please email editor@weddaily.com or add BB PIN 24C9B955
Do you have a beauty product brand? Do you wish to sponsor Bridal FaceOFF? Be a part of Nigeria's biggest MUA Contest and give your brand that exposure it needs. Please call 08096448289, 08147217096 ~ Email akineso@wedgroup.com.ng