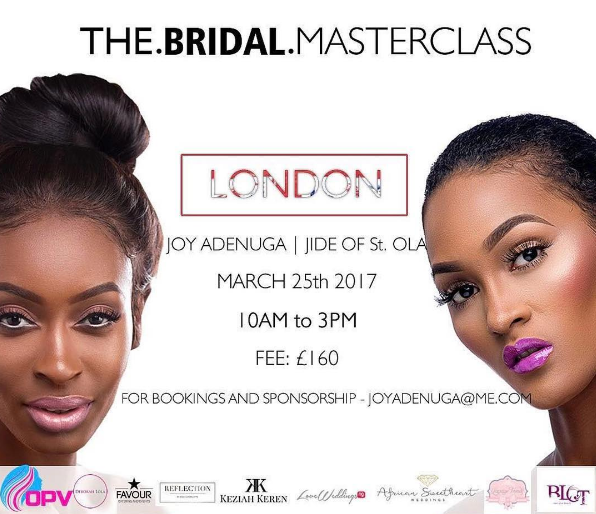 International makeup artist, Joy Adenuga has teamed up with Jide of St. Ola for another edition of The London Masterclass. The event is set to hold in South Quay, London on the 25th of March, 2017 from 10am to 3pm.
If you missed last year's event, see all the pictures HERE. Watch highlights from The London Masterclass 2016 below;
The Bridal Masterclass, London will feature four demos on two models by Joy Adenuga & Jide of St.Ola. The following topics will be covered;
Creating the look – Skin prep, brows, foundations, pigmentations, eye looks, lips etc
Building your bridal business
Dealing with difficult brides and more!
All attendees will received a signed attendance certificate.
The Bridal Masterclass London is proudly sponsored by LoveWeddingsNG, Favour Catering & Events, OPV Lashes, BLOT Beauty Cosmetics, African Sweetheart Weddings, La Paige Trends, Deborah Lola & Reflection Collection.
For bookings and sponsorships – joyadenuga@me.com