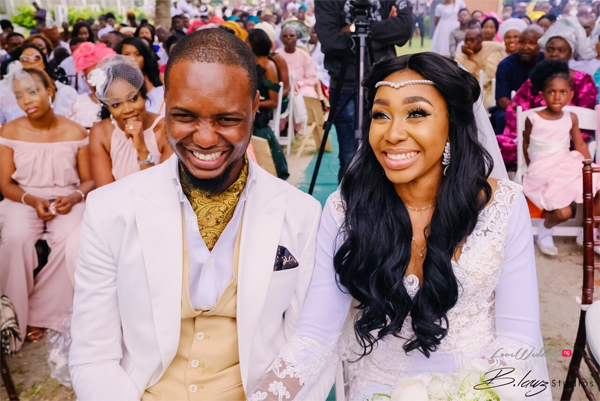 Ini and Femi had a very chic and rustic wedding in Lagos. The couple shared their love story with us and pictures captured by Nigerian wedding photographer, B.Lawz Studios.
Enjoy!
How we met
We met at a radio station. I was working as an intern at the time; he came to do an acoustic session with an artiste. Then when I began working at the station, I played his song on my show. He sent me a tweet; we started chatting, then talking, and became friends. The rest is history, really.
How did he propose?
He deceived me! He had planned with one of our friends – a photographer, who called me and said he was covering a launch of a new restaurant; he told me they needed art works. Of course, I was all in, I mean, money was calling my name. So, I was to meet with the restaurant owners, and show them samples.

The day of the meeting came; I was all flustered and I rushed down to Eko hotel. We (the photographer and I) went up to the Skyline restaurant and as I walked in and turned towards the open air lounge, I saw Femi. You can imagine my confusion, shock, realisation, and then utter embarrassment because I hadn't even taken the time to look fancy, lol! But it was sweet, really.

There were petals all over the floor, the wind was at its finest, blowing my tears away, and Femi kept repeating himself, lol! But he asked me anyway, and I said yes.
How do you feel about getting married to each other?
I feel so happy, at peace, and stupidly excited! We both are coming from painful places and to have found love like this is amazing. It's rare actually, to feel love that is pure, extremely genuine, kind and so giving, with God at the centre of it all. I'm here for it. Forever and ever.
Here's everything we loved about their wedding.
Bridesmaids in dress shirts: It's become common to see brides and their bridesmaids wear bridal robes; however, we've noticed some brides and their ladies wearing some alternatives such as dashiki's, custom tee shirts, denim and more. Ini and her bridesmaids opted for white long-sleeved dress shirts and we love it.
Truly Rustic: From the lanterns to the wooden ladder, the bamboo wine bottle holders and more, the decor by The Decorator Official was truly rustic. We also love how detailed they went with executing the theme. The couples personal vows were written on burnt paper and wrapped up in a scroll
Mismatched bridesmaids: Yes, bridesmaids usually wear the same dress, colour, etc but we love it when the bride lets her ladies choose a style and neckline that works best for them. All the bridesmaids wore the same colour but showed off their individual styles in their lovely jumpsuits. We also love the fact that this is one bridesmaid outfit you can definitely re-rock.
Their outfits: The groom really stood out in his white and gold outfit; we love his shoes and his choice to go with a scarf instead of a tie. The bride looked stunning in her fitted long sleeved dress
Weddings are full of emotions; we love a bride who lets it all out because there's something special about allowing yourself to be vulnerable.
The groom and groomsmen had a surprise performance for the bride

Their First Dance & Adekunle Gold's Performance
Vendors