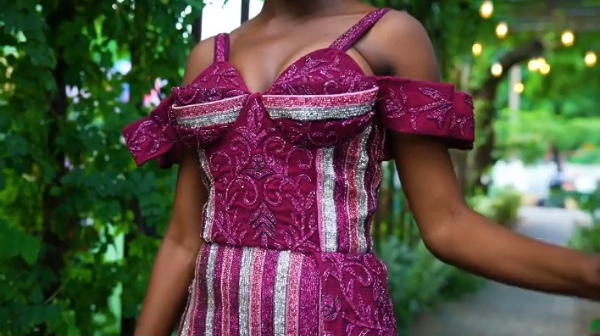 Last week, American reality TV couple, Uche Nwosu and Clinton Moxam tied the knot, wedding podcast host, Nicole Pellegrino of Bectches Brides also got married. Nigerian designer, Toju Foyeh released a new bridal collection and Ese Azenabor unveiled their 2022 bridal collection. Here's your wedding news recap.
---
#MoxMetHisMatch: Uche Nwosu and Clinton Moxam from MTV's 'Are you the one?' got married on Saturday, the 4th of September 2021 in Chicago, Illinois. Earlier in the week, the couple had their Nigerian traditional wedding and the bride shared photos on Instagram; 'A night to remember!!! #MoxMetHisMatch #naijaweddings 💗'
---
Meet Mrs. Freeze. Nicole Pellegrino, the cohost, and producer of the Betches Brides' wedding podcast, and her fiance, Mike Freeze said 'I do' over the weekend.
---
No vaccination, no access to large gatherings in Edo. According to a report by The Nigerian Observer, the Governor of Edo State, Mr Godwin Obaseki wants to ensure the health and safety of citizens by introducing a new rule. During an interview with journalists at the state capital, he stated that the government will proceed with the enforcement of the no vaccination card, no access to large gatherings in the state by the second week of September 2021. Governor Obaseki shared;
We want to reiterate that our directives on vaccination stands and so people who are planning social, religious, political or business events after the second week of September should ensure that both themselves and their guests are not only vaccinated but possess vaccination cards as proof of vaccination, as anyone without this proof, will not be granted access to crowded facilities.
---
Mark Ronson and Grace Jane Gummer are married. The English DJ shared the news on his birthday (the 4th of September) with a photo. He shared; 'To my truest love…out of nowhere, you made 45 hands down the greatest year of my life. And i'm sure it took me 45 years to become the man worthy of your love. I hope I spend every one of these birthdays by your side til my last day. And beyond. Forever and ever yours ❤️❤️❤️❤️❤️❤️ (and yes, we got married)'.
---
IRAWO. The collection is the latest project from Nigerian designer, Toju Foyeh. The bridal collection features beautiful and colourful aso-oke outfits, clutches, and headpieces. The designer shared;
This is a collection I worked really hard on, made me fall in love with designing all over again. From the beginning I knew I wanted to do something different, something I hadn't done before. Over the years I've focused on bridal wear, but this time I wanted to do something more indigenous and culturally grounded.

Proudly Nigerian, I love our local Aso Oke fabric. I learnt about the fabric making process, and figured out how to make my own aso oke fabrics unique.

Took this a step further by reimagining the classic take on Aso Oke by focusing on custom hand beading. I always had the vision to marry the classic Aso Oke look with the more modern 'sparkle' culture.

As much as I'm a stickler for tradition, I wanted a more modern look for my head pieces. As a few may know, I'm not the biggest fan of the traditional head pieces (can't stand the pressure on the ears 😅). I collaborated with the talented @headwear on the Aso Oke head pieces.

The last interesting element of the IRAWO collection is the matching Aso Oke clutches, which is something most brides struggle with. The bag making process was certainly new to me, but I enjoyed coming up with the ideas to match the Aso Oke outfits.

All this and more birthed IRAWO…the STAR of the show.
---
Jordan Connor is married: The Riverdale actor and Jinjara Mitchell are now husband and wife. The couple shared the news on Instagram.
---
The Dream bridal collection. Haute couture bridal design house, Ese Azenabor has unveiled their 2022 collection tagged; 'The Dream Collection'. The collection features 31 luxury wedding dresses. See the full collection on eseazenabor.com
---
#TheJUnit. Nigerian travel and lifestyle blogger, Kemi Onabanjo Joseph and her husband, Pelumi Joseph celebrated their 2nd wedding anniversary last week.
---
The Westbrooks are 5. American professional basketball, Russell Westbrook, and his wife, Nina Earl Westbrook celebrated their 6th wedding anniversary. He shared; 'Happy Anniversary to my beautiful wife. I wouldn't want to share this journey with anybody else. I'm grateful that we can continue [to] create memories and have FUN as we continue to grow old together. Keep being you Suga! Love you forever❤️'
---
7 years and a lifetime to go. American actress, Gabrielle Union and her husband, former professional basketball player, Dwyane Wade have been married for 7 years. In honour of their anniversary celebration last week, Gabrielle Union shared; 'Ain't No Stoppin Us Now. 7 years and a lifetime to go. My best friend, the coolest homie, mentor, and inspiration, my love, my husband. I 🖤 you @dwyanewade Happy Anniversary baby. #WeAllWeGot'
---
Year 9 for the Oyelakins. Nigerian standup comedian and talk show host, Teju 'Babyface' Oyelakin and his wife, Tobi Banjoko Oyelakin celebrated their 9th wedding anniversary. The comedian shared on Instagram; '9 years already? Man. Where does the time go? So number 10 is coming up next year and this awesome woman @tobibanjokooyelakin will be expecting some mighty gift now. There you have it: my vision for the next 12 months, procure [a] mighty 10th-anniversary gift! Thankfully this chic is chill like that and doesn't ask for much… I praise you today on number 9 and pray that your joy will never be taken away nor your sun darken in noon time. The Lord will keep all He has given you and may you never know sorrow. I love you. 50 more years loading! #happyweddinganniversary'.
---
A surprise proposal on the tracks. When you've missed out on qualifying for the semi-final at the Paralympics, getting a surprise proposal from your partner is one way to get over your disappointment. That's exactly what happened to Cape Verde para-athlete Keula Nidreia Pereira Semedo, who failed to qualify for the women's 200m T11 semi-finals by coming last in her heat, only for her guide – Manuel Antonio Vaz de Vega – to ask her to marry him on the track right after the race.
The para-athlete's guide, Tony Boy Veiga, rushed over to Semedo, who is visually impaired and was wearing a blindfold, at the National Stadium in Tokyo and ushered over the other competitors and their respective helpers to join them for their special moment. Semedo immediately said yes which led to cheers and applause from the other athletes once their guides filled them in on what was going on, as the newly engaged couple embraced on the track. The Paralympic sprinter then showed her ring to the cameras, clearly delighted with the news despite her disappointment on the track.
---
The Onyegbule's are 20! Nigerian actor and comedian, Okechukwu Anthony Onyegbule, popularly known as Okey Bakassi, and his wife, Zizi celebrated their 20th wedding anniversary last week.
---
Year 8. Kenyan Gospel artist, Emmy Kosgei and her husband, Pastor Anselm Madubuko celebrated their 8th wedding anniversary. She shared on Instagram; 'On a day like this, I said yes!! Happy Anniversary to us !!!! 8years of bliss! Of wifing this great general ❤ who has endlessly thiefed this #nubianqueens' heart❤ thank you JESUS!!!! This 9th year we step into oil and butter as asher in JESUS MIGHTY NAME … selah ❤'
---
Year 5 for the Cokers. Nollywood actress, Monalisa Chinda Coker and her husband, Victor Tonye Coker celebrated their 5th wedding anniversary last week.
---
The Ibeleme's are 5. Nigerian photographer, Aham Ibeleme and makeup artist, Otito Ibeleme celebrate their 5th wedding anniversary last week. Aham shared on Instagram; '5 years! 95 more to go!! We were Facebook lovers o now look at us!! 😂😂. I love the way you love me, even with your wahala. I love you too 😂. Happy anniversary Otito my wife. Happy anniversary to us! I love you! ❤️'
---
#HamadForever. Aisha Hanan Buhari and her husband, Mohammed Turad Sani Sha'aban celebrated their first wedding anniversary last week. Aisha is the daughter of Nigeria's President Muhammad Buhari.
---
Celebrating 17 years together. Nigerian gospel artist, Lara George and her husband, Gbenga George celebrated their 17th wedding anniversary last week. Lara shared on Instagram; '…Thankful, grateful, tearful…… Feeling blessed!'