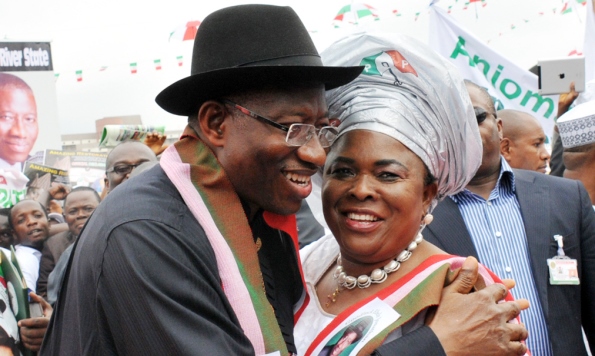 Nigeria's First Lady – Her Excellency Patience Goodluck Jonathan spoke to City People in a recent interview about how she met her husband – President Goodluck Ebiere Jonathan. Read excerpts from City People's website regarding the interview below;
As a young student at the Rivers State College of Education, Rumuolumeni, little did Patience Oba, now Nigeria's First Lady, Her Excellency Patience Goodluck-Jonathan, know that one of her lecturers in the college's Department of Biological Sciences, now Nigeria's president, His Excellency Dr. Goodluck Jonathan was going to be her husband. At the time, Goodluck Jonathan had just concluded his M.Sc programme, and was preparing for his doctorate. It was during this break that he got a job as a lecturer, teaching students preparing for Nigerian Certificate of Education(NCE) and the B.Ed. Degree.

Of his students, a young beautiful light-complexioned lady caught his (Goodluck) eyes. What further drew him to Patience then was that her native Okrika name Ebifaka, shortened as 'Faka' was same as that of his field assistant, Faka who usually brought him crab specimens from the riverine Okrika (in Rivers State) for his M.Sc. thesis. Patience's physical attributes weren't the only traits that endeared Jonathan to him. She was studious as a student and was conscientious in her academic work."My first impression of him was of a tall, dark, handsome young man. I also found that he came from a good Christian home, just like I did. His humble and gentle disposition caught my attention and most importantly, his intelligence," Patience said in her husband, President Goodluck Jonathan's authorized biography 'Wind of Hope'.
Source: City People