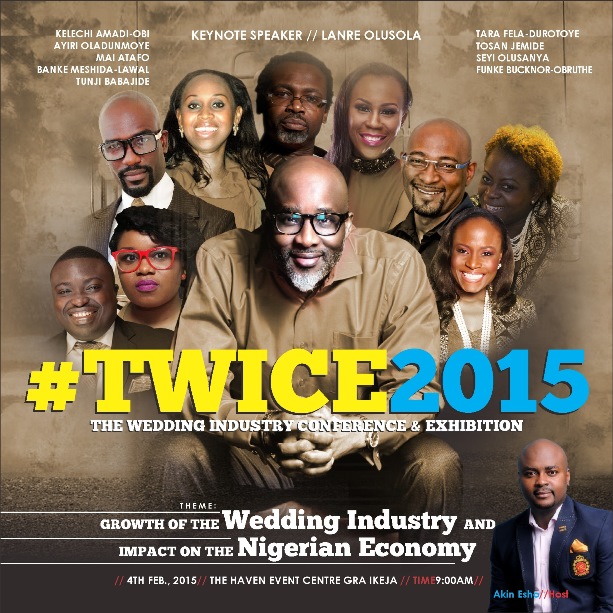 The Wedding Industry Conference is set to hold at The Haven, Ikeja on Wednesday, the 4th of February, 2015.
The event is expected to have in attendance wedding vendors, stakeholders, entrepreneurs and enthusiasts who will gather for a day of networking, mentoring and discussions on pertinent issues about Nigeria's every growing wedding industry. This is going to be the biggest gathering of participants in the wedding industry, an event anyone who does a business that caters for weddings and events must attend!
The Wedding Industry Conference & Exhibition (TWICE) is being organised by Akin Eso, the CEO of WED Expo and a committee of seasoned practitioners in the industry.
Do you run a business that caters for anything related to weddings? Are you a makeup artist, wedding planner, wedding blogger, photographer, designer, event decorator, DJ, MC or do you work in any organisation that caters to the wedding industry? Do you plan to have a business in the wedding industry? If yes, then join wedding industry professionals in an engaging, educative and informative session at TWICE.
TWICE brings together wedding professionals and stakeholders to get inspired by the different speakers as well as network and share ideas with one another. We have tailored the event to fit both newcomers to the industry, as well as some of the most experienced and savviest of wedding professionals. Participants stand to gain from the extremely talented and experienced speakers as well as panel sessions on different aspects of the industry. This is an event for everyone who desires to grow in his/her business and for discussions on how to move the industry forward.
Speakers
Lanre Olushola, a motivational speaker and life coach is the keynote speaker of the event. Tunji Babatunde, a life coach and motivational speaker will also be inspiring the audience. Other seasoned players in the wedding industry will be speaking on various topics in their area of expertise. They include Funke Bucknor-Obruthe (Zapphaire Events), Mai Atafo (Mai Atafo Inspired), Banke Meshida-Lawal (BM Pro), Kelechi Amadi-Obi (Kelechi Amadi Obi Studios), Tosan Jemide (Cakes By Tosan), Ayiri Oladunmoye (Oaken Events), Tara Fela Durotoye (House Of Tara), Ibidun Ighodalo (Elizabeth R Events), Seyi Olusanya (Once Upon A Destination) and much more.
Sessions
There will be several panel sessions where seasoned practitioners in the industry will share their tips with guests present. Sessions will be in these categories: Wedding Decor, Makeup, Wedding & Event Planning, Cake Artistry, Social Media, Wedding Fashion & Photography
Date: Wednesday 4th February, 2015
Time: 9am – 5pm
Venue: The Haven Event Centre, beside Archbishop Vining Memorial Cathedral (Police College Road), Ikeja GRA, Lagos
Theme: Growth of the Wedding Industry and it's Impact on the Nigerian Economy
Attendance and Registration is FREE and can be done at the venue from 8.30am. Pre-registration is however advised. CLICK HERE to register.
For more enquiries, please contact any of the Conference Committee Members:
Adefunke Kuyoro, TWC Events Services – 08098440865
Yvonne Akpomedaye, Ivy-Lil' Beth Concepts – 08027367595
Mercy Ajuka, Kasamyrrh – 08162887538, 07012117450
Adenike Toikumo, Excellseum Events – 07025001448
Yemi Adewale, YDA Creations – 09098914354, 08057524783
Dada Gbenga, Artsmith Collections