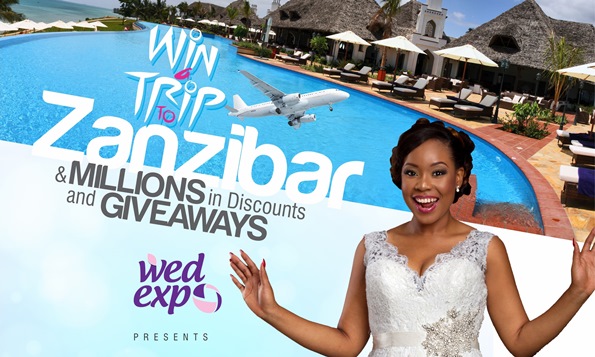 The wedding show live is an upgrade from the usual WED Expo. In addition to the exhibition this year, the organisers are introducing The Wedding Show Live. You don't just get to meet over 100 vendors that will make your wedding planning process easy but you get to learn from the industry's best on how to make the right choices and have an amazing D-Day. The tour starts in Lagos from April 24 to 26 then moves to Abuja May 8 to 10 and ends in Port-Harcourt May 16 to 17.
You also get enter to WIN!!! A Trip for 2 to Zanzibar in the Grand Prize raffle draw as well as millions in discounts and giveaways from amazing vendors.
Register today and skip the registration lines as this is a FREE!!! Event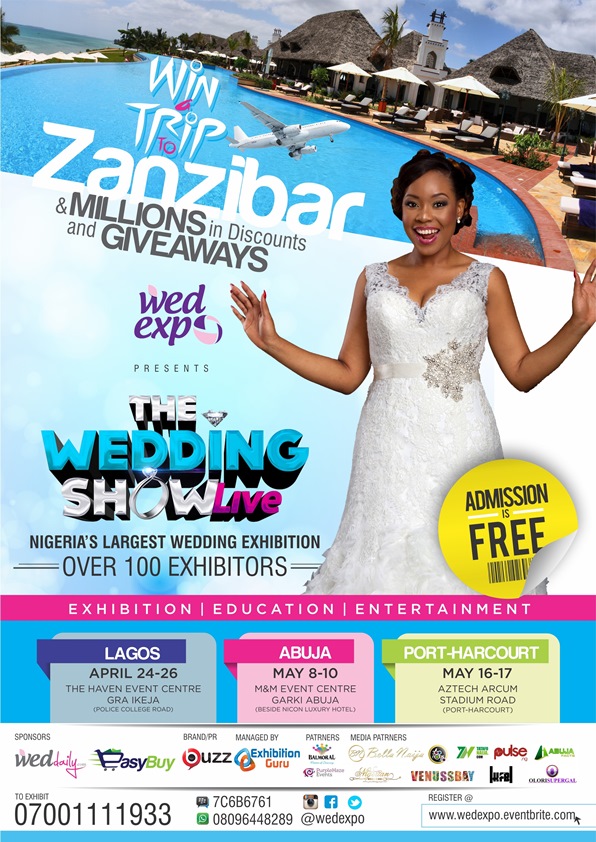 Brides get to learn from Banke Meshida-Lawal on how to treat your skin before the D-Day and also many more tips from the Makeup Guru. A lot more educational sessions will be released before the event. See details below
WED Expo Lagos Date: Friday April 24th – Sunday April 26th Venue: The Haven Event Center Ikeja GRA, Beside Archbishop Vining Memorial Church (Police College Road) Time: 10AM – 6PM Gate Fee: FREE!!! FREE!!! FREE!!!
WED Expo Abuja Date: Friday May 8th to Sunday May 10th Venue: M and M Event Center Garki Area 11, Beside Nicon Luxury Hotel Time: 12PM – 8PM Gate Fee: FREE!!! FREE!!! FREE!!!
WED Expo Port-Harcourt Date: Saturday May 16th to Sunday May 17th Venue: Aztech Arcum, Stadium Road PH Time: 10AM – 6PM Gate Fee: FREE!!! FREE!!! FREE!!!
Register HERE or at the venue for FREE!!!
For vendors who would like to exhibit their products and services to thousands of your potential customers, call: 07001111933 WhatsApp: 08096448289 BB Pin: 7C6B6761 Or Email: expo@wedgroup.com.ng.
Visit www.weddaily.com for daily updates for WED Expo
Buzz Media is the official Brand & PR company for WED Expo
See some of the exhibitors coming to WED Expo
Molbaks AlasoOke
Concepteur de Fruitee
Bejewelled by Tosyne
Mide Miro
Alexis
HRM Signature Beads
Next StepNG Wedding and Event
Liri Tent
Superb Tent, Libenbi
Jacynthe Cards
Nlah's Catering
Torge Events and Décor
5D Imagery
Hair Rayera & Accessories
La Heredera Shoes and Purses
Reis & Possente Cakes
Lola Faquz
Photo Naija
Purplelips Bridal
WineVault
Nubian Smiles
ChocolateKraft & Designs
Bakins Brazillian Jewelry
The Beauty Place by Damakins
Drinks Division
Dewdrops Cakes
Sea Bonito Ltd
Coldstone
Summer Hues Fabrics
Perfect Touches Events
Asabi's Place
Opeke
Tosh O
Ella Hair
TrendyBe Events
Nwandos Signature
Sahara Sunrise
Beauty Language makeovers(BLM)
La Daio, O Naturals Hair Salon
Lady D beads, H23 Naturals
Tenny's Treat cakes and dessert
Nayla events
Something Sweet
Jabelle
Jade Options Company
Ask Onyeka
Anike Midele
Sapta's Chops
BCE Clothing
Oyegunle Bisola
Daniel Folley Photography
LoveBugs Proposals
Jide Odukoya Photography
Image Kitchen
Laviva Bridals
Abaabee
Dolphin Eleven
Subzy Elesho
JohnXzono Bespoke
Numerounnos Shawarma
Cakepoptastic
Xenora
Reo Events Ltd (Baby & Bridal Shower)
Delabique
Yellow Velvet
Delicious Design
Naphtali Rentals, Lizzy Cakes
The Love Box Company
The Elect Asooke
Pleasant Joy Events
Infusion Cakes, Gift County
Hanafacials Makeover
Xcepttionelle Events
Rings etal Jewellers
Faaji Hub, Just Eclat
Ovoke Beauty
R'ade Designs Prints Handcrafts
Photogenic Photobooth
Austa's Concepts & Designs
GCF World
O3 Events
Aso Ebi Guru
Pebbies Cakes
Merry Makers Event and décor
Jonina Selcah
Chipsy Oven
Structured Spaces Nigeria Limited
Purplelips Bridal
Colours In Ice and Buzz A Shop
Cakes and Card
Opeke
Material Girl
lynn's armoire
H23 Naturals
Dolphin Eleven
The Pearl Arena
The Elect Asooke
Sashes Couture
Trendy Sweets
Pleasure Chest
Classic Golden Pot
Teabreak Creamery
Bridal Empire
Adnas Catering
We love weddings, do you? Get in touch today
Loveweddingsng | Website | Instagram | Twitter | Facebook | Tumblr | Google+