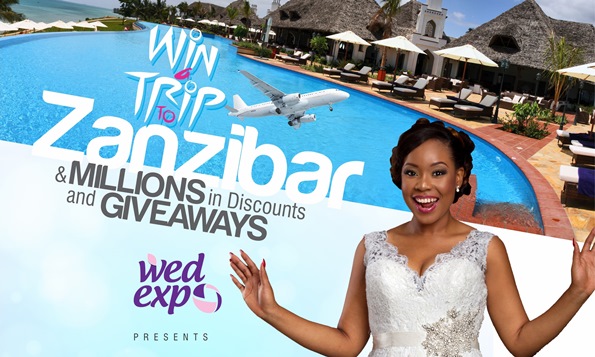 WED Expo makes its debut show in the Garden City of Port-Harcourt tomorrow (Saturday, the 16th of May, 2015) and Sunday, the 17th of May 2015. Attendees are invited to experience the best of beauty, fashion, decor, style, photography, food, entertainment and much more at the Aztech Arcum, Stadium Road, PH. Admission is FREE!
Those who attend also stand a chance to WIN a Trip to Zanzibar and millions in discounts and giveaways. Over 100 wedding vendors will be available for one-on-one consultations and will be offering the best of the best at mouth watering prizes. This is one opportunity you don't want to miss.
Are you planning a wedding/event or attending one? There is something for everyone. Get great deals in every aspect from fabrics and asoebi to makeovers and event decor and even your photography! WED Expo is a fun family event for everyone with lots of side attractions – food, music, dancing and much to keep you entertained.
Don't miss out!
Date: Saturday 16th – Sunday 17th May 2015
Venue: Aztech Arcum, Stadium Road, Port Harcourt
Time: 10AM to 6PM Daily (you can come at any time)
Admission: FREE!!! FREE!!! FREE!!!
For exhibitors, call 07001111933, 08096448289, Whatsapp: 08096448289. Send a mail to expo@wedgroup.com.ng. You can also visit the venue (Aztech Arcum) on Thursday or Friday to book your booth.
For more details on The Wedding Show Live visit Wed Expo's official blog to see more updates.
See pictures from the recently concluded WED Expo event in Abuja HERE.