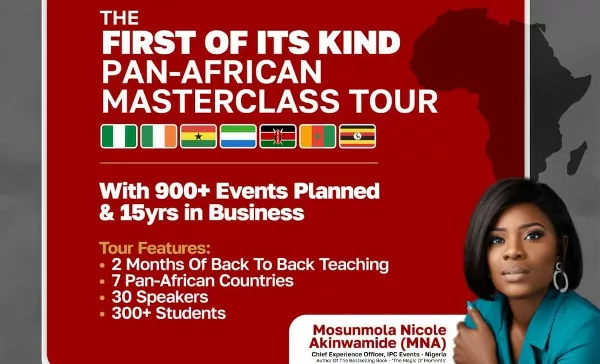 Over the last 15 years, Mosunmola Nicole Akinwamide (MNA) has led the Nigerian event industry into unimaginable heights and has disrupted the event industry with her unusual creative expressions, formidable mind, and with her cut-throat innovations & mind blowing ideas. For someone who has run a successful event business for over a decade and half, Mosunmola continues to blaze the trail and sets newer standards for others coming behind her to follow.
In view of her abilities to do the unthinkable, she has just announced a first of its kind Pan-African Masterclass tour, where she seeks to connect 7 Pan-African countries together through events and wholesome magical learning experiences. At this masterclass, she will be teaching event professionals, event planners, service providers (i.e caterers, DJ's, MC's, decorators, drink vendors, makeup artists, etc) and anyone within the event industry ecosystem in Ghana, Côte D'ivoire, Sierra Leone, Cameroon, Uganda, Kenya and Lagos, Nigeria, on the theme "THE ART OF DESIGNING & RUNNING A PROFITABLE EVENT BUSINESS".
So if you fall in any of the above listed people/ category, this Masterclass is for you.
The Dates for this Masterclass Tour are:
📍 Freetown, Sierra Leone – OCT. 12-14th
📍 Douala, Cameroon – OCT. 18th -20th
📍 Kampala, Uganda – Oct. 23- 25rd
📍 Takoradi, Ghana & Cote D'ivoire – Nov. 9-10th
📍 Nairobi, Kenya – Nov. 14-16th
📍 Lagos, Nigeria – Nov. 23-25th, 2023
MNA and her team have partnered with the finest and leading event planners in these countries to bring you the best learning experience imaginable.
In Sierra Leone, the spectacular Hydara Salamatu Sheriff, CEO of Spectacular Touch events @spectacular_touchevents & The Queen of events, Fatmata Sarah Davies, CEO of Kaemon Events Co. @Kaemon_events
In Cameroon, the delectable Lydienne Parsa, CEO of Heloline Events @helpline_eventss. In Uganda, Mr. Renzioni Hill, the Founder & CEO of Renzioni Events @rezioni. In Côte D'ivoire, the Indefatigable Astou & Cynthia , Founders of Event pro International, A leading bespoke event planning company in Abidjan, Cote d'ivoire @spotlightprods
In Ghana, Kate Hassan, the CEO of Thea Eventistics and the president of Vendors Association Ghana @Thea_eventisticsgh. In Kenya, the phenomenal Angie Mukuna , Founder & CEO of Angelic Touch Events @angelictouchevents & with planning support from TWESA NATION @twesa.nation, in Leadership of Diana Nekesa, CEO of Galina events International.
And of course Lagos, Nigeria, which will be solely organized by the humans of IPC-Events Academy @IPCEventsAcademy
This Masterclass is a 3 day intensive training across all the above listed countries. This training will be a thoroughly intense practical & theory classes, so come ready to get your hands dirty and learn. The team have also partnered with one of Nigeria's Leading travel agencies and experience curator, Grandeur Travel @grandeur_travels for the most beautiful touring experience.
For more information about this Masterclass tour and to REGISTER, follow @IPCEventsAcademy @IPCEvents @mosunnicoleAkinwamide on Instagram. This Masterclass will most certainly change your life and that of your business so make sure you REGISTER TO ATTEND.