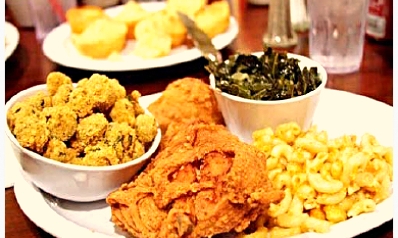 We received this mail titled '600 Calories – 9ja Food' from one of our vendors – Hadassah Bridal House and thought to share… Very interesting read.
I'm sure you want to remain fit and attractive to your husband even after your wedding. It sure takes some measure of discipline and focus. Day dreaming all the time about the typical Naija food may not be too helpful.

The perfect '600 calorie' meal as far as I am concerned consists of 'Two small pieces of croaker fish or one big piece in pepper soup with 2 to 4 small balls of Irish potatoes.' 

As a rule of thumb, to get 600 calories off, you will need to STAY OFF most CARBOHYDRATES because they significantly add to the number of calories in your food. Here are a few tips.

If you must at all, eat rice or wheat in small portions.
Use little or no palm oil, olive oil is your best option.
Foods that you can eat regularly include: Irish and sweet potato in fish (preferably Croaker, Kote) pepper soup, proteins, vegetables. Fish can be boiled or roasted. Roasted/boiled plantain is great too.
Pap and moi-moi with honey is also good for you.
As for the meal replacement shake, which requires you to use skimmed milk or soya milk, I would advise that you use water instead.
Fruits and vegetables to eat regularly include pawpaw, watermelon, cucumber, carrots.
For other value tips and products to help you remain healthy, join the Fit Bride BBM channel – C001F8D85
We love weddings, do you? Get in touch today
Loveweddingsng | Website | Instagram | Twitter | Facebook | Tumblr | Google+