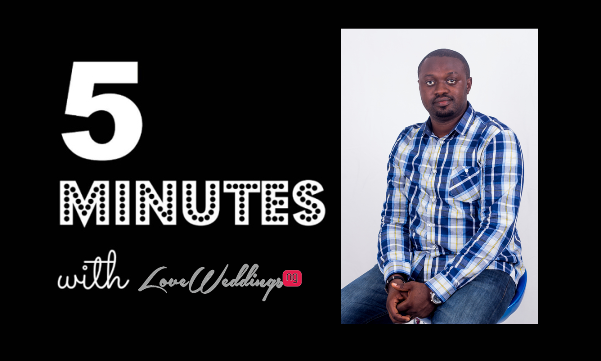 '5 Minutes with…' is a series of short interviews with some of the esteemed vendors listed on our directory. We get to know the brilliant people behind the brands we love. Today, we meet Lanre of LanreEsho Films
Olanrewaju Esho is a cinematographer. He started filming in 2012 and specialises in wedding films. Lanre lives in Lagos with a wonderful wife and 2 boys! He plays the alto saxophone and spends most of his spare time on the internet. Lanre is an avid learner and always wants to share his passion at all times. He hopes wedding videography will become glamorous like photography
Your Brand In Three Words… Story! Emotions! Quality!
The Part of My Job I Enjoy The Most… Getting great feedback! It means I'm on track
My Biggest Accomplishment To Date… Getting to shoot a wedding in Lebanon
The Best Vendor You've Worked With… Too many to mention
One Quality Every Nigerian Wedding Vendor Must Have and Why? Expertise! you cant go wrong with expertise!
In my Spare Time, I spend time with family
Interesting Fact about You… I love to drive on long trips
What Songs Are Currently on Replay? Gospel according to Jazz IV – Kirk Whalum
What Book are you currently reading, or what was the last book you read? Colour correction Handbook
Call or Text? Calls. I hate to type
Cook or Be Cooked For? Be cooked for
Favorite Food? Pounded yam and efo with Ogufe
Ideal Holiday Destination… Paris, its the love city
3 Guests For Dinner, who would they be?
Ray Roman – Best wedding cinematographer as far as I'm concerned
Pastor David Adeoye – Feeds me spiritually
Spike Lee – To learn more about films
To get in touch with LanreEsho Films, click HERE.
For more from our 5 Minutes with … series, click HERE
We love weddings, do you? Get in touch today
Loveweddingsng | Website | Instagram | Twitter | Facebook | Tumblr | Google+