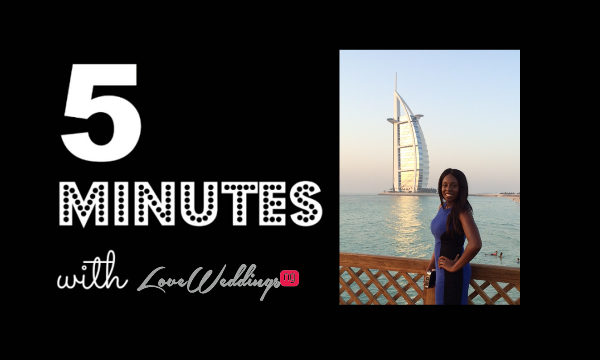 '5 Minutes with…' is a series of short interviews with some of the esteemed vendors listed on our directory. We get to know the brilliant people behind the brands we love. Today, we meet Funmi of Your Day, Our Time.
Your Day, Our Time was founded in 2014 by Funmi while she was 6 months pregnant. Funmi was born in Nigeria but grew up in London and moved to the UAE in 2012 to teach Psychology. She loves travelling and so the move to the UAE was inevitable after years of spending half terms and holidays exploring the world. Based in the UAE where the founder has lived for the past 4 years, Your Day, Our Time aims to have a planner on site for clients who do not live in the region. Funmi recently moved to Abu Dhabi after living in Dubai for the last few years; she lives with her husband and daughter.
Your Brand In Three Words… Speedy, Quirky, Imaginative
The Part of My Job I Enjoy The Most… I get very excited about seeing an event come together after so many hours of emails, phone calls, texts. The look on my clients faces at the end of the night is priceless. If I didn't have bills to pay, I would plan for free as I genuinely love it.
My Biggest Accomplishment To Date… Planning my own wedding with no help at all, I literally did everything from start to finish. I had no prior experience to this and I am so proud of how it all turned out. Friends were amazed by how flawless the day went in terms of no gaps in entertainment/waiting for food etc. The showstoppers were definitely the venue (A polo club where during the cocktail reception there was a live polo match) and the favors.

The Best Vendor You've Worked With… Melrish Photography (based in Dubai) their work is just amazing. They capture the tiniest details flawlessly
One Quality Every Nigerian Wedding Vendor Must Have and Why? Flexibility – every Nigerian couple will be different. Not all want the #bigfatnigerianwedding and because of this, I need to be able to tailor my expertise and resources to suit whatever it is they require.
Most Embarrassing/Awkward Experience… Once when going up on stage to receive a gift from a couple I had planned a wedding for, I tripped when walking up the stairs in front of all the guests.
Does anything scare you? That people will not realize my abilities and give me the opportunity to help them plan their events

What's the best souvenir you've gone home with from a wedding you've attended/worked at? I would have to say my own wedding. Before I became a fully fledged planner, I was able to plan my own wedding in Dubai. I commissioned a caricaturist to draw pictures of all our guests. They then had to find their seats by identifying their caricature. Our guests loved it and people to this day still talk about it
Your thoughts on social media? I love social media – Instagram more so than any of the others. It took me a while to understand how to effectively use Twitter (even now I still struggle). But I am all about visuals so anything to do with pictures is great! Especially as this is also how clients can see exactly how I bring ideas to fruition.
In my Spare Time, I enjoy catching up on cheesy reality TV shows like The Real Housewives of Atlanta. However I do enjoy a nice mani/pedi and massage to relax me after a busy few weeks of events.
Interesting Fact about You… I speak intermediate Spanish; I took an evening course for a year after living and teaching English in a Spanish school over the summer while I was at university
Where do you feel most at home? London- I have been in the UK since I was 5 and even though I live in the UAE now, London is where the majority of my family and friends are. The saying is home is where the heart is, and that is definitely where mine is.
What Songs Are Currently on Replay? I have a varied taste in music so current faves are:
Adele – Hello
Enrique Iglesias – El Perdón
Drake – Hotline Bling
Naughty Boy ft. Beyoncé & Arrow Benjamin – Running
Olamide – Lagos Boys