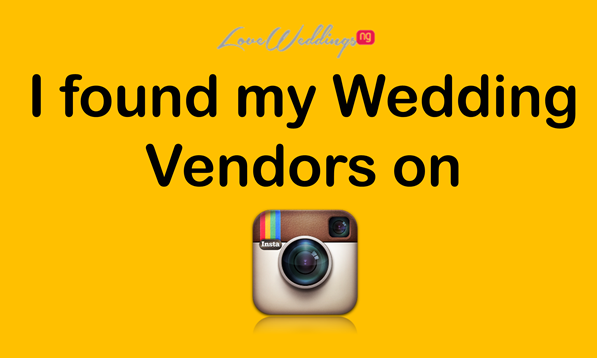 Hello family, hope you're all doing great.
We kicked off a partnership with the online arm of Nigeria's leading lifestyle magazine – GenevieveNG last week. If you missed our first post titled 'Why Instagram is a great tool for choosing your wedding vendors', catch up HERE.
After the post was published on Saturday (February 6th, 2016), we got in touch with real bride – Bolu from #Boludotman2015, who got married last year (December 2015). She told us she met most of her vendors on Instagram and met most of them for the first time on her wedding day. We were curious and asked if she would share her experience with us and she did.
So, we present Bolu's experience with 'Instagram vendors'. Enjoy!!!
My Experience with Instagram Vendors – Bolu
I would say Instagram was the greatest tool in helping me find vendors.
I was out of the country for most of the time I spent planning my wedding. I knew if I wanted to get the best vendors for my wedding, I had to start early as vendors are usually busy in December. I resorted to reading blogs but I didn't find what I was looking for, so Instagram it was.
I got engaged in February 2015 and I started searching for makeup artists, photographers and so on. I wanted to handle specific aspects while the parents handled caterers and all.
Makeup Artist
I started by searching for a makeup artist, I wanted a particular artist so I sent her a mail and she told me she was already booked on my date. That was when panic set in. She was already booked in February for a wedding in December!!!
My search became intense; I literally stalked makeup artists on Instagram. I was looking for someone whose work was clean, flawless and consistent. The moment I see 3 different posts and they don't look like they were done by the same person, I scratch the artist off my list. I ended up consistently stalking Eeswat Makeovers, I loved her work and I contacted her to see if she was available; she was and I booked her in April.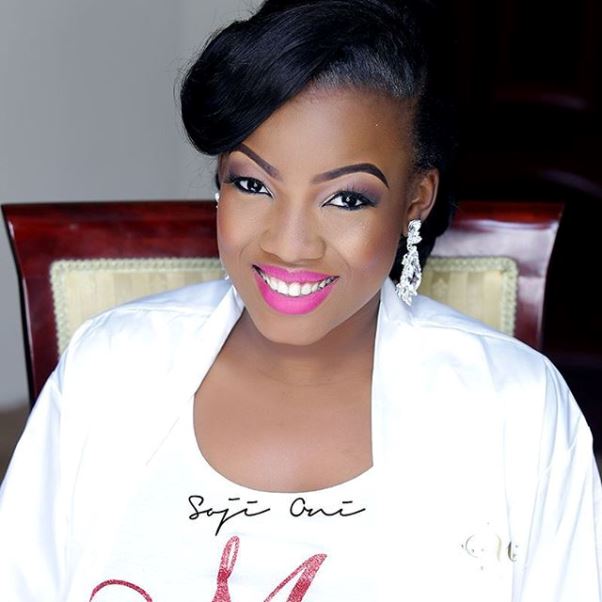 I didn't meet her until November when I went for my trial. I am glad I picked her. She showed up on time, she listened to what I wanted and she was also fun to be with. There was no dull moment, she made up my mum and brought an extra person for my bridesmaids. We were able to make it to the venue on time.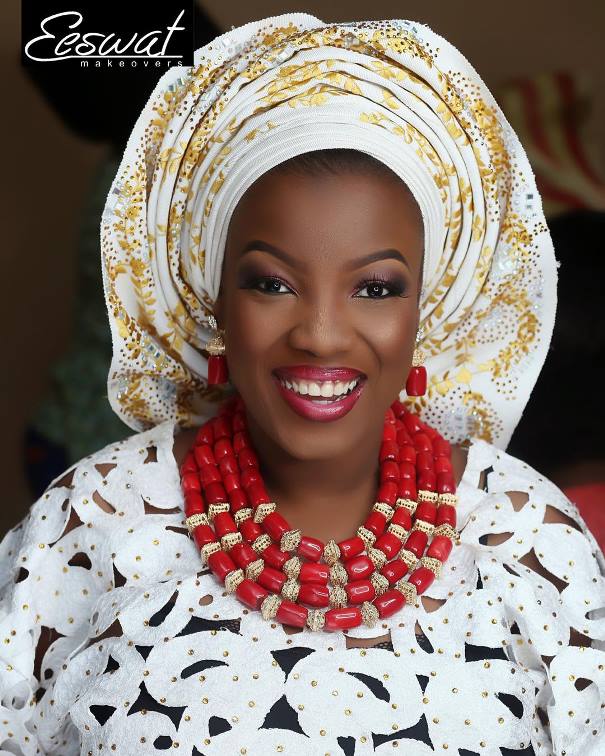 For the engagement, she stayed with me till I changed my attire; she touched up my makeup and also did the same for everyone else they worked on. Lest I forget, her gele tying skill is on fleek, she layered it up in 2 minutes. She was awesome!!! Eeswat, thank you for making me look like a queen.
Photography
With regards to my photographer, I knew him from way back when he started out but his posts on Instagram and my consistent page stalking activity made the decision easier for me. I booked him even before we agreed on a price; we weren't in the country so he could not cover our pre-wedding shoot so I told him to photograph my shower and he did. Soji Oni was amazing; everyone liked him. He was always smiling and lightening the mood in the room. His delivery was awesome, very clear pictures and videos.
Traditional Wedding/Engagement Outfit
Pretty much the same story with my engagement attire, I had been following her on Instagram and she never for once disappointed, she got better post after post. Even before I knew I was going to get married, I kept telling everyone that needed to know that I wanted her to make my aso-oke.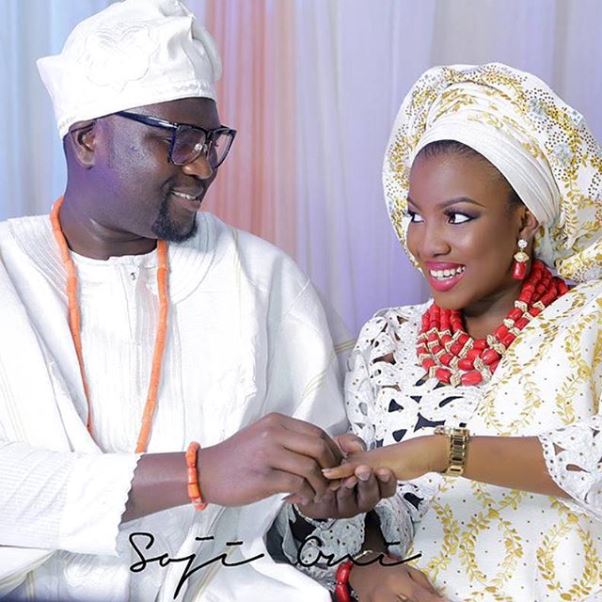 Although I knew people that had patronised her and some that also know her personally, her Instagram page just made it easier. I spoke to Bimmms on two different occasions and then I met her at her store. I just told her what colors I wanted and told her to do her thing. I never for once underestimated her and she delivered. I trusted her hand work so much, when I collected the aso-oke and hubby's agbada I did not open it until we were about to wear it on that day. The aso-oke was flawless.
Wedding Gown/Reception Dress
Now to one of the most important – my wedding dress. Like I mentioned earlier, I was not in Nigeria and I had been dress shopping a couple of times. I did not find what I wanted or when I did, it needed alterations and adjustments that would have cost more money.
Instagram vendors are not all the same because I had selected one vendor on Instagram, who was supposed to custom make my dress. We got talking, I liked what I saw and I told her what I wanted. She did not listen to me and sent me dresses that were not even in the line of what we discussed and when I brought it to her attention, she was rude. She deleted me while I was chatting with her.
I had almost lost hope and I was just going to settle, but I stalked April by Kunbi's page and I decided to go with her. It was a pleasant experience working with her, she sketched exactly what I wanted, advised me on colors, she responded to questions on time. I was completely 'sold' and I decided she would also make my reception dress. We agreed on price, color, style and on my first fitting my reception dress fit like a glove, it was perfect.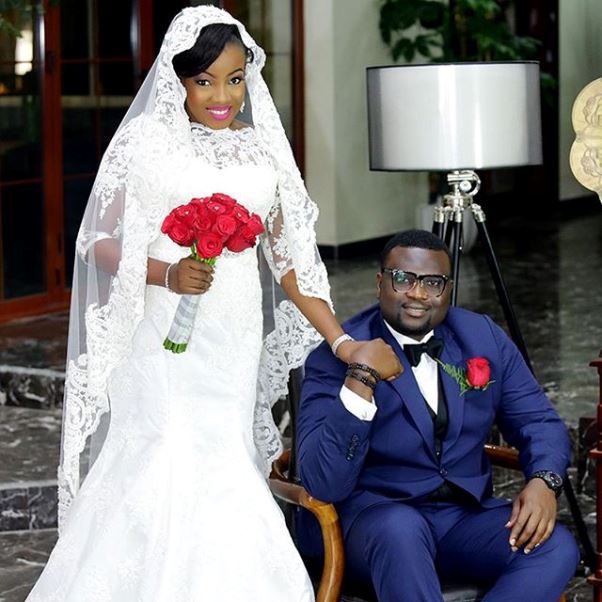 The wedding dress had to have one or two alterations but I knew I was in good hands. I could not make my second fitting and she volunteered to bring it to me, which I thought was really lovely of her. I was supposed to get my dresses the day before my wedding due to a delay with the dry cleaners. But as at midnight, my dresses had not gotten to my hotel; the person bringing it was stuck in traffic. I honestly was not worried; its Kunbi she will get me my dresses. My girls were surprised that I was going to bed but I knew who I was dealing with and I did not want to stress. The dresses eventually came and she also came in the morning to dress me up with all the accessories. Kunbi was the best.
Bridesmaids Dresses
I knew how I wanted my bridesmaids to look, we asked a couple of Instagram vendors who make bridesmaids dresses and showed them what we had in mind and our budget. I kept going to different pages and I stumbled on Style by Ayaba.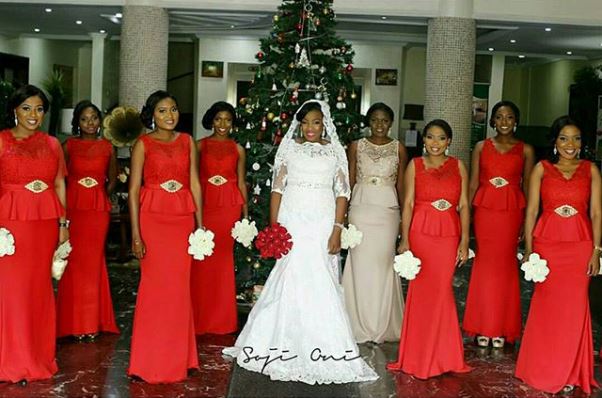 My maid of honor did all the talking and when I got into the country, we all went together to meet her, she showed us sample fabrics and all. They sent in measurements and we were good to go. With the bridesmaids' dresses, there were a few problems but she was able to fix and deliver and she did an awesome job. My only complaint about her was her location but apart from that she was awesome.
Hair Stylist
I also chose my hair stylist on Instagram, I had a few I was talking to simultaneously but their prices were just above my budget. I had almost given up when I found Hair by Sleame, I went through his page and contacted him. He gave me his price list and after bargaining a little bit, we agreed on price. He was available for my date and I booked him immediately.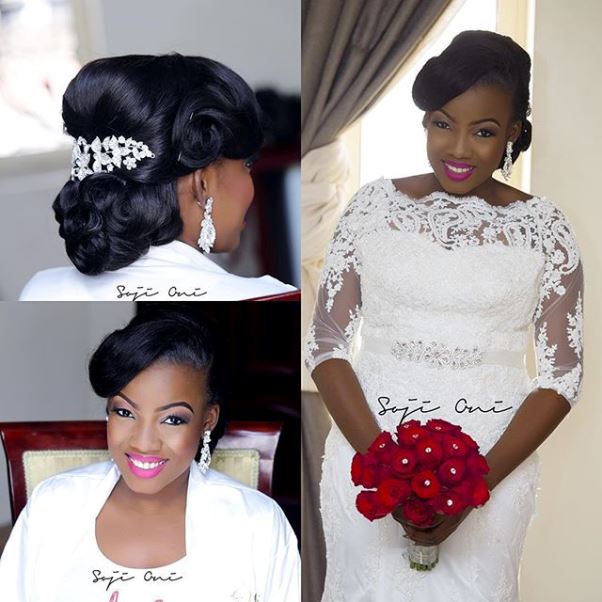 This was one that I did not even think about, I told him I am booking you immediately so better don't disappoint. I would chat with him once in a while just to remind him and all but I actually did not meet him until the wedding morning. With a lot of traffic that day, he made it in with assistants and was able to do my hair and that of my bridesmaids. We all looked gorgeous, there was one little hiccup but it was not major or a big deal to totally spoil my day.
Cake 
I also chose my wedding and engagement cake vendor via what I saw on Instagram. Although, I will drop this here quickly, not everything you see on Instagram is what they appear to be. Regarding the cake, I definitely wanted to meet the person, see what they have done and do some tasting. I had gone round, I contacted almost 5 bakers and they were either too expensive or they didn't get back to me on time.
I finally decided on one baker, I went to see him with my planner and maid of honor. He had gorgeous cakes on his page but when I got there he kept showing me cakes that he can do from munched photos and not cakes that he has done. That was a no no for me, I did not want to take the risk. It was back to the drawing board.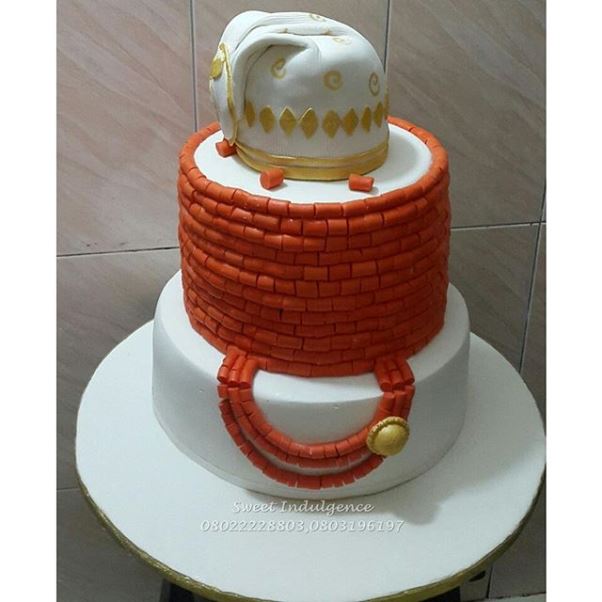 My sister-in-law mentioned Sweet Indulgence by Ola, I had seen her page and just assumed she must be really expensive, so she was never on my list. I took the chance and went to meet her, she is an amazing person, we ended up talking for hours. I was impressed when I got to her bakery; she has a table piled with photo albums of cakes that she had made. For that alone, I was sold. We sat down, I went through the albums, told her what I wanted and she told me to come back in a week. A week later, she had done sketches of cakes for me and told me to choose. This is someone that knows her craft, I did not have to show her a picture. I selected and we agreed on a price, which was not expensive compared to some others I had spoken to.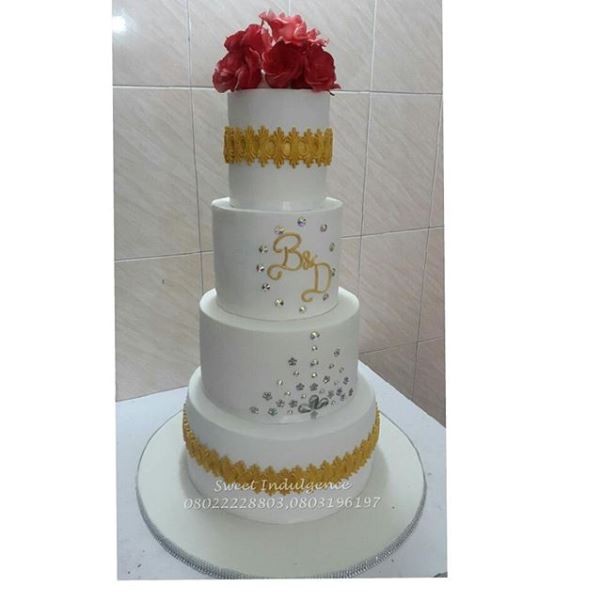 Her cakes are yummy, sooo yummy that I had cake tasting twice the second time after harassing her small LOL.
Sweet Indulgence by Ola is a registered vendor on the LoveweddingsNG Directory. To get in touch, call 08022228803, 08031596197 or visit her page on our directory
There are pros and cons with using Instagram to find your wedding vendors so here are a few tips
Stalk them a lot so you can see if the person is consistent or not
Know what you want and what you are looking for to help you determine the best vendor for you
Always cross check people, some people post internet pictures and not their work, so ask around if anyone has worked with them before.
Some vendors jobs are so good that you automatically assume they would be expensive – always give it a shot, you will be surprised at what you find.
Always read comments, they give you a sense of what you will find.
Try to be open minded and trust your vendor, let them do their job. You can occasionally check in with them but don't be a bridezilla.
Finally, start planning and booking vendors early enough so you get different options to choose from and you get the best.
We totally enjoyed reading this. Thanks Bolu for sharing. If you have any similar stories to share about your experience with vendors, please send us a mail at info@loveweddingsng.com. We'd love to read from you.